Well I thought there was a good possibility that gold miners (NYSEARCA:GDX) printed its daily cycle low yesterday (March 1rst) but this is getting more and more difficult to call especially considering the divergence from metals themselves in recent weeks. Further if gold miners did indeed form a daily cycle low today (2nd of March), it would have been a daily cycle of 55 days (if my count is correct). Usually daily cycles in gold last maybe up to 45 trading days at extremes which is why cycle counts in the precious metals complex are all over the place at present. Now after today's action, it looks clear that the metals (NYSEARCA:GLD) & (NYSEARCA:SLV) are making their own way down until at least their momentum indicators become oversold in the near term. The good news is that silver in one day's move (down almost 4%) has retreated to oversold levels. It will be interesting to see short term sentiment levels in silver tomorrow as today's action should have depressed things quite a bit.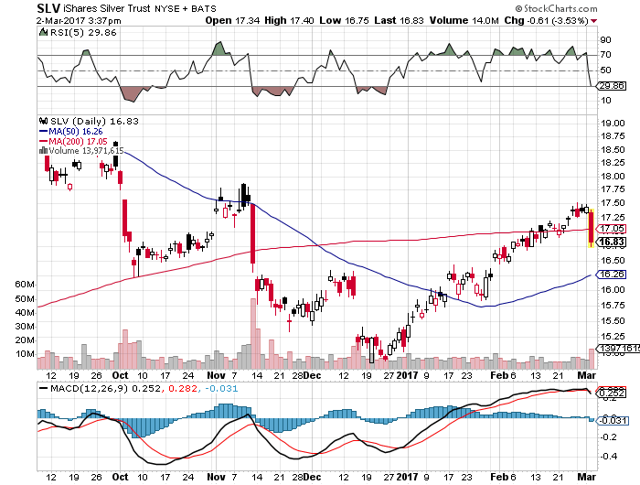 However since cycles are stretching, we can't use duration as a predictable way of spotting bottoms from here on out. I still maintain that we are not in the process of moving down into an intermediate cycle low. We are still only on week 11 of this intermediate cycle (which bottomed back in December) and to top in week 8 would be very bearish for the complex in general. Usually intermediate cycles can last from 20 to 30 weeks which means one should not see a top until at least week 12 to week 16 for the pattern of higher highs to keep unfolding. As the chart illustrates below, more pain could be still ahead of us in the VanEck Vectors Junior Gold Miners ETF (NYSEARCA:GDXJ) as we have broken through the 50% retracement but still are short of the 61% technical level. Traders and investors need to be ready for another move down towards those levels especially if the metals decide they want to move down more into oversold conditions.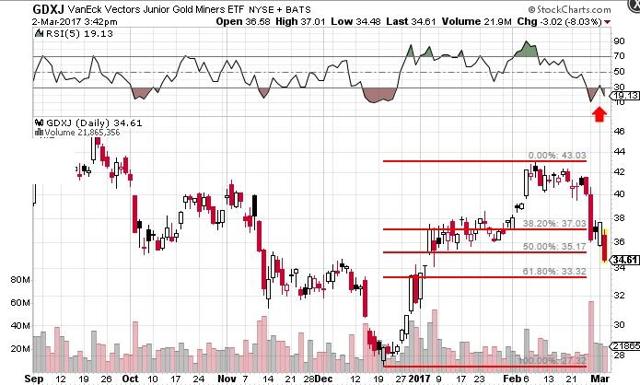 Nevertheless from the heightened selling pressure the mining complex has endured over the past while, I still maintain they are a better risk/reward setup that the metals at present (when they bottom that is). Because silver for example has traded very well recently, many investors believe this is the best place at present to park capital but I would encourage investors is consistently move capital into the most beaten up areas by always buying into weakness and selling into strength. Miners definitely fits the bill here
When an event happens (like the divergence we had in the sector over the past while), I'm always looking to see what we can learn so we can become better investors/traders over the long term. Some people have criticized my use of leveraged instruments in this sector. ETFs such as the Direxion Daily Gold Miners Index Bull 3x Shares ETF (NYSEARCA:NUGT) or Junior Gold Miners Index Bull 3x Shares ETF (NYSEARCA:JNUG) definitely have decay issues and are not ETFs that one should be looking to hold indefinitely. However I still maintain at yearly and intermediate cycle lows, they can be an excellent tool to enhance gains if they are used wisely. In fact, if stops are honored, this present daily cycle low may be a good setup for a leveraged trade as long as stops are honored if hit.
I fully understand and agree with investors stating that leveraged ETFs are not a good long term play unless a respective asset class undergoes a strong sustained trending move. One way to see the problem with leveraged ETFs over a long duration is to compare it to a non-leveraged ETF. For example as the charts illustrate below, the price of silver is slightly higher now that it was in May 2015. However if one had used the ProShares Ultra Silver ETF (NYSEARCA:AGQ) (I went with AGQ as it hasn't spilt since early 2014), the price now of this leveraged ETF is roughly 10% below the price it was back in 2015. Suffice to say that the longer the duration (and the more stagnated the trend), the more you will see the decay eat into any gains you might have. However, I could do a similar study and just compare leveraged ETFs with standard ETFs over shorter time-frames and when we have a sustained trend (Like the bear market bottom in early 2016). Here you will see that leveraged ETFs actually outperform non-leveraged ETFs by more than estimated gains. This is why they have a place in the investment world but investors need to know when and where to exit.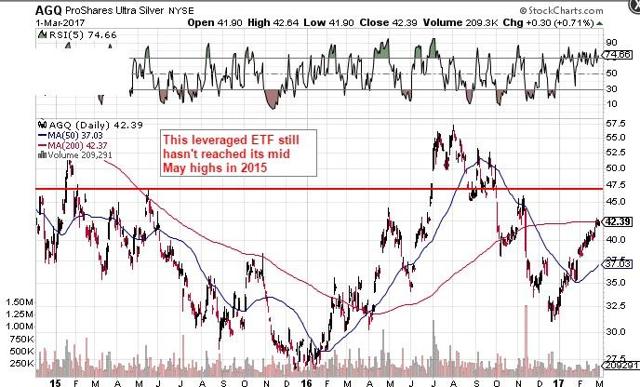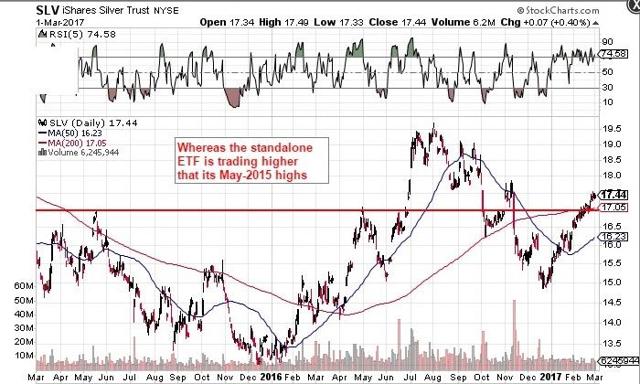 Therefore because of the curved ball we got thrown over the past month or so, here is how we are going to play this complex going forward. We will continue to stay away from independent mining companies as I don't like company related risk. An accident, debt issues, a strike or simply government meddling can derail efforts in any individual mining stock at any time. Yes some junior mining stocks could go to the moon but others could go bankrupt and personally, I don't like the risk factor especially when one can go long a basket of the prominent juniors through GDXJ. Therefore we will continue to use leverage at bottoms and switch to non-leverage ETFs at tops. Surprises in bull markets usually come to the upside which is why I continue to recommend holding a core position at all times in this sector.
Disclosure: I am/we are long JNUG.
I wrote this article myself, and it expresses my own opinions. I am not receiving compensation for it (other than from Seeking Alpha). I have no business relationship with any company whose stock is mentioned in this article.