Despite higher oil prices (NYSEARCA:USO) year to date, the energy sector has suffered. This reflects my opinion that valuation in many oil and gas stocks are still out of whack. But what makes things more frustrating for Exxon (NYSE:XOM) shareholders is that even though the company is supposed to be a safer investment throughout commodity cycles, the stock actually performed worse than the average energy stock. But I can find no good justification for this underperformance.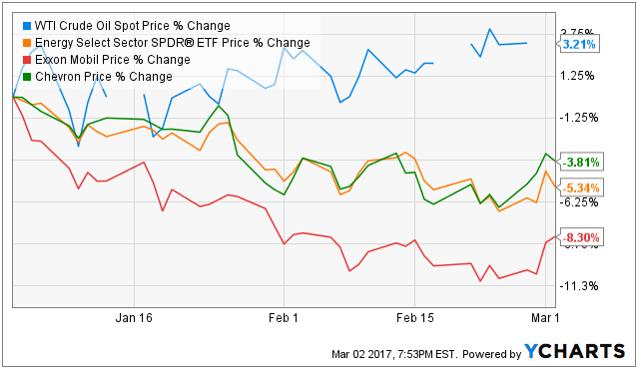 (NYSEARCA:XLE)
Recently I talked about why I believe Exxon is a better purchase than Chevron (NYSE:CVX) (read Exxon vs. Chevron), and we will see today why my confidence in Exxon has not wavered.
While recent headlines probably made investors believe that Exxon is crumbling (i.e. after all it did announce the " deepest reserves cut in its modern history"), I believe that you would be making a mistake by looking at this "new" development at surface value. T he fact it is that the company had guided towards this outcome back in October on its Q3 earnings release:
In addition, if these average prices persist, the projected end-of-field-life for estimating reserves will accelerate for certain liquids and natural gas operations in North America, resulting in a reduction of proved reserves at year-end 2016. Quantities that could be required to be debooked as proved reserves on an SEC basis amount to approximately 3.6 billion barrels of bitumen at Kearl, and about 1 billion oil-equivalent barrels in other North America operations.
While oil did rise somewhat towards the end of the 2016, there wasn't a huge rally from the date of the announcement. The fact that the company only trimmed 3.3 BBoe worth of reserves compared to the forecast of 4.6 BBoe should be celebrated by investors.
The bigger picture is that this revision has absolutely nothing to do with the company's current operation. If these reserves were uneconomical, the company would not have worked on them anyways, so we don't have to worry about a dramatic drop in cash flow. The assets didn't just disappear either, it just means that according to SEC rules, the reserves could not be booked as they could be uneconomical. As the result of SEC's requirement to use trailing twelve month pricing, the price inputs had to include the period of abnormally low prices in early 2016, pushing down the average price used to estimate reserves and inflating the reserve reduction. Looking forward, even if oil doesn't move from the current $50/bbl range throughout 2017, by virtue of simple arithmetic, the trailing twelve month price will be higher for FY 2017. I wouldn't be surprised if some lost reserves get rebooked when the company files in early 2018.
When I last compared Exxon to Chevron I also talked about the strength of the company's reserves, which underpins an energy company's long-term outlook. Using the new numbers in the reserve reports, the winner is still Exxon across all categories (R/P ratio, reserve replacement ratio, and Price/Boe)

Source: data compiled from company filing
Quick Note: I intend to release a comprehensive spreadsheet for O&G stocks through the Core Value Portfolio in the coming weeks, so follow me and stay tuned.
The bottom line is that the reserves impairment is not of paramount importance. And it gets better!
Analyst Day Highlights Strength
Exxon has never been shy to compare itself to its competitors. The company is less levered, has higher free cash flow, and boasts higher ROIC throughout commodity cycles. The three graphs below illustrates Exxon's operational supremacy over its peers.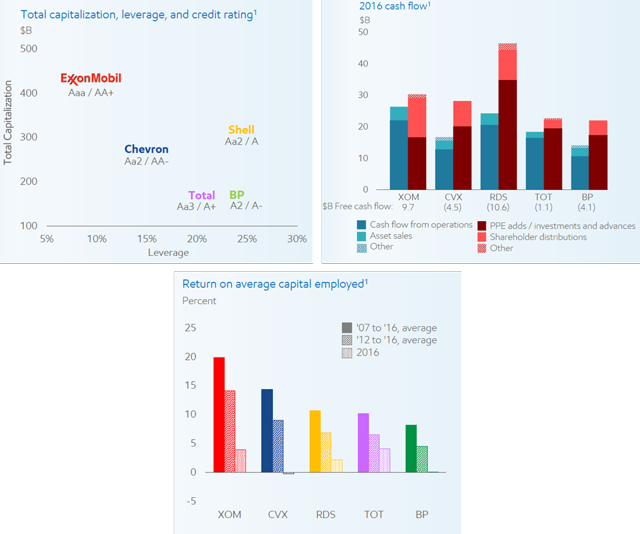 (NYSE:RDS.A)(NYSE:TOT)(NYSE:BP)
Source: Investor Presentation
The credit rating and return on capital graphs are self-explanatory, but note how Exxon was able to spend less cash on PP&E and generate higher operating cash flow. Furthermore, the company was still able to put up good reserves statistics relative to Chevron.
Conclusion
Exxon's supposed demise is greatly exaggerated. I believe that Exxon remains one of the safest oil and gas investment that anyone can make. As I mentioned in my other article, you certainly won't be getting the highest commodity exposure, but over time, Exxon's great asset base and efficient operation will allow the company to deliver steady performance over-time, relatively speaking. Certainly Exxon's stock price will fluctuate from time to time, but I believe that you can invest in Exxon knowing that the fundamentals will remain sound in the direst of situations without sacrificing all of the upside.
Click the "Follow" button beside my name on the top of the page to be updated with my latest insights. To learn more about the Core Value Portfolio, whose goal is to compound capital at 20% over the long term, I encourage you to read the introduction to my investment process. Premium subscribers get full access to the Core Value Portfolio.
Disclosure: I/we have no positions in any stocks mentioned, and no plans to initiate any positions within the next 72 hours.
I wrote this article myself, and it expresses my own opinions. I am not receiving compensation for it (other than from Seeking Alpha). I have no business relationship with any company whose stock is mentioned in this article.