The street surely loves it when companies beat estimates. Lowe's Companies, Inc. (NYSE:LOW) beat both earnings and revenues in Q4 and its shares climbed 9.5% on Wednesday.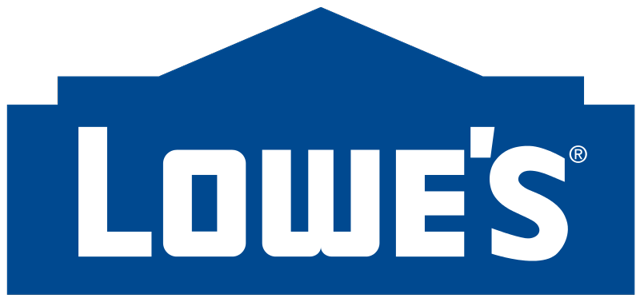 That's not all. Its comparable-store sales rose 5.1% in the quarter. Furthermore, its SG&A expenses and operating margin saw improvements.
Lowe's positive results were bolstered by favourable macro fundamentals, which the company expects to continue in 2017.
It sees growth in the home improvement industry, which will be "supported by continued job gains and income growth, debt service ratios near record lows, strong consumer balance sheets, and improved credit usage." - from Slide 8 of Q4 2016 Earnings call slides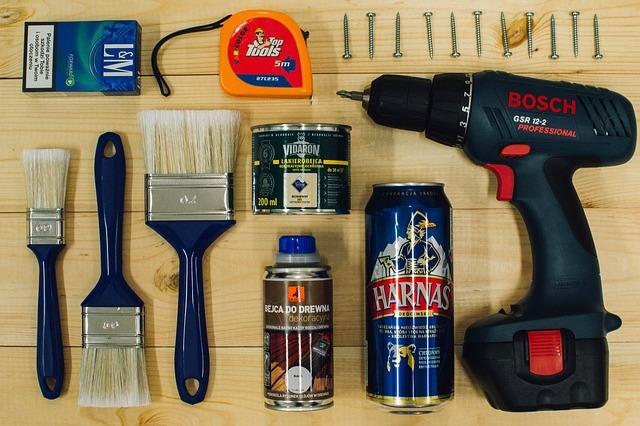 2017 guidance
In fiscal 2017, Lowe's expects its sales to grow about 5%, its comparable sales to grow about 3.5%, and its operating margin to increase by 1.2%.
These are estimated to help its diluted earnings per share ("EPS") to grow about 33% to $4.64, and its operating cash flow to grow roughly 5% to $5.9 billion.
Similar to what happened in 2016, Lowe's expects to generate lots of free cash flow to pay dividends and repurchase shares.
Growing dividends and buying back shares
In the last decade, Lowe's has bought back shares to lower its share count.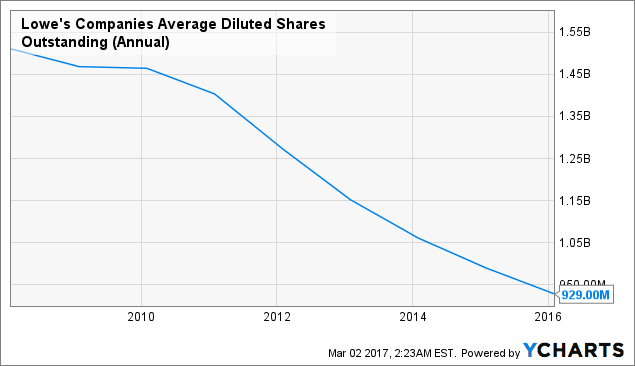 LOW Average Diluted Shares Outstanding (Annual) data by YCharts
The world's second-largest home improvement retailer also has an impressive track record of hiking its dividend - for 54 consecutive years to be exact.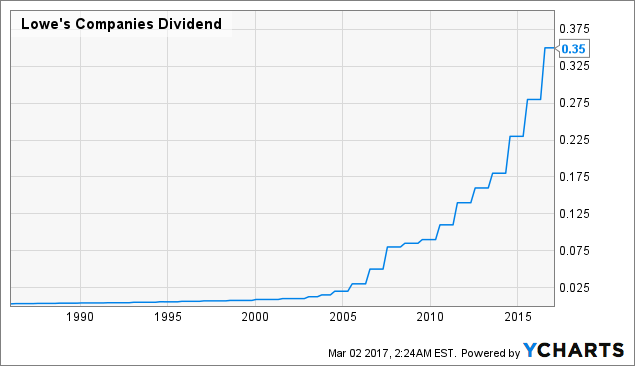 LOW Dividend data by YCharts
In the last five years, Lowe's increased its dividend at a compound annual growth rate ("CAGR") of 20%. In other words, if you received $5,000 of annual dividends from it five years ago, this year, you'd receive $12,500!
Lowe's last increased its dividend by 25% in Q3 2016. Its payout ratio is sustainable at 36%.
One concern I have is the company's rising financial leverage. I believe it's using cheap debt to help drive growth and higher returns on equity.

Source: Data from Morningstar
In fiscal 2016, Lowe's generated $4.4 billion of free cash flow but returned $4.6 billion to shareholders by buying back $3.5 billion of shares and paying out $1.1 billion of dividends.
Perhaps it's an industry trend, as Home Depot (NYSE:HD), Lowe's larger competitor, has also been buying back shares, increasing dividends, and cranking up its financial leverage.

Source: Data from Morningstar
Home Depot can have a higher leverage because it has a stronger balance sheet. It is awarded an S&P credit rating of A, while Lowe's is awarded a rating of A-. Still, the financial leverage is a metric to watch for, as is any deterioration in the two companies' cash flows.
Lowe's has a remaining share repurchase authorization of $5.1 billion. My hope is the company will only buy back shares when they're at or below the company's intrinsic value.
Valuation and growth prospects
At about $81.50 per share, Lowe's trades at a forward multiple of about 18, which is a reasonable valuation for a company that's estimated to grow its EPS by 15.3-15.7% across 40 analysts.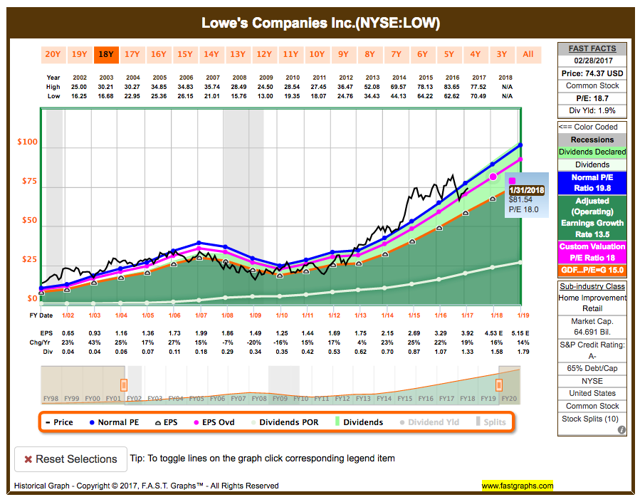 After the run-up of 9.5%, there's little upside left for the next year. That said, even assuming a conservative multiple of 17, annualized returns of about 13% are still possible for the next three to five years from current levels.
Investor takeaway
Lowe's serves more than 17 million customers a week in the United States, Canada and Mexico. It seems the doom and gloom of brick-and-mortar retail hasn't had a big impact on Lowe's so far.
After the big run-up, the shares look fairly valued but can still deliver annualized returns of 13% for long-term accounts with a horizon of at least three to five years.
Buy alerts: Get double-digit returns?
I started building a position in Lowe's in late 2016 and gave real-time alerts in my premium service as I bought more shares at cheaper prices.
I don't know if it's just me but subscribers will be thrilled to know that shares tend to go lower after I buy them (at least in the short term).
Anyway, this strategy in buying quality dividend-growth stocks as they head lower has resulted in lower average costs and higher yields.
My Lowe's shares have appreciated 12% in a 4-6 month holding period. From the low point in the period I accumulated shares, shares have appreciated as much as 22%! Try my premium service for free now.
Share your thoughts in the comments below
Do you like Home Depot or Lowe's better? Why?
Are you buying/holding/selling at current levels?
Which companies in the consumer cyclical sector do you think are attractively priced today for income and income growth?
Author's note: If you like what you've just read, consider following me. Simply click on the "Follow" link at the top of the page to receive an email notification when I publish a new article.
This article first appeared in my premium service, from which my subscribers get priority attention and gain access to my real-time buys and sales. Feel free to try the service for free for two weeks.
Disclaimer: This article is not financial advice but consists of my opinions and is for educational purposes only. Additionally, the information provided is believed to be accurate but is not guaranteed to be so. Please do your own research and due diligence and consult a financial advisor and or tax professional if necessary before making any investment decisions.
Disclosure: I am/we are long LOW.
I wrote this article myself, and it expresses my own opinions. I am not receiving compensation for it (other than from Seeking Alpha). I have no business relationship with any company whose stock is mentioned in this article.