Notes for the readers
Most of the figures are based on the financial reports of Aflac Inc. (NYSE:AFL) and of its main competitors.
Corporate Profile: From A Family Business in the U.S. To The Largest Provider of Supplemental Insurance in Japan
History of the group
Aflac was founded in 1955 by three brothers, John, Paul & Bill Amos. Originally name-branded "American Family Life Insurance Company of Columbus," the insurance company pioneered, in 1958, the introduction of a cancer policy after identifying the need to lift the financial burden of cancer patients and their families. In 1964, the company became American Family Life Assurance Company of Columbus.
In the 1970s, Aflac went international and began selling insurance products in Japan. In 1974, the same year than the opening of its Japanese subsidiary, Aflac was listed on the New York Stock Exchange.
In the 1980s, Aflac developed its strategy of broadening its product line and expanding its distribution system. In 1989, the company adopted the acronym "Aflac". An alliance with Dai-ichi Life (OTCPK:DCNSF), the third-largest life insurer in Japan by revenue, was launched in 2001. In 2003, Aflac became the leading insurance company in Japan in terms of the number of individual policies in force. Six years later, the insurer completed the acquisition of Continental American Insurance Company, which is currently branded as Aflac Group Insurance. In September 2013, Aflac Japan and Daido Life Insurance entered into an agreement for Daido to sell Aflac's cancer insurance products specifically to the Hojinkai market, which is an association of small businesses. In 2015, Aflac celebrated its 60th anniversary.
Aflac in 2016
With 2016 revenues of $22.6 billion, Aflac Incorporated is a general business holding company which operates in Japan and the United States. Its principal business is the voluntary supplement and life insurance.
Aflac groups its operations into two principal business segments:
Aflac Japan which posted $16.1 billion in revenues last year. Aflac Japan sells voluntary supplemental insurance products, including cancer plans, general medical indemnity plans, medical/sickness riders, care plans, living benefit plans and life insurance products.
Aflac U.S., which generated $6.2 billion in revenues in 2016. Aflac sells voluntary supplemental insurance products, including products designed to protect individuals from depletion of assets (e.g. cancer, accident, hospital indemnity, dental and vision care plans) and loss-of-income products (life and short-term disability plans)
All the group subsidiaries, holdings, and service companies are directly or indirectly owned by the group's holding company, Aflac Incorporated.
Competitive Position: A Marker Leader In A Niche Market

Source: Aflac's annual reports
In Japan, Aflac pioneered the cancer insurance market in 1974 and still holds the No. 1 position. It's its main traditional market. Aflac Japan's product portfolio has expanded beyond traditional health-related products to include more life products. As of December 31, 2016, the insurer exceeded 24 million individual policies in force in Japan. With more than 15 million cancer policies in force as of December 31, 2016, the cancer insurance segment represents the central part of its portfolio. The share of the revenues coming from cancer insurance is slightly decreasing year after year (42% in 2016 vs. 44% in 2012).
With a 1.9% increase in 5 years (-25.2% by including the currency effect), the insurer could not expect to grow more. In contrary to cancer segment, the life insurance segment is the most fast-growing insurance portfolio with a 5-year growth of 39.3% (before currency effect) or a 6.9% annualized growth. The third segment is, unfortunately, suffering from the competitions of other insurance providers (-10.9% from 2012 to 2016 without the currency effect). At total level, the revenues of the Japanese subsidiary increased by 7.5% from 2012 to 2016 at constant currency rate but were harshly impacted by the drop of the yen.
In the U.S., Aflac offers accident coverage on both an individual and group basis. These policies are designed to protect against losses resulting from accidents. As in Japan, the cancer segment is stabilizing with a 0.3% annualized premium growth. Accident/Disability segment is the most dynamic one with a 2.2% annualized premium growth (and even 3.3% in 2016) and represented 45% of the total premiums earned in the U.S. in 2016. Representing respectively 24% and 26% of the U.S. portfolio, the cancer segment and other health segment are the second and third largest segments while Life insurance portfolio is still tiny (only $271 million in 2016).
In our view, the company should remain the leader in its core market and earn 5% more premiums (before currency effect) per year.
Operating Performance: Leading Position And Cost Steering Help Margin Preservation

Source: Aflac's annual reports
While the Japanese market is Aflac's core business, the U.S. subsidiary is more profitable than the Japanese one. The 5-year averaged net combined ratio of the U.S. subsidiary is 92% while Aflac Japan has delivered a combined ratio of 94% in the same period. The expense ratio is lower in Japan than in the U.S. due to both Aflac's leading position and multiple distribution channels. However, the expense ratio is increasing year after year (from 21.3% to 21.9% in 5 years). Even if the expense ratio is higher in the U.S. (37.2% on average), the loss ratio is low due to a great claims situation monitoring.
In our view, the both subsidiaries should continue to deliver the same levels of profitability (respectively a 95% combined ratio in Japan and a 92% combined ratio in the U.S.) mainly due to a strong leading position in a market with high barriers to entry and a strict cost monitoring.
Stock Repurchase Program and Dividend: One Of the Greatest Rewarding Company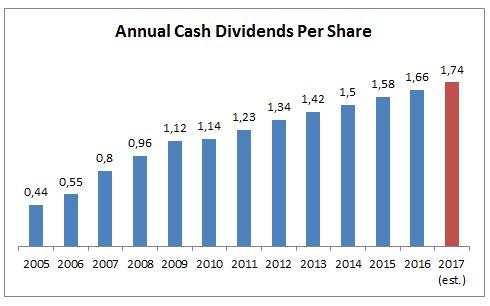 Source: Aflac's annual reports & Internal
With more than 30 years of consecutive increase of its dividend, Aflac could be undoubtedly considered as a Dividend Aristocrat. In addition to its dividend program, the insurer also repurchases every year an important part of its shares. From 2012 to 2016, the company has repurchased more than 55 million of its shares. The dividend policy is at the center of the strategy of the company; that's why we expect the company to continue increasing the dividend year after year. As the payout ratio increases every year to compensate the reduction of the earning growth, the investors should follow the evolution of this metric.
The Major Risks Facing Aflac
Some events could impact Aflac's profitability either permanently or temporarily. Every long investor who would like to invest in the American insurer should be aware of these major risks.
1) A significant business concentration
With 71% of its revenues coming from the Japanese operations, Aflac's core business remains Japan. Aflac is exposed to the Japanese economy evolution and the geopolitical climate. Furthermore, Aflac has a substantial concentration of JGBs (Japanese Government Bonds) in its investment portfolio. The largest investment exposure was Japan National Government and represented 42.41% of the total investment portfolio. Any deterioration of the Japanese economy, any negative credit review of S&P (NYSE:SPGI), Moody's (NYSE:MCO) or Fitch would impact the market value of the bond portfolio harshly.
2) The Fluctuations in the yen/dollar exchange rate
Due to the size of Aflac Japan, fluctuations in the yen/dollar exchange rate may have a significant effect on the reported financial results. Even if Aflac Japan purchases U.S. dollar-denominated assets to be hedged to yen, the operating results of the Japanese subsidiary could decrease significantly in the case of unfavorable yen/dollar exchange rate.
3) The low rate environment
Aflac places a strong emphasis on bonds, which totaled around 86.5% of the portfolio at year-end 2016. Hence Aflac could be harshly impacted by a significant jump in the interest rate but has the huge interest in a gradual rise of the rate to roll its debt securities portfolio.
4) A Deterioration of the operating performance
Aflac calculates future policy benefits based on assumptions of morbidity, mortality, persistency and interest. These assumptions are established at the time a policy is issued. Any unanticipated claims experience resulting from greater than expected morbidity, mortality, longevity, or persistency would harm the profitability of the insurer.
Stock Valuation: A Slightly Overvalued Company
To assess the intrinsic value of Aflac, we used an approach based on the following valuation methods:
Historical Ratios: P/E, Price/Sales, and Price/Book
Valuation Multiple: EV/EBITDA, P/E, and Price/Book. As a peer review, we have chosen the following companies: Metlife (NYSE:MET), Dai-ichi Life Holdings Inc, CNO Financial Group, Inc. (NYSE:CNO), Torchmark Corporation (NYSE:TMK) and Unum Group (NYSE:UNM)
DCF Valuation: We decided to model six scenarios:
1) Based on EPS: three scenarios (Best, Base and Worst) with a 12% discount rate:
Best: 7% annual growth for the next fifteen years. The terminal growth rate is 2%. In this scenario, we consider that Aflac would be positively impacted by the yen/dollar exchange rate, would continue to repurchase its own shares actively and improve its operating profitability.
Base: A 4% annual growth for the next fifteen years. The terminal growth rate is 1%. In this scenario, we consider that Aflac would continue to repurchase its own shares actively and maintain its operating profitability.
Worst: A 3% annual growth for the next fifteen years. The terminal growth rate is 0%. In this scenario, we consider that operating profitability would deteriorate and would be only offset by an active stock repurchase program.
2) Based on DPS: three scenarios (Best, Base and Worst):
Best: a 7% annual growth.
Base: a 4% annual growth
Worst: a 3% annual growth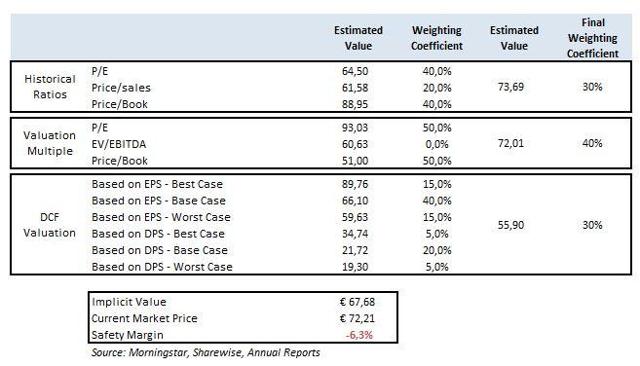 The company seems to be slightly overvalued at the current price.
Conclusion
Slightly overvalued at the moment, Aflac remains well positioned in its core markets. It is a well-diversified company which both increases its dividend and repurchases its own shares year after year. A lazy dividend seeker, who is not interested in any valuation consideration, should have this stock in his/her portfolio.
Notes for the readers: Interested in other analyses mainly focused on both insurance sector and service sector (mainly the industry "Home Furnishing Stores")? Please do not hesitate to follow me. Thank you for your support.
Disclosure: I/we have no positions in any stocks mentioned, and no plans to initiate any positions within the next 72 hours.
I wrote this article myself, and it expresses my own opinions. I am not receiving compensation for it (other than from Seeking Alpha). I have no business relationship with any company whose stock is mentioned in this article.
Editor's Note: This article discusses one or more securities that do not trade on a major U.S. exchange. Please be aware of the risks associated with these stocks.