In my last article, I explained in detail why I believe Merck's (NYSE:MRK) Keytruda is on its way to becoming a preferred regimen in lung cancer indication. The drug is also being explored in around 430 clinical trials, either as monotherapy or as combination regimens, in multiple other indications. I believe that this is just the start of Keytruda's solid uptrend.
In this article, I will be further exploring Keytruda's foray in other indications as well as its major research programs in greater detail. This article further details my rationale for considering Merck to be a solid buy opportunity in 2017.
Keytruda is expected to witness solid uptake in indications beyond lung cancer
In 4Q 2016, melanoma indication accounted for close to 40% of Keytruda's total sales. Keytruda monotherapy is approved as first line therapy for advanced melanoma as well as for second line melanoma patients who witnessed disease progression after chemotherapy. With the drug approved in around 60 international markets for this skin cancer, Keytruda earns majority of its international market revenues from melanoma indication.
In 4Q 2016, head and neck cancer indication also contributed to 15% of Keytruda's total revenues. This is definitely a nice rise from 3Q 2016, when the indication contributed around 5% to the drug's total sales.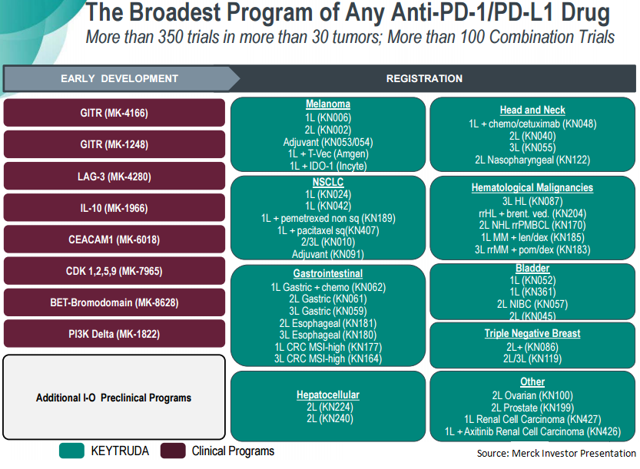 Keytruda is being studied for label expansion in around 430 clinical trials
Keytruda is being explored for multitude of cancer indications, both as monotherapy as well as in combination regimens, in broad research program. Out of the 430 ongoing trials, a little greater than 100 trials are accommodation studies, which have been investigator initiated, for the already approved indications of Keytruda. Through its broad research program, Merck expects to make Keytruda a foundational therapy in oncology segment.
Keytruda monotherapy is being studied as third line and second line therapy for liver cancer, in Phase 2 clinical trial. Now liver cancers are difficult - to -treat mainly as they can be caused due to several factors. Liver cancer can be a result of hepatitis B viral infection, hepatitis C viral infection, or due to conditions not related to viral infections. Hence, this leads to a very non-homogeneous patient population suffering with liver cancers, which is the inherent challenge for oncology players. Though much farther in the time line, if successful in this indication, Keytruda will be able to capture a large portion of this significant unmet demand.
There are 200 clinical trials in which this PD-1 inhibitor is being explored either in combination with IDO1 inhibitors, traditional chemotherapy, targeted chemotherapy, radiation therapy, other checkpoint inhibitors, as well as oncolytic viruses. These programs also offer a significant growth opportunity for the drug in coming years.
Keytruda- Epacadostat combination regimen may become a strong growth catalyst for Merck
While Bristol-Myers Squibb's (NYSE:BMY) Opdivo is currently a leader in melanoma, there are some exciting research programs that can definite turn the tables for Keytruda. One of them is the ECHO-301 trial, in which Merck and Incyte (NASDAQ:INCY) are exploring potential of combination regimen, PD-1 inhibitor, Keytruda and IDO1 enzyme inhibitor, Epacadostat, in first line advanced melanoma. Data from this trial is expected in 2018.
On January 09, 2017, Merck also announced plans to further expand ECHO clinical trial program beyond melanoma, across four more tumors such as renal cell carcinoma, non small cell lung cancer, squamous cell cancer of head and neck, and bladder cancer. This decision is based on the data accrued from the ongoing ECHO clinical trial program which has demonstrated deep responses from the melanoma population for this combination regimen. Further, owing to favorable safety profile of Epacadostat, the combination regimen is also expected to demonstrate limited adverse events.
Keytruda continues to be explored in various other combination regimens across cancer indications
Till recently, VEGF-targeted therapies were considered standard of care in renal cell carcinoma or RCC segment. However, the advent of PD-1 and PD-L1 inhibitor therapies seems to be changing the treatment landscape in RCC.
In November 2015, Opdivo was approved as second line RCC therapy. However, there is significant opportunity in first line RCC segment.
In October 2016, Merck and Eisai commenced Phase 3 trial, CLEAR, to compare efficacy and safety of combination regimen, Keytruda and multiple receptor tyrosine kinase or TKI inhibitor Lenvima (lenvatinib), with combination regimen, Lenvima and Everolimus, and VEGF TKI, sunitinib monotherapy, in first line RCC patients.
According to press release by Eisa, "Preclinical studies have indicated that lenvatinib reduces the production of immune-suppressing cells and enhances the anti-tumor effect of PD-1 signal inhibitors."
This combination therapy, however, has also demonstrated hepatic and gastro-intestinal side effects in preclinical studies.
Instead, combination regimens comprising of Keytruda and Pfizer's (NYSE:PFE) Inlyta have demonstrated a more encouraging efficacy and safety profile in Phase 1b trials.
After positive results from Phase 1 study, KEYNOTE-023 trial, Merck is exploring Keytruda-lenalidomide-dexamethasone combination regimen in Phase 3 trial for two plus lines of therapy in multiple myeloma.
A unique combination regimen, comprising of Amgen's (NASDAQ:AMGN) oncolytic virus, T-Vec and Keytruda is also being studied in melanoma indication.
So what new indications can we expect for Keytruda in 2017?
The first expected approval for Keytruda is in refractory classical non-Hodgkin lymphoma indication, for those patients who witness disease progression after three or more previous therapies. The prescription drug user fee act or pdufa date for this application is set for March 15, 2017. The application is based on positive data obtained from phase 1b KEYNOTE-013 and phase 2 KEYNOTE-087 study and has secured priority review status.
While Roche Holdings' (OTCQX:RHHBY) Tecentriq and Bristol-Myers Squibb's Opdivo have already received FDA approval in the second line bladder cancer indication in May 2016 and February 2017, respectively, Keytruda is not far behind in this race. In February 2017, FDA has also accepted Merck's application for reviewing Keytruda as first line therapy for bladder cancer patients who are ineligible for cisplatin therapy as well as second line bladder cancer therapy. Both the applications have been granted priority review status. The pdufa date for both applications is June 24, 2017.
FDA had already granted breakthrough therapy designation for Keytruda in second line bladder cancer indication. The application is based on positive results from KEYNOTE 045 trial, in which Keytruda managed to meet primary endpoint as a second line bladder cancer therapy. Based on interim analysis, the trial was stopped early by the independent Data Monitoring Committee. This decision definitely highlights the strong inclination of FDA towards Keytruda as bladder cancer therapy.
The application in first line bladder cancer indication is based on positive results from phase 2 KEYNOTE-052 study. The overall response rate and complete response rate in this trial was 24% and 6% for bladder cancer patients using first line Keytruda therapy.
The competition between Keytruda and Tecentriq in first line bladder cancer indication will be intense. On January 09, 2017, FDA accepted for review Roche's application for review of Tecentriq as first line therapy for bladder cancer patients ineligible for cisplatin therapy. This application has also secured priority review status and has pdufa date set at April 30, 2017.
In phase 2, IMvigor210 study, the study supporting Tecentriq's application in first line bladder cancer indication, the drug has demonstrated overall response rate of 24%, with complete response rate of around 7%.
Merck is also awaiting FDA decision for Keytruda in Microsatellite Instability-High Cancer indication in 2017.
While I definitely do not think Merck is undervalued, the robust research program for Keytruda can prove to be a major growth catalyst for the company in the next five years. Hence, I believe that Merck is a strong long term growth opportunity on risk adjusted basis.
Disclosure: I/we have no positions in any stocks mentioned, and no plans to initiate any positions within the next 72 hours.
I wrote this article myself, and it expresses my own opinions. I am not receiving compensation for it (other than from Seeking Alpha). I have no business relationship with any company whose stock is mentioned in this article.
Editor's Note: This article discusses one or more securities that do not trade on a major U.S. exchange. Please be aware of the risks associated with these stocks.