As I continue to highlight the growing number of fundamental flaws I see in the economy and our markets, I am repeatedly reminded by the bulls that price is the ultimate arbiter - the fundamentals don't matter so long as prices continue to rise. Yet, what I am expressing is an appreciation for risk, which has a way of hiding itself for long periods of time, building underneath the surface of an uptrend in the market, until it ultimately emerges. If we don't continually monitor the fundamentals, then we have no idea how much risk there is in market prices, and while a new all-time high for the S&P 500 (NYSEARCA:SPY) is a bullish technical formation, the last two vicious bear markets were preceded by new all-time highs as well. Those two all-time highs marked peak divergences between market prices and fundamentals.
We continue to see surveys of consumers and businesses that indicate economic strength is forthcoming, which is one factor contributing to the rally in stock prices over the past few months. Strength in surveys is great if it gives us a lead on sales activity that ultimately increases the aggregate demand of our economy, but so far, the improvement in the surveys is not translating into a commensurate improvement in aggregate demand.
Consumer confidence has soared since the presidential election to what is now a decade high, lifting investor sentiment as well, which is helping to propel the S&P 500 to new all-time highs.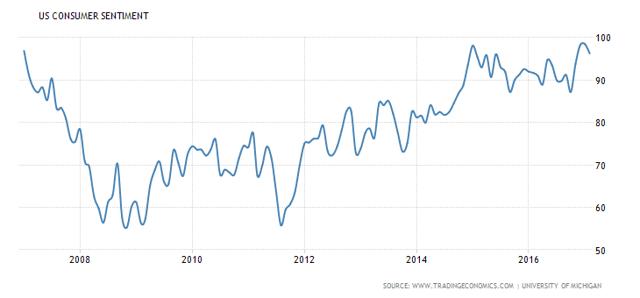 Yet real consumer spending saw its largest drop in January of this year since September 2009, which was broad based for both goods and services.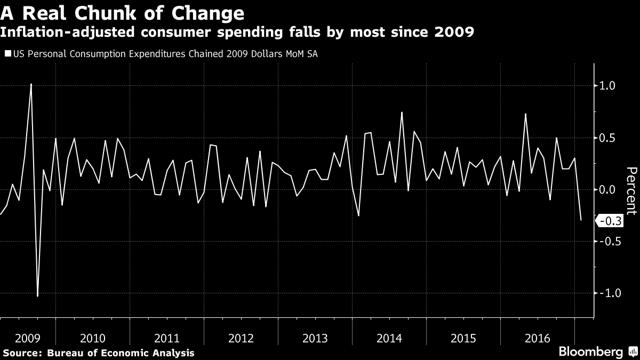 This led the Atlanta Fed to reduce its estimate for the rate of economic growth in the first quarter to 1.8% from what was more than 3% a month ago.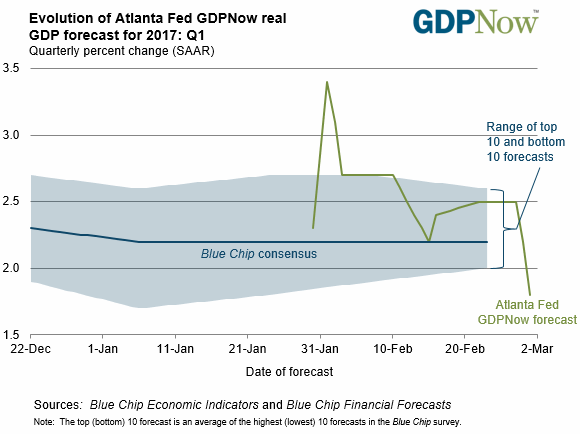 Investors seem to be more focused on the level of consumer confidence than they are on spending, which is clearly not consistent with that confidence. The concern here is that corporate revenues and profits are derived from spending and not confidence. If the proposed forms of fiscal stimulus that are lifting confidence don't materialize soon, then confidence will decline from what is now a historically high level, leading to even slower rates of consumer spending and economic growth. Meanwhile, as market prices continue to rise, the divergence between prices and fundamentals continues to grow.
Business confidence has also soared since the election, based on the perception that fiscal stimulus in various forms is on the way.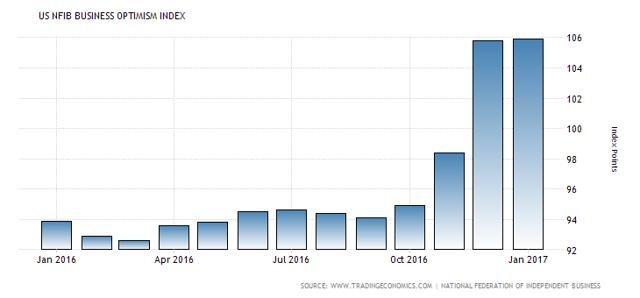 One form of stimulus on which there has been a broad consensus is infrastructure spending. President Trump has proposed a $1 trillion spending program, which would amount to $100 billion each year over the next 10 years. That sounds great, and I am sure that many businesses in the industrial (NYSEARCA:XLI) and material (NYSEARCA:XLB) sectors are anxiously anticipating a boost in sales, but there are roadblocks beyond a seemingly frugal Republican Congress that are not being acknowledged. One important one is that we don't have the workers!
Construction spending totaled $1.18 trillion in 2016, and there were 6.8 million construction workers getting the job done. That means that each worker supported approximately $175k in spending. Using this calculation, it is reasonable to assume that $100 billion in additional spending would require an additional 570,000 workers, which would be an unprecedented increase. Construction employment growth was a mere 170,000 last year, and a large percentage of that was for residential housing. Therefore, where are these workers going to come from? Immigrant labor accounts for a large percentage of the construction workforce, and more than 1 million of these workers are believed to be undocumented. It seems like the Trump administration's immigration policy will be a major roadblock to its plans for major infrastructure spending even if it does obtain the funding.
In a world where few seem to read beyond the headlines, the devil is in the details, and when the details are not good, they are ignored. As such, the market appears to be discounting the most positive of all outcomes on every possible front, and Wall Street is happy to pave the road to higher and higher valuations. Several fundamental strategists on Wall Street are now throwing in the towel, raising their year-end price targets for the S&P 500.
What I find comical is that when Bank of America's (NYSE:BAC) Savita Subramanian raised her target this week, she did so pointing out that the fundamentals suggest fair value is at a level even lower than her old price target. Her rationale for this new forecast other than job security is bullish investor sentiment and short-term price momentum. One would think that she might address some of the issues that I have discussed in her macroeconomic outlook, but these are roadblocks that stand in the way of her new price target.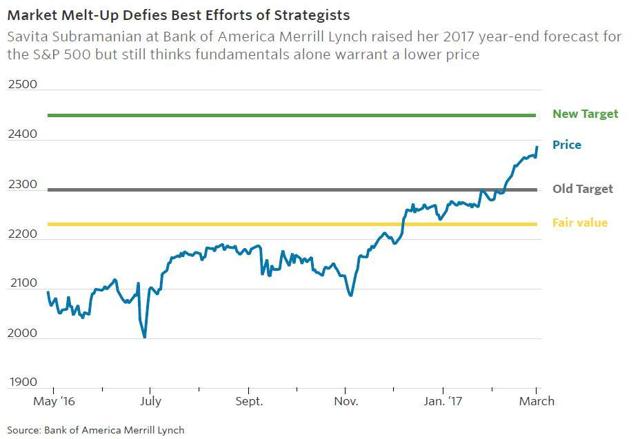 Sentiment and momentum are what largely underlie the bullish narrative at this point. The fundamentals don't matter as much, if at all. But to ignore risk at a time when it seems more muted than ever is the exact opposite of what investors should be doing. Fundamental changes develop gradually over time while sentiment and momentum can change direction on a dime.
Earlier this week, I discussed the similarities I saw between today and 1999, based on my own investment experience. My detractors were quick to point out the stark differences in terms of the level of interest rates, dividend yields and price-to-earnings multiples. I was speaking more along the lines of sentiment and momentum, but there is another important similarity that I failed to mention that is more fundamentally based.
The increase in valuations in 1999 was largely based on the balance sheet debt expansion by companies in the telecom and technology sectors, which then lent money to their customers to buy their products and services. We saw a similar balance sheet debt expansion by consumers to buy homes during the 2000s, as well as to borrow through mortgage equity withdrawal to spend on goods and services. Today we have seen unprecedented balance sheet debt expansion by the federal government in the effort to keep our economy afloat during this recovery. At the same time, we have seen corporations borrow to record levels to buy back their own stock and pay dividends.
Perhaps the federal government can continue to borrow and spend into perpetuity, which corporations and consumers were unable to do in prior decades. The point at which it is not will be a rude awakening for markets. The end game is likely to be a restoration of fiscal responsibility or an increase in borrowing costs to levels that investors acknowledge is unsustainable. The next test approaches on March 15 when Congress must address the debt ceiling.
Because of the ever-growing divergence I see between market prices and fundamentals, I continue to look for opportunities to minimize risk. That doesn't mean sell everything. I have no intentions of liquidating the holdings I have accumulated during this bull market in companies like Apple (NASDAQ:AAPL), AT&T (NYSE:T), Time Warner (NYSE:TWX), Intel (NASDAQ:INTC), Qualcomm (NASDAQ:QCOM) or Unilever (NYSE:UL) (NYSE:UN), to name a few. But I have reduced my overall exposure in equities to a level that will minimize my losses in the event of an inevitable adjustment. I intend to capitalize on that adjustment when it comes.
Disclosure: I am/we are long AAPL, QCOM, UL, INTC, T, TWX.
I wrote this article myself, and it expresses my own opinions. I am not receiving compensation for it (other than from Seeking Alpha). I have no business relationship with any company whose stock is mentioned in this article.
Additional disclosure: Lawrence Fuller is the Managing Director of Fuller Asset Management, a Registered Investment Adviser. This post is for informational purposes only. There are risks involved with investing including loss of principal. Lawrence Fuller makes no explicit or implicit guarantee with respect to performance or the outcome of any investment or projections made by him or Fuller Asset Management. There is no guarantee that the goals of the strategies discussed by will be met. Information or opinions expressed may change without notice, and should not be considered recommendations to buy or sell any particular security.