(Note: This write-up was first published to HFI Research premium subscribers on Feb. 28. For more info on premium, please read this. For those interested in joining, you can sign up here.)
By: Pain Capital
Edited by: HFIR Team
There's a lot to cover today, so let's get started.
Energy Equity Underperformance
Oh brother, can the energy sector get anymore painful than this? The fourth quarter of 2016 and the start of 2017 should be called the Yin and Yang of portfolio management. Sectors that performed well did poorly at the start of 2017 and vice versa. Hot money drives these quarterly performance differences between sectors in the short-run exacerbating volatility.
Most of you that read the team's write-ups are in the category of "long-term" investors. The time frame of "long-term" has been drastically reduced from the adage of 5 years + to a mere year. So while we are frustrated from a quarter to quarter perspective, it's not the end of the world to underperform so far for 2017.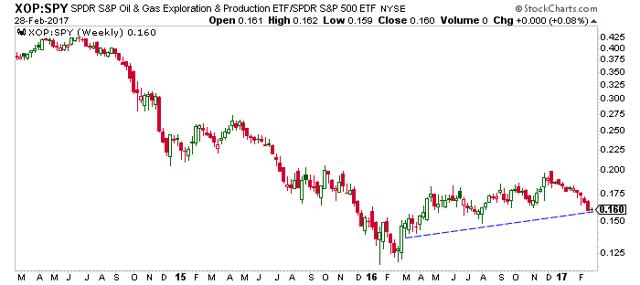 The trendline started since March last year remains the floor for the energy sector (NYSEARCA:XOP) relative to the SPY. The price action, although disappointing, has fared neutral versus the broad index. This week is important because a break below this trendline could see the sector testing the February lows, but a bounce would signal the uptrend intact.
Here's another view of this: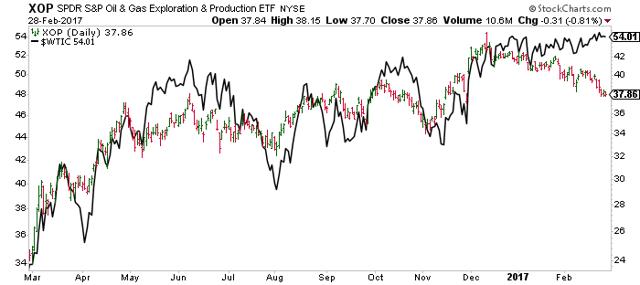 Looking at this chart, it's telling me that either the energy index is predicting a fall in oil prices via sentiment amongst the crowd, or that energy stocks should revert to where oil prices are.
Here's another look at the correlation between energy producers and WTI over the long run: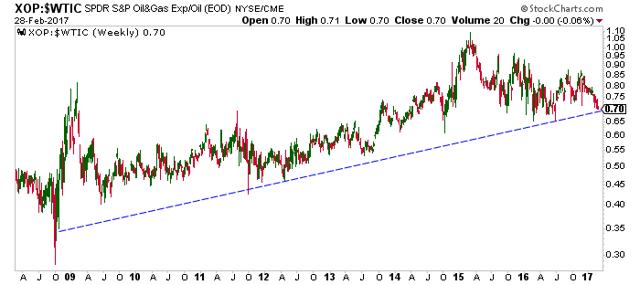 As XOP trades off the trendline, I think the pain will end soon.
Individual Name Discussions
Painted Pony (PPY.TO, OTCPK:PDPYF)
PPY reported strong results last night, but the stock price didn't react very positively. Why? I would attribute it to the negative price action momentum in the sector and Canadian E&Ps.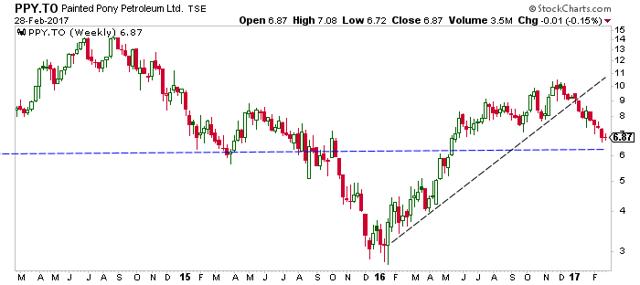 After the trendline break in December, PPY shares have sold off almost back to February 2015 levels. This will likely be a very strong support level for PPY as uptrends usually test the longs the conviction and fortitude of holding onto a volatile position like PPY.
I know based on the team's commentary so far on PPY results that the sell-off wasn't fundamentally driven. Rather, here are two other ratios that can explain the weakness: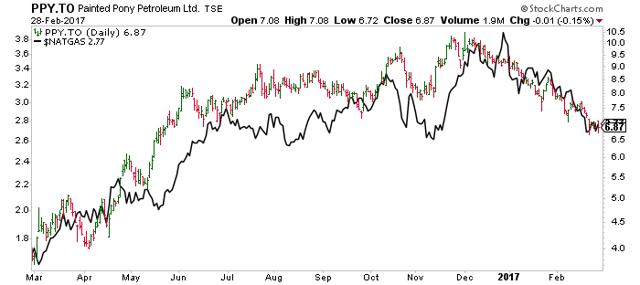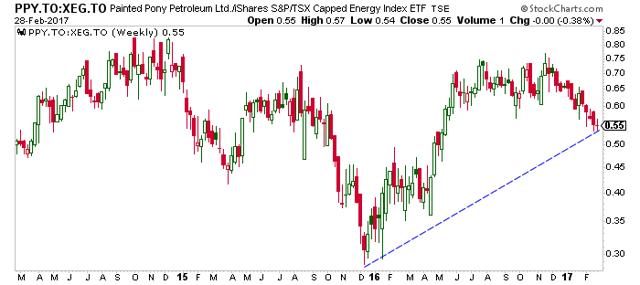 I think the weakness in PPY shares are coming to an end as the price level tests the uptrend versus the TSX capped energy index. However, looking at the correlation between PPY and natural gas (NYSEARCA:UNG), it's important to note that where share prices are headed next will be dependent on natural gas prices.
Technical is important and I think we should all pay attention to them, but PPY's PDP PV-10 NAV is C$7. I think prices below this offers a nice bit of margin of safety.
Gear Energy (GXE.TO, OTCPK:GENGF)
The painful sell-off continues for the largest position in the fund. I added some into the fund, and while it's at the capped allocation of 25% for the HFI Portfolio, I don't think it's a bad time to add.
Here's how Gear looks: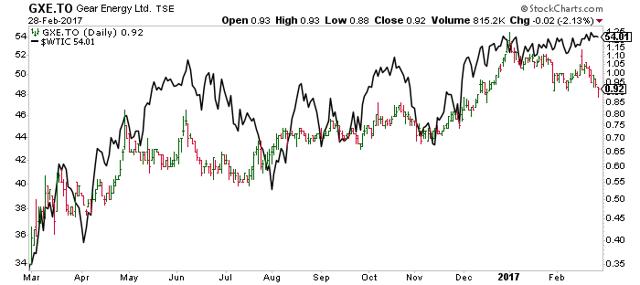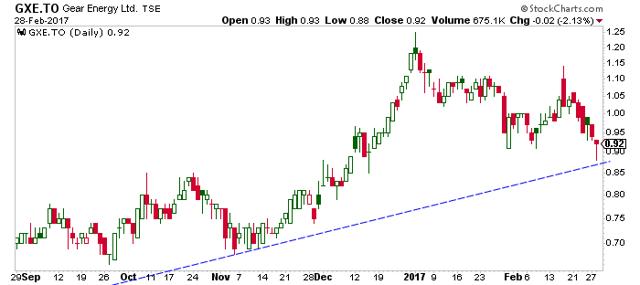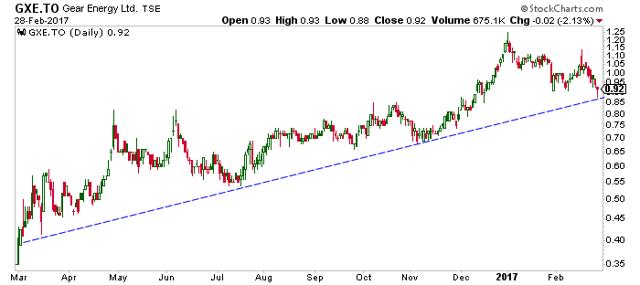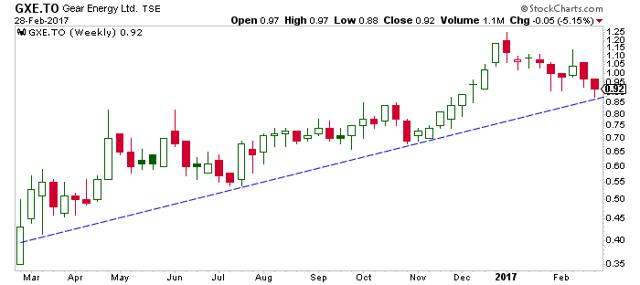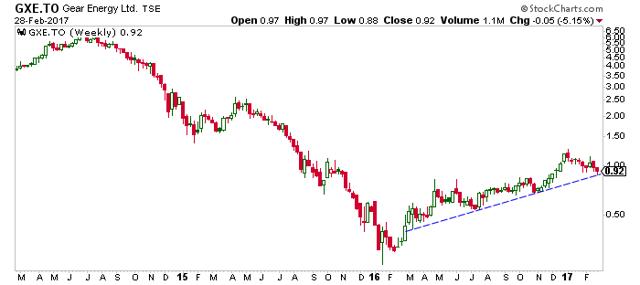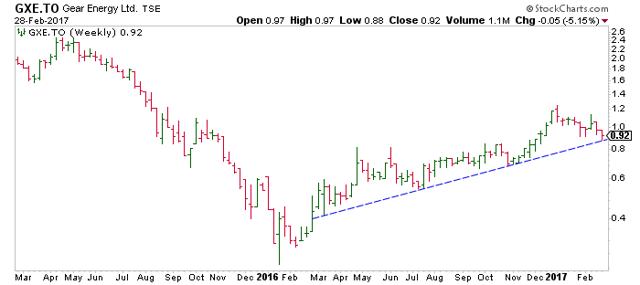 It looks to me Gear is approaching the upper trend established since the February of last year (how convenient it tests the uptrend on the 1-year anniversary).
Price action in Gear has been noticeably bearish since Q4 earnings two weeks ago. The share price initially opened higher to C$1.14 before selling off creating the large intra-day reversal candle. Fundamentally, nothing much has changed and with a PDP PV-10 value of C$0.90, I expect this to be a solid fundamental floor for Gear.
The next several days will be important because it will test the fortitude of the uptrend developed 1 year ago. If we manage to bounce off of these levels, then we can expect the next range to be in the C$1.35 to C$1.50 range.
Will it hold? I think so (biased emotionally).
Bellatrix Exploration (NYSE:BXE)
The trouble child of the bunch, BXE is testing the all-important psychological support levels again.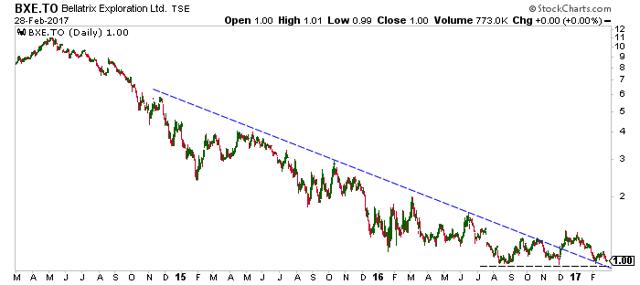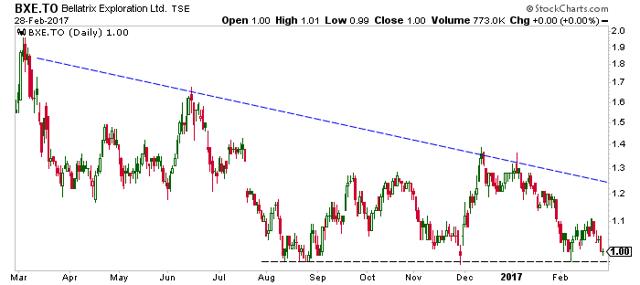 BXE continues to be stuck in this range. On a relative performance basis, BXE has not broken out of the downtrend yet: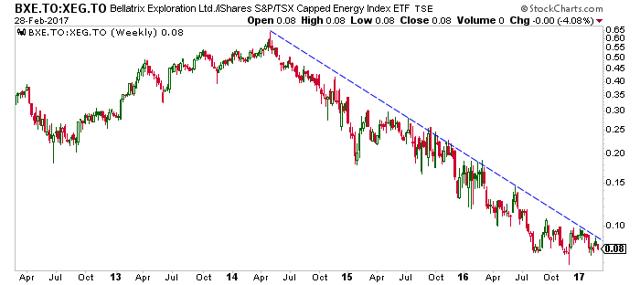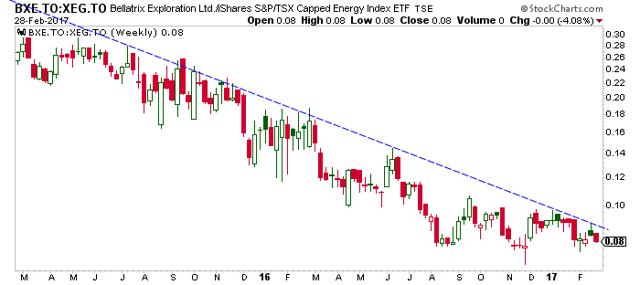 BXE will be reporting earnings and year-end reserves on March 15. This will be the first conference call with Brent as the CEO, so it will be intriguing to listen to and how he responds to analyst questions.
Reserve report will also determine what kind of credit line BXE gets from the new syndicate group, so that will be an important release to pay attention to.
The trend is so far holding.
Birchcliff Energy (BIR.TO, OTCPK:BIREF)
Birchcliff is looking mighty attractive at this price.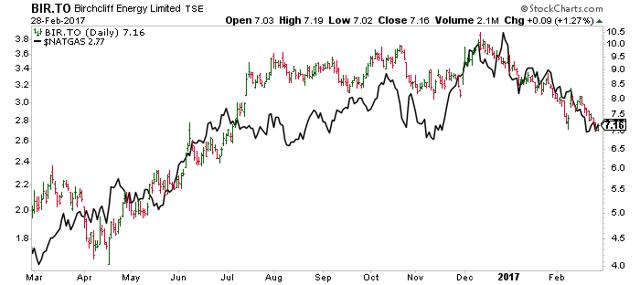 The share price of BIR has closely tracked the movement in natural gas prices. Similar to PPY, it will be the eventual outcome of natural gas prices that determine how BIR trades.
On a fundamental valuation basis, I see BIR trading at 5.3x EV/DACF, which is 25% to 30% cheaper than peers. On a risked NAV P+P basis, BIR is worth C$13, and upwards of C$15+ if natural gas prices cooperate. The fundamental story is also compelling after it made a nice acquisition last year to boost its Montney acreage. BIR also has a supportive majority shareholder Seymour Schulich, who has backed other very successful E&Ps. The eventual goal for BIR is to sell itself down the road and valuation will be a key consideration for a guy like Seymour. I suspect the company to eventually get sold north of C$13 a share.
US Gas Producers
The team is currently analyzing through the various US gas producers, so I thought I take some time to just see how these producers are doing technically speaking.
Southwestern (NYSE:SWN)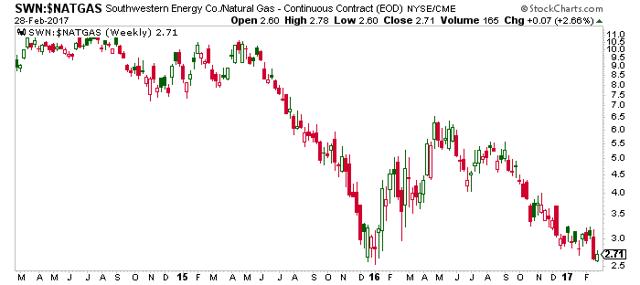 SWN is holding on to its ratio versus natural gas.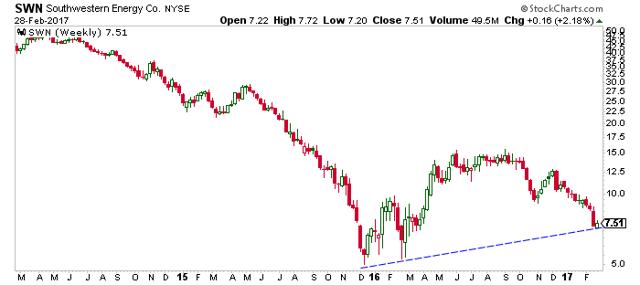 The current level is mighty important for SWN to hold. If the price breaks below that trendline on a weekly basis, we could potentially see it test $5 again, which could be a good opportunity to take a crack at.
Range Resources (NYSE:RRC)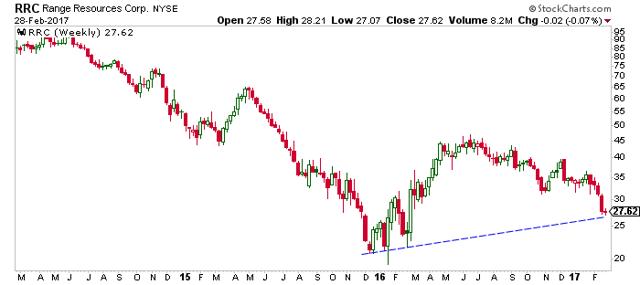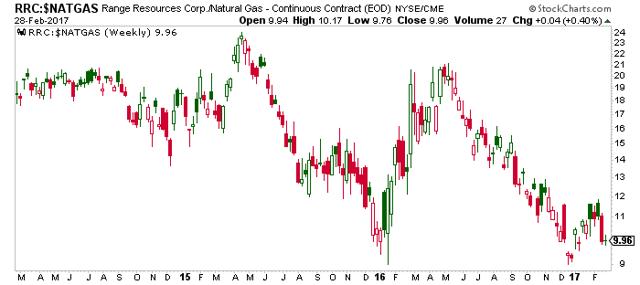 RRC is also similarly at an important inflection point relative to natural gas. Last year saw a massive sell-off in RRC which pushed its share price temporarily below $20 (amazing buy opportunity btw). It's unlikely we see something similar to last year. The trend channel is supporting the current price. RRC relative to natural gas appears to also be trending higher from its recent negative trend. I think we should start to see the shares move higher.
Gulfport Energy (NASDAQ:GPOR)
GPOR shares look to be approaching the five-year low back in June 2012.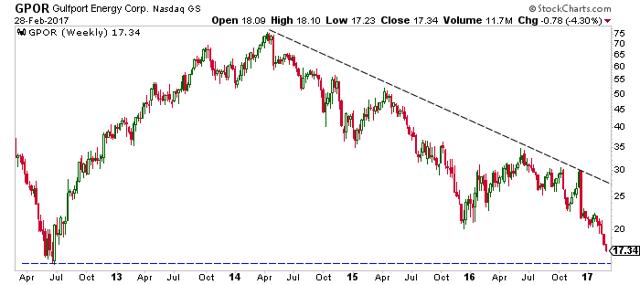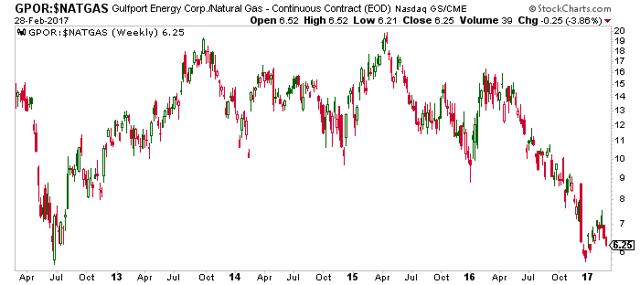 From the chart above, we can also see that on a relative performance basis, GPOR is approaching the floor seen in 2012 relative to natural gas. I haven't studied the company fundamentally yet, but this tells me that it's important for GPOR to hold its ground relative to the lows seen in 2012. The longer-term chart explains why that's the case.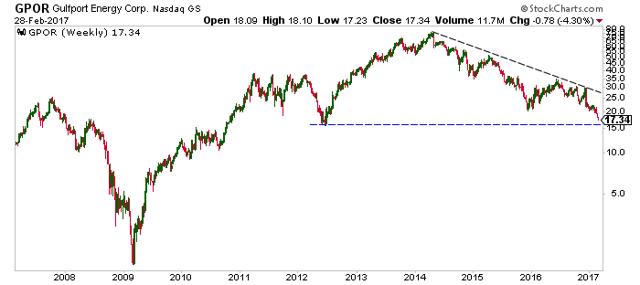 A fall below the 2012 level leaves it open to a potential fall to $10. On a short-term basis, share price action looks negative, but if it can hold against that 2012 low, the reversal could see the shares make an inverse head and shoulder pattern which would push the price much higher. The opposite is also true.
Conclusion
That's all I will cover now. I think technical indicators give us a clue as to how the short-term will look like, while ratio and comparison charts explain what drives short-term share price performances. The divergence between energy equities and oil (NYSEARCA:USO) should close and that's either energy stocks rally or oil prices fall. Many of the energy names are testing important technical levels and the next two weeks will be important.
Disclosure: I am/we are long BIREF, BXE, GENGF, RRC, PDPYF.
I wrote this article myself, and it expresses my own opinions. I am not receiving compensation for it (other than from Seeking Alpha). I have no business relationship with any company whose stock is mentioned in this article.
Editor's Note: This article covers one or more stocks trading at less than $1 per share and/or with less than a $100 million market cap. Please be aware of the risks associated with these stocks.