"The U.S. ethanol industry is poised to export record volumes of the biofuel in 2017." That bodes well for Green Plains Partners LP (NASDAQ:GPP), a midstream company we began covering in December 2016.
Most of the midstream companies we cover in our articles serve the oil and gas industry, but GPP has a bit of a niche - its operations revolve around ethanol produced by its parent company, Green Plains Inc. (NASDAQ:GPRE). GPRE is the third-largest US ethanol producer.
Profile: GPP is a fee-based, limited partnership formed by Green Plains Inc. to provide ethanol and fuel storage, terminal and transportation services by owning, operating, developing and acquiring ethanol and fuel storage tanks, terminals, transportation assets and other related assets and businesses. GPRE owns 62.5% of GPP and public unit-holders hold 35.5%. GPP IPO'd in June 2015 and is headquartered in Omaha, Nebraska.
GPP's assets include 30 ethanol storage facilities, located near parent GPRE's 14 ethanol plants, eight fuel terminal facilities in seven south-central US states, 2,550 railcars and trucking capabilities.
GPP has long-term contracts with GPRE which support its distributions: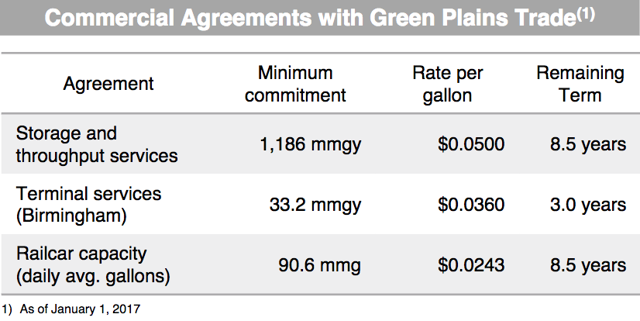 (Source: GPP Q4 '16 Presentation)
GPP has outperformed the Alerian MLP ETF (NYSEARCA:AMLP) over the past year, quarter and month. Year-to-date though it has lagged AMLP and the S&P 500.

Distributions: Management has raised the distribution for five straight quarters, from $.40, up to the current $.43 it paid in February.

You can track GPP's current price and dividend yield in the Basic Materials section of our High Dividend Stocks By Sector Tables.

Even though it raised the distribution each quarter, GPP's growing DCF has more than kept pace as its distribution coverage has grown from 1.02x in Q1 '16 to 1.27x in Q4 '16:

Options: There are no US options listed for GPP, but you can see details for over 25 other income-producing trades in both our Covered Calls Table and our Cash Secured Puts Table.
Earnings: Being a new company, GPP has racked up some gaudy growth figures, as it added to its asset base.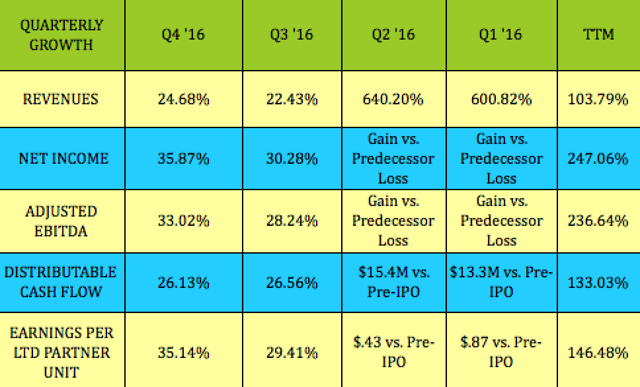 There has been a pretty steady progression in revenue, net income, EBITDA, DCF and EPU over the past six quarters: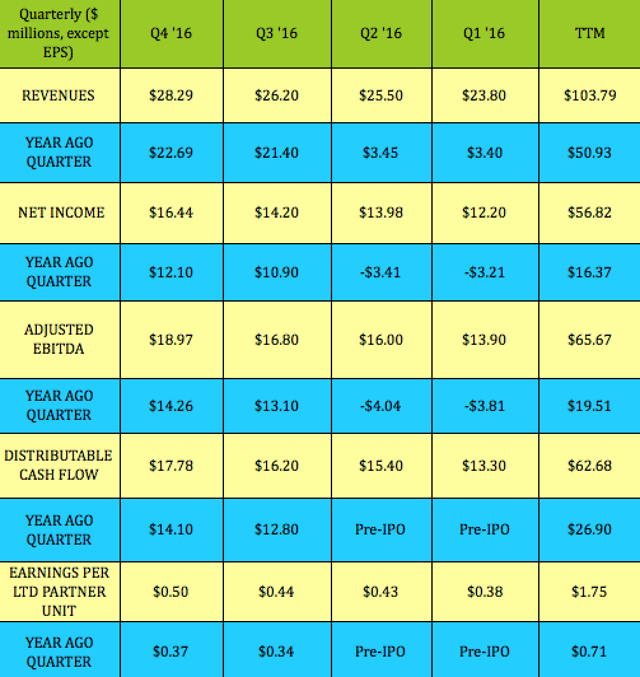 Management also kept a lid on unit growth in 2016: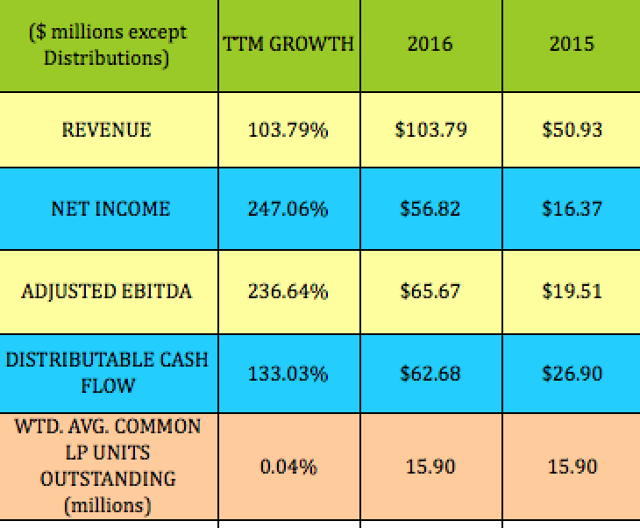 Tailwinds: Even with better MPG efficiencies for our cars, US gasoline consumption has risen steadily since 2012 and had larger increases in 2015 and 2016.

This growth, combined with ethanol's cost advantages and RIN-related value, have increased its usage in the US and overseas.
(A Renewable Identification Number (or RIN) is a serial number assigned to a batch of biofuel for the purpose of tracking its production, use and trading.) Source: Wikipedia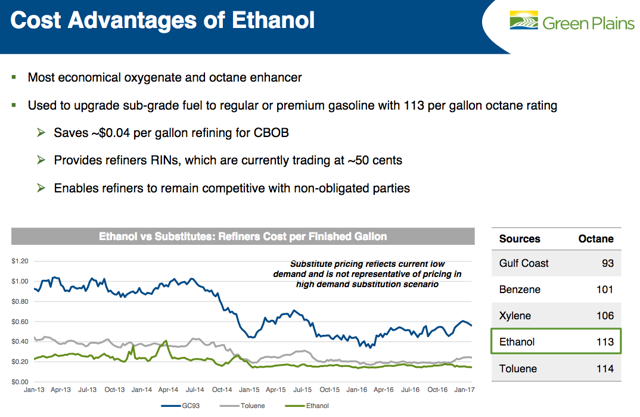 CEO Becker not only predicted higher ethanol exports in 2017, but also forecasted a year of strong domestic demand as well. "That will help to scoop up the 15.3 to 15.7 billion gallons U.S. ethanol makers are likely to pump out this year." (Source: GPP site)
The number of US gas stations selling E15 jumped by 45% in 2016. Sure, it's still a small number, but the growth trend is there: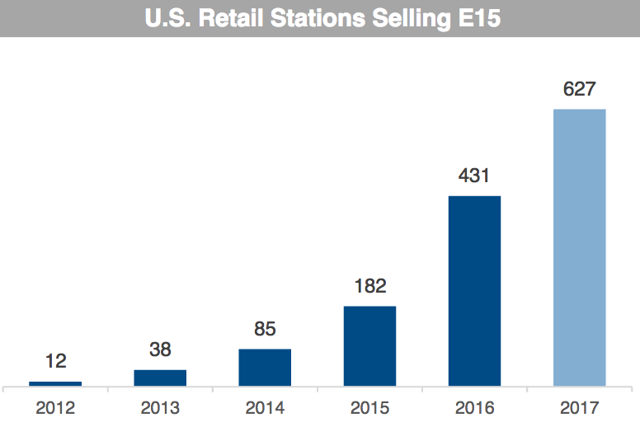 (Source: GPP site)
But ethanol isn't just used in fuels - it's also a cheap source of sugar, via corn syrup.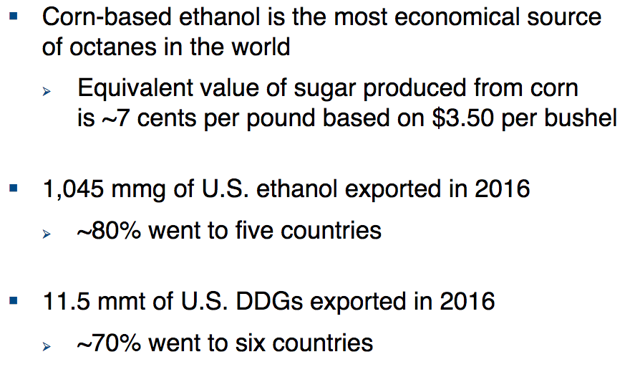 Just five nations dominate the ethanol export mix - Brazil, Canada, China, India and The Philippines, consuming over 80% of the export volume: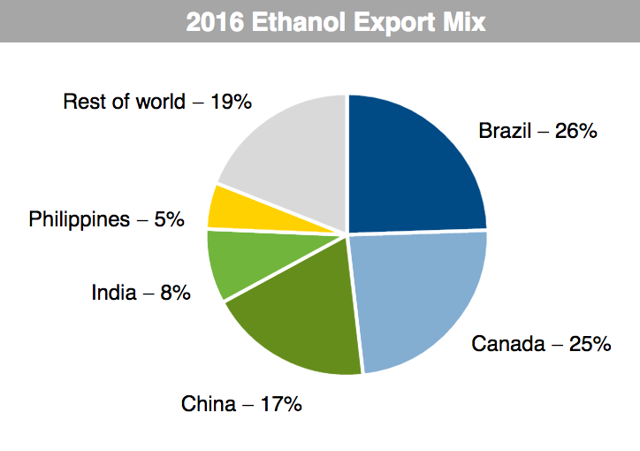 DDGs or Distillers Dried Grains are a cereal byproduct of the distillation process. 70% of US DDG exports went to just six countries in 2017: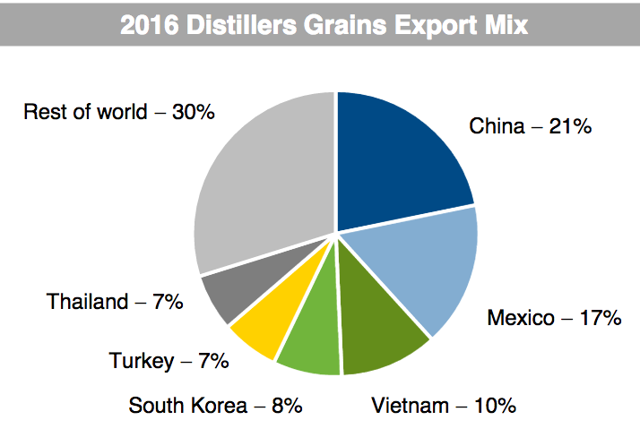 Analysts Targets and Estimates: GPP is currently 12.72% below the consensus $22.40 price target. The low and high targets of $17.00 and $24.00 haven't been changed in the few months, while the consensus has inched up to $22.40 from $22.20.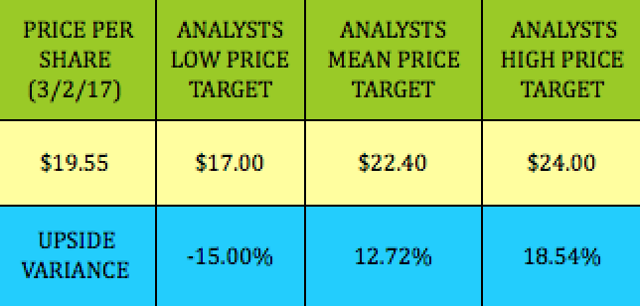 There is some concern among analysts and investors that the new administration may deemphasize ethanol fuel blending. GPP's management feels that this negative speculation is overdone. They point to a coalition of a large cross-section of players who support maintaining the status quo: C-Store retailers, integrated energy companies and refiners, truckers, railroads, the American Petroleum Institute, and the ethanol industry.
In other words, these guys have plenty of lobbyists to keep the wheels turning in the same direction.
Although GPP's price targets haven't risen, it has received multiple upward estimate revisions over the past month, as analysts have raised their estimates for the next two quarters, 2017 and 2018. This makes sense, given that the company has grew its asset base by over 23% during 2016.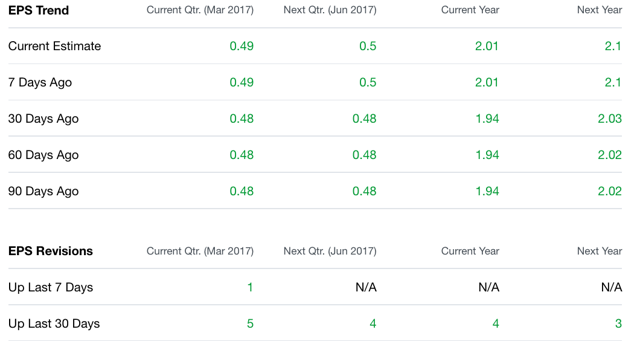 Analysts have a consensus revenue growth forecast of 14.6% for 2017 and 6.8% for 2018. GPP has surprised to the upside for three straight quarters: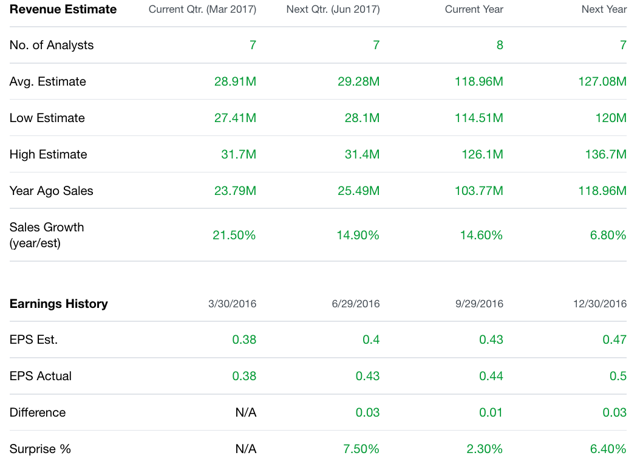 (Source: YahooFinance)
Valuations: We've updated this Valuations table, which includes some midstream firms we've covered in recent articles, such as MPLX LP (NYSE:MPLX), PBF Logistics LP (NYSE:PBFX), Arc Logistics Partners (NYSE:ARCX), Martin Midstream Partners LP (NASDAQ:MMLP), and Holly Energy Partners L.P. (NYSE:HEP), in addition to DCP Midstream Partners LP (NYSE:DCP) and Kinder Morgan (NYSE:KMI).
GPP's valuations look very close to the averages for this small group - there aren't any deep under-valuations here. If it remains by the wayside in 2017, however, its price/DCF will improve as it throws off more cash flow from its growing asset base. (There's no price/book, since it has a negative equity figure, which we cover in the next section.)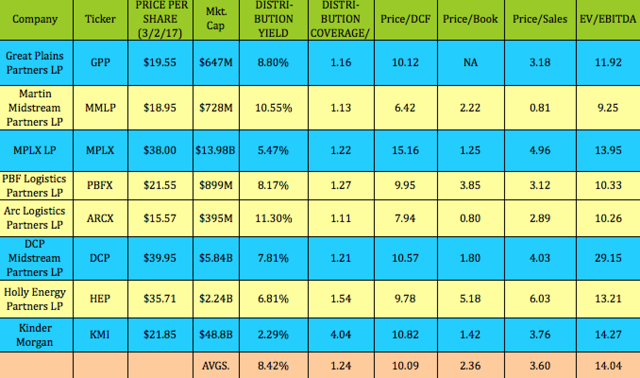 Financials: As GPP acquired more property and equipment in 2016, its liabilities grew also, rising by over 117%, which pushed down its partners capital/equity to a negative $64M. Hence, it currently has a negative book value and negative equity. The equity figure improved a bit in Q4, to -$64M from -$67M in Q3.
So far, management financed all of that asset growth in 2016 with new debt. If it decides to switch to the equity markets, and do a secondary offering in 2017, the partners capital would rise again.
On the positive side, GPP has ample interest coverage of over 13x, as of Q4 2016. It also has a very low debt/EBITDA ratio of just 2.09, even with the big expansion of liabilities in 2016.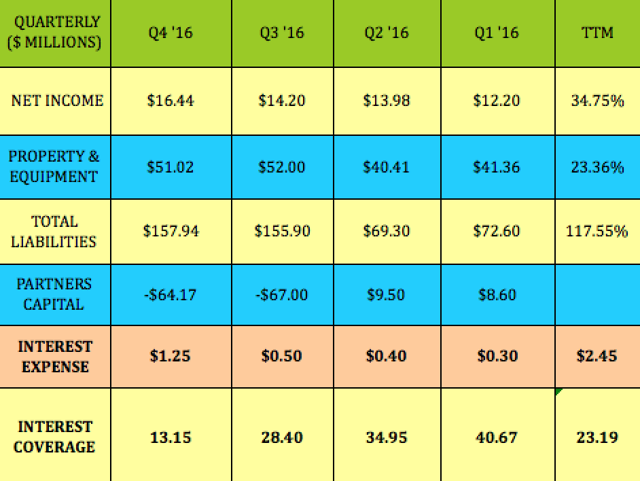 GPP also has a very strong ROA of over 60% and an impressive operating margin of over 57%: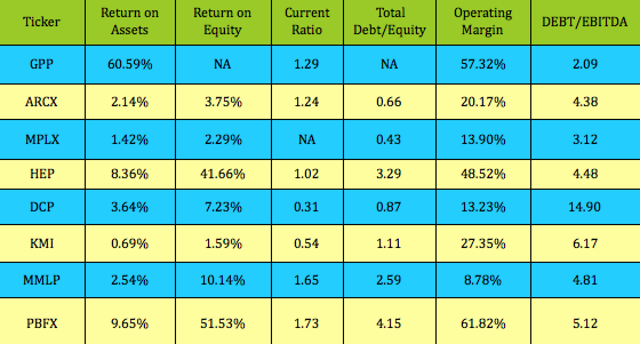 Balance Sheet: Long-term debt stood at $136.9M as of 12/31/16.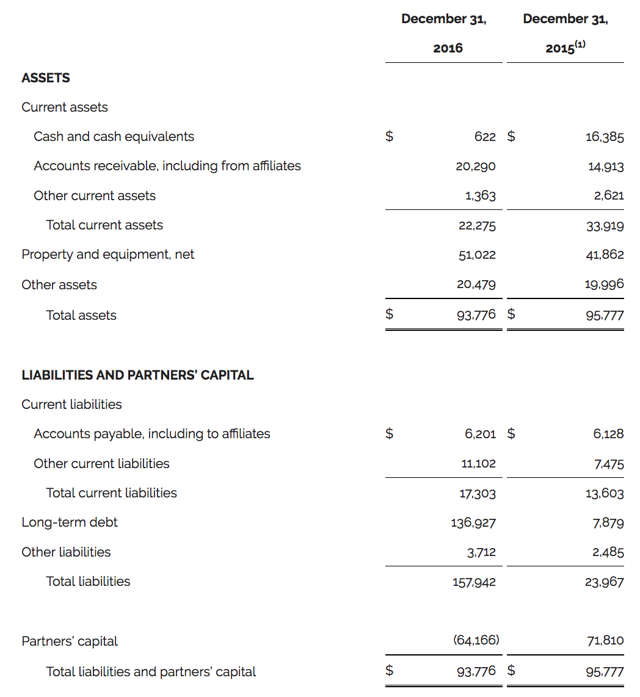 All tables furnished by DoubleDividendStocks.com, unless otherwise noted.
Disclaimer: This article was written for informational purposes only, and is not intended as personal investment advice. Please practice due diligence before investing in any investment vehicle mentioned in this article.
Disclosure: I am/we are long GPP, MPLX, ARCX, MMLP.
I wrote this article myself, and it expresses my own opinions. I am not receiving compensation for it (other than from Seeking Alpha). I have no business relationship with any company whose stock is mentioned in this article.