What was he thinking? Why on earth would Warren Buffett go against his own advice and buy an airline. In a recent interview, Buffett told CNBC that "airlines have been a disaster for capital" and "You can go on the internet and look at 100 airlines that failed". By his own admission, he made the mistake once on US Air in the 1980's, almost losing half his investment before luck played back into his hands, breaking even. Are the airlines turning around? Are operational efficiencies, new aircraft, and better IT systems lowering costs and making the industry profitable? I'll give you a hint, it's something "Other" than that. Let's have a look at Delta Air Lines (NYSE: DAL) and see how it reshaped its business into the black.
Note: In 2007, Delta filed for bankruptcy and merged with Northwest in 2008.
Here are the historic financials and growth rates:
Year

Total Shares (mil)

Revenues (mil)

EPS

FCF (mil)

FCF/

Share

RASM (¢)

CASM (¢)

Load Factor

2000

827

$16,741

$6.28

-$1,162

-$1.41

10.80

9.75

72.91%

2001

827

$13,879

-$9.99

-$2,557

-$3.09

9.39

10.47

68.80%

2002

827

$13,305

-$10.44

-$1,001

-$1.21

9.55

10.45

71.90%

2003

827

$14,308

-$6.40

-$500

-$0.60

10.26

10.82

73.33%

2004

827

$15,235

-$41.07

-$1,768

-$2.14

10.04

12.23

74.70%

2005

827

$16,191

-$23.75

-639

-$0.77

10.33

11.6

76.50%

2006

827

$17,532

-$31.59

$580

$0.70

10.83

11.61

78.50%

2007

827

$19,155

$5.42

$323

$0.39

11.30

12.03

81.40%

2008

827

$22,697

-$19.08

-$3,229

-$3.90

11.82

18.72

81.40%

2009

827

$28,063

-$1.50

$177

$0.21

10.34

12.32

82.00%

2010

843

$31,755

$0.70

$1,490

$1.77

11.71

12.69

83.00%

2011

844

$35,115

$1.01

$1,580

$1.87

12.89

14.12

82.10%

2012

850

$36,670

$1.19

$508

$0.60

13.78

14.97

83.80%

2013

858

$37,773

$12.29

$1,936

$2.26

14.15

14.77

83.80%

2014

845

$40,362

$0.78

$2,698

$3.19

14.58

15.92

84.70%

2015

797

$40,704

$5.63

$4,982

$6.25

14.10

13.33

84.90%

2016

751

$39,639

$5.79

$3,813

$5.08

13.41

12.98

84.60%

3 year

-3.05%

1.97%

48.2%

65.5%

70.7%

-0.68%

-3.50%

0.24%

5 year

-2.31%

2.45%

41.8%

19.3%

22.1%

0.79%

-1.67%

0.60%

10 year

-0.96%

8.50%

N/A

20.7%

21.9%

2.16%

1.12%

0.75%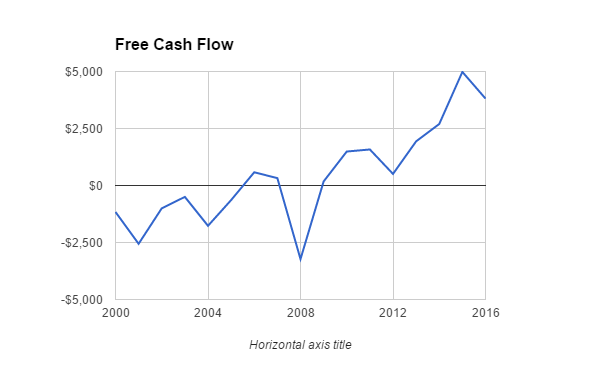 Some key takeaways at the macro level:
Decent growth in revenue year over year. Note that the industry is always consolidating. The big players take market share through bankruptcies or acquisitions.

The industry was very tough pre-2010. 2008 was a really bad year due to the bankruptcy and merger, but there were so many bad years. This is a reflection of the industry as a whole.

Free cash flow has grown significantly and has been stable, above water since 2009. This is the meat of what matters to investors. EPS is an accounting number whereas FCF is how investors get paid a dividend.
We need to understand what happened to the business post 2009. Next, let's look at the operational performance metrics.
Performance Metrics
The revenue and cost per available seat mile are calculated by taking operational revenue and operational costs and dividing them by the total annual seat miles. For example, if an aircraft has a total of 100 physical seats and travels 200 miles, the total seat miles is 20,000. In addition, the aircraft load factor is the average percentage of seats occupied in each flight. These figures are provided in the annual report: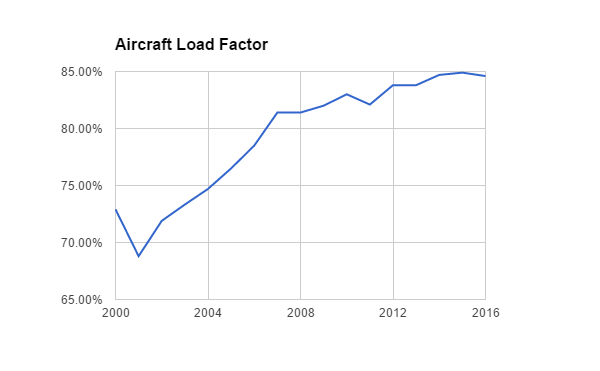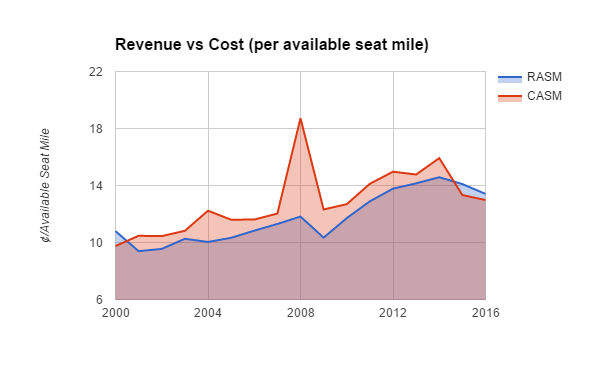 Key takeaways:
The aircraft load factor has increased significantly since the early 2000's. Aircraft have more passengers per flight. You can infer this from the growing revenue per available seat mile (RASM). Note that costs have also gone up to compensate.

The costs per available seat mile (CASM) have exceeded the revenues per available seat mile throughout the past 16 years. Note that Delta experienced positive free cash flow starting in 2009. Therefore, Delta must be pulling in revenue from another activity outside flying. This is a key takeaway. The airline operation only been profitable since 2015. Even then, if you take a 1000 mile trip on a Delta flight, Delta only makes $4.30 from your ticket (1000 *($0.1341-$0.1298)).
Something obviously changed starting around 2010 onwards. A new revenue stream. But before we look at revenue, let's look quickly at the costs to evaluate potential risks to our FCF.
Moat
When Buffett is talking about a "Moat", he is really talking about the ability of the firm to control pricing and costs to continue to generate and grow cash flow within the industry. In other words, the cash flow risks to the business and understand how those risks are changing. I think all MBA programs use a couple airlines cases throughout their courses to demonstrate industry fundamentals. If you take a class on strategy you will surely come across Porter's Five Forces model and apply it to the airline industry:
The industry was summarized by Potter back in 2008. It's good to keep these factors in our head to see if they are still relevant. These are the factors that shape industry profitability:
Threats of new entrants: New players enter the industry in a constant stream.

Threats of substitute products: Substitutes are readily available - such as train or car travel.

Bargaining power of buyers: Customers are fickle, searching for the best deal regardless of carrier.

Rivalry among existing competitors: Established rivals compete intensely on price.

Bargaining power of suppliers: plane and engine manufacturers, along with unionized labor forces - bargain away the lion's share of airlines' profits.
Costs
Let's go through costs, see if anything has changed and estimate how likely cost risks could affect the future cash flows. Here is a summary of the cost structure affecting the industry (source):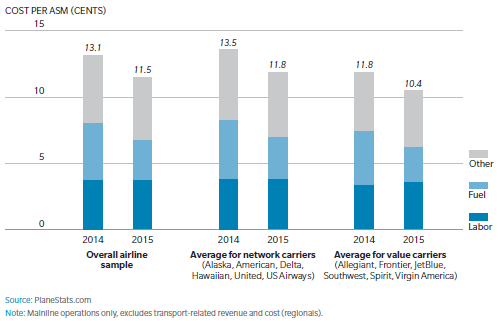 Here is a breakdown of Delta's operating costs: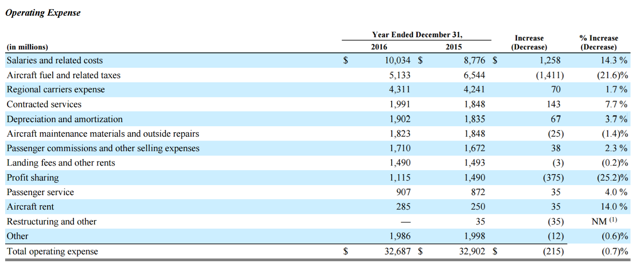 Note that fuel and labor costs represent a significant portion of the total operations costs. Let's have a look at those first.
Industry Fuel Costs
Here are the historic jet fuel prices adjusted for inflation (red) contrasted to the average fuel burn per passenger-km (NASDAQ:BLUE) (source):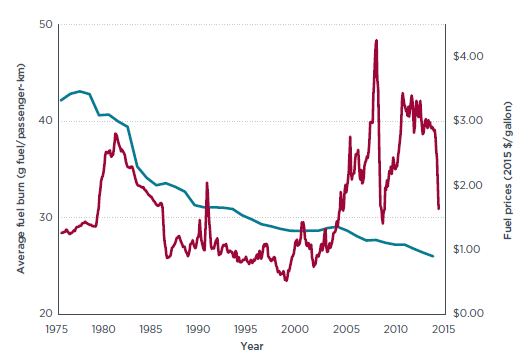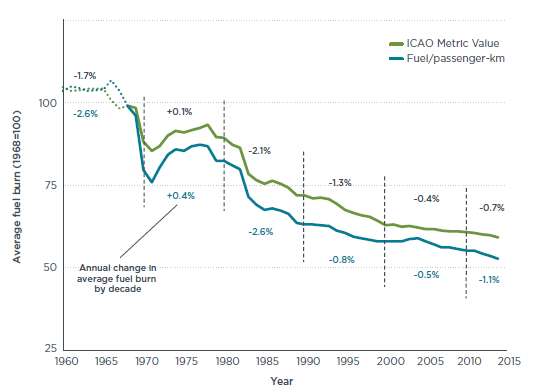 Although there have been savings as a result of aircraft efficiency since 2009, fuel prices were at extremely high levels. Therefore the industry achieved profitability in spite of those increases.
Another important consideration about fuel efficiency is that route length significantly impacts cost per available seat mile. Short and long routes experiencing the worst fuel economy. Each aircraft has an optimal efficiency design. Also note that eventually aircraft will move to a renewable source of energy for air travel and change the cost structure, but that's decades away until we see the "Tesla Skyster".
Delta's Fuel Costs
Here are Delta's fuel costs for the past 3 years.

Fuel costs theoretically don't matter and are passed on to the consumer, however since tickets are often purchased in advance, the airline has to periodically absorb rapid changes in pricing. Look again at the rising costs per available seat mile and the drop in costs after fuel prices lowered in 2015: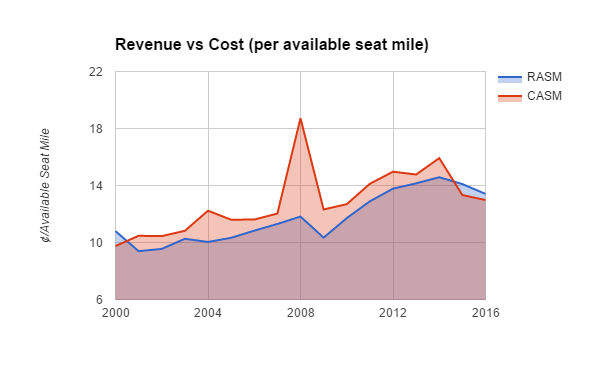 An interesting hedging strategy Delta applies is through wholly owning a subsidiary (Monroe Energy) that refines 195,000 barrels of crude oil per day to produce jet fuel, gasoline, and diesel. The non-jet fuel products are traded for jet fuel through strategic alliances.
What does the future look like for fuel prices? I could speculate, but there is always a significant risk that prices could go up or down and affect cash flows. Hedging activities are good for insuring against short term volatility, but only buy time against long term changes. I think the relative cost of fuel is cyclical enough that there will be some high years and some low years, canceling each other out in the long run performance.
Labor Costs
Here are the US carrier labor costs per aircraft seat mile (source):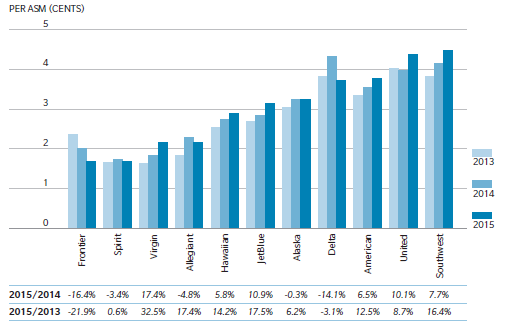 Delta actually has one of the higher labor costs in the industry, even though Delta has the least unionized work force. As of December 31, 2016 , it had approximately 84,000 full-time equivalent employees, approximately 19% represented by unions. Delta also uses a profit sharing program to motivate its employees, effectively switching some costs from fixed to variable. This is an important strategy, since the airline's ability to cope with bad times is largely related to its ability to adopt a variable cost structure. I think it's safe to say that labor costs will continue to go up at the pace of the industry growth. No big changes here since 2009.
Airline Landing Fees
Based on this research you can see that terminal fees have gone up since 2005 in Europe at an average of 6.7% per year: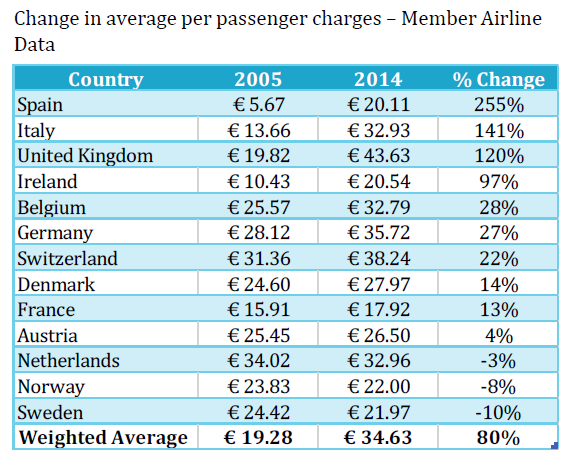 US Airport revenue per enplanement has also gone up, but has started to flatten out: (source):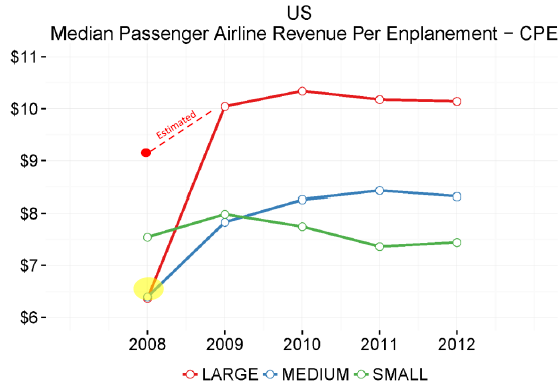 I expect airport costs will continue to climb at a reasonable rate.
Aircraft Leasing/Acquisition Costs
Delta owns most of its fleet, but uses leases to adjust for variable market demand. Amortization, aircraft maintenance, and aircraft rents cost Delta $4,010M or 12% of the total operating expenses in 2016, compared to $3,586M or 11% in 2011, and $2,590M or 14% in 2005. Not insignificant, but no major changes that could have resulted in the improved profitability. Here is the current fleet for those who are interested: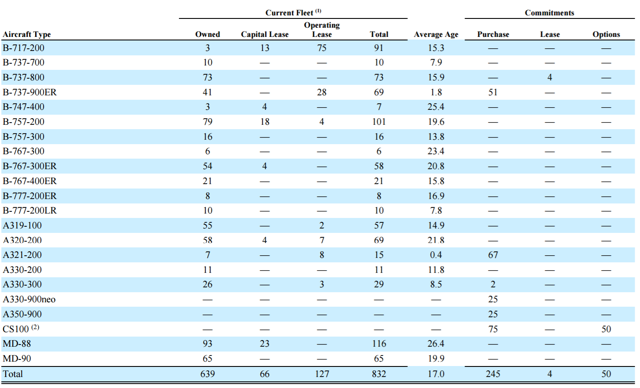 Regional carrier fleet:

And purchase schedule:

Summary
What can I say, the airline industry still stinks. Currently, Delta is making a little over $4 every time it moves a passenger 1000 miles. That's with a tail wind. Current fuel prices, the airline's largest cost, have dropped significantly. Other than some benefits to aircraft fuel economy, all other costs have increased with revenue growth. Then why did Buffett invest? The answer is of course the "other revenue".
Other Revenue
Delta's other revenue consists of loyalty programs, fees, onboard sales, and ancillary businesses. Here are the breakdowns for 2016 and 2015:

This portion of the business has had great growth over the past decade, with 3, 5, and 10 year compound growth rates of 9.4%, 6.3 % and 12.9%, respectively: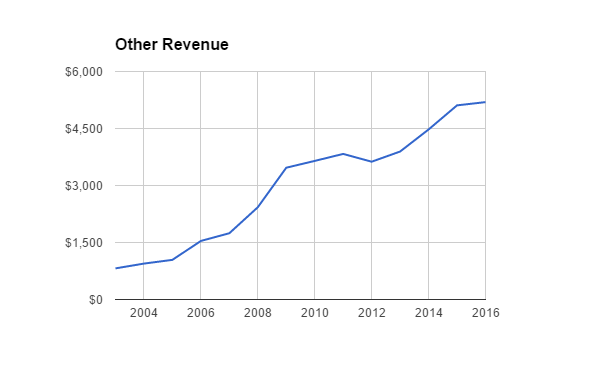 If you applied a correction factor to artificially add this revenue to pre 2010, you would have had positive cash flow throughout those years. Keep in mind that there are a number of risk factors that could bring load factors back down in the 70% range, gas prices could rapidly move, or the airlines might get tempted to use the other revenue as a buffer to decrease ticket prices to grab market share.
Valuation
Running the numbers in a DCF analysis and taking into account the growth to the other revenue and the risks to the cash flow, I see Delta worth $50-$76 billion. A reasonable premium to the $38 billion market cap. The key to growing the business is obviously through finding and growing additional revenue streams in addition to its existing ones: targeted advertising, credit card kickbacks, and the loyalty program. The best sources don't actually directly cost travelers. I think this is a key insight. You can't make money by nickel and diming travelers.
Final Thoughts
So there you have it. Airlines as a business is still a tough game. The industry fundamentals haven't changed. All of Porter's five forces still place tremendous pressure on the players within the industry. If you estimate the growth and value of the other revenue, you can come to a reasonable valuation of the business. So the next time someone says "why did you by an Airline, don't they lose money every year", tell them "Yes they do. I didn't buy an airline, I bought 'Other Revenue' ".
Disclosure: I/we have no positions in any stocks mentioned, and no plans to initiate any positions within the next 72 hours.
I wrote this article myself, and it expresses my own opinions. I am not receiving compensation for it (other than from Seeking Alpha). I have no business relationship with any company whose stock is mentioned in this article.