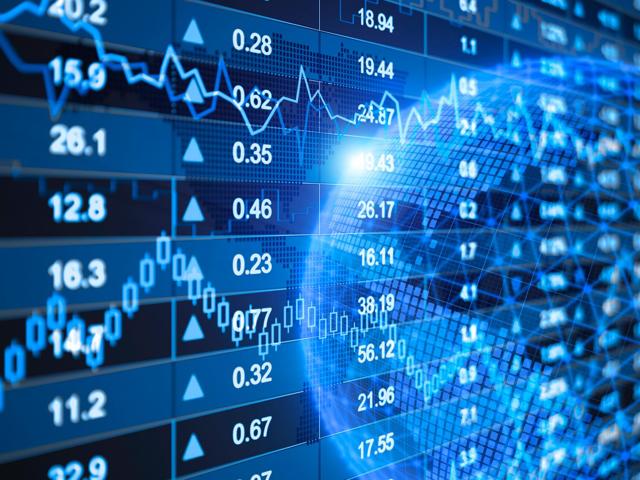 Unusual Divergence
The SPDR S&P 500 ETF (NYSEARCA:SPY) is up approximately 3% since February 13th, what's odd is that the VIX related products are also appreciating in value. The iPath S&P 500 VIX Short-Term Futures ETN (NYSEARCA:VXX) being up approximately 8% in the last 3 weeks, while the ProShares Ultra VIX Short-Term Futures ETF (NYSEARCA:UVXY) and VelocityShares Daily 2x VIX Short-Term ETN (NASDAQ:TVIX) are up about 15% each.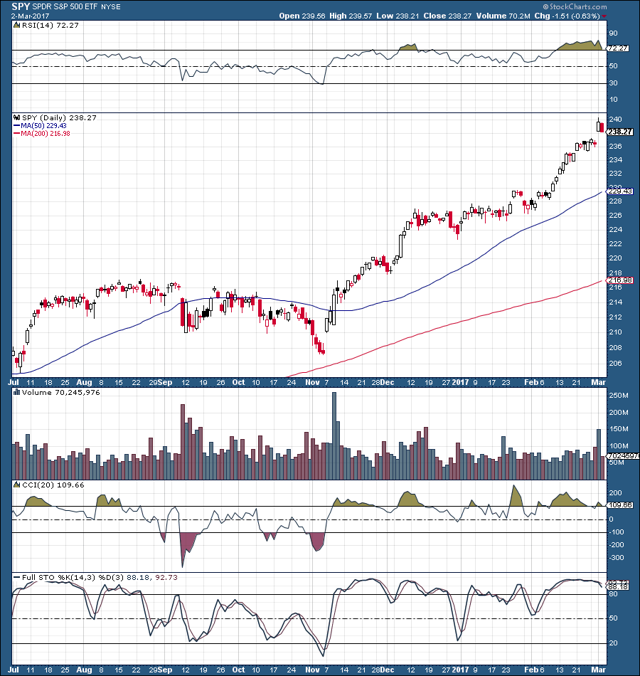 Fundamental Reasons for Divergence
VIX related products are appreciating in value because traders, investors and most importantly the Smart Money are buying up option protection for the very near future. This phenomenon is certainly something that does not occur very often and clearly indicates that a growing number of traders, money managers and investing professionals are anticipating a significant increase in volatility in the near future.
Record Volatility Fund Inflows
Another element which has contributed to this atypical move in VIX related products are record inflows into ETN's such as (VXX), (UVXY), (TVIX) and others. The volume has been unusually high in these names over the past few weeks, and indicates an abnormal amount of buying interest. This is especially alarming as it is happening in a rising market environment.
Technical Market Analysis
There are numerous reasons why a technical correction in the markets would be warranted right now. All major indexes have had meteoric advances, with the S&P 500, and Nasdaq 100 (NASDAQ:QQQ) gaining 16%, Russell 2000 (NYSEARCA:IWM) increased 22.6%, and the Dow Jones Industrial Average (NYSEARCA:DIA) grew by 19% since the election in election 4 short months ago. Such gains are exceptional, even for a whole year these are outstanding profits by all measures, yet we are here in under 4 months, in a market that is mostly propelled by hope, hype, and greed.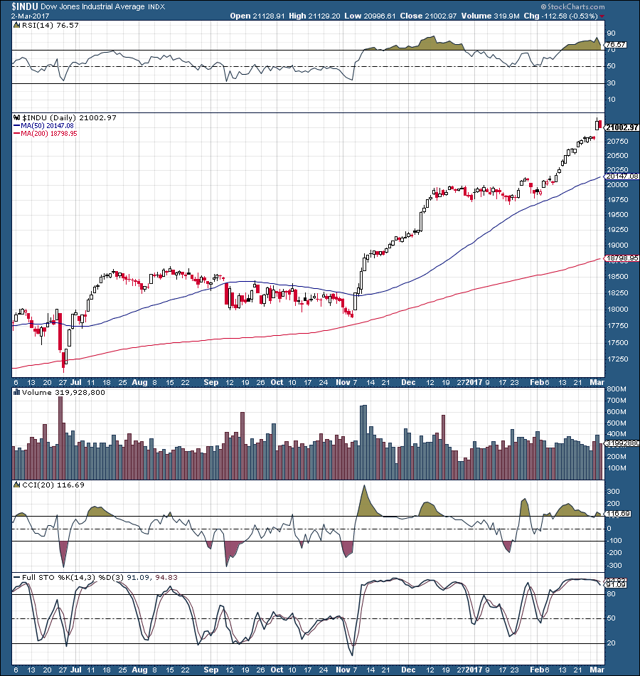 Numerous time tested and proven technical indicators are now beginning to finally sound off real alarm bells. The RSI is well over 70 in all major averages and was as high as almost 90 in recent days in the DJIA. In addition, the CCI, volume indicators, and full stochastic are all pointing towards a decline in momentum and subsequent strengths of this rally.
Fundamental Market Analysis
The S&P 500 is currently trading at a price to earnings (P/E) ratio of 26.74, almost double the historic median which is only 14.65. Perhaps more importantly, the Schiller P/E is currently at 29.37, when the median is merely 16.2. Important to note that this is a P/E level well above the 26-level reached at the height of the 2007 financial crisis and is on par with the 29-30 mark attained on Black Tuesday 1929.
In addition, and perhaps on of the most troubling fundamental indicators, the S&P 500's price to sales ratio which is now at 2.10, levels haven't seen since the dotcom boom and subsequent bust. Some of the most influential and fundamental indicators that effect stock prices are sales and earnings, and all three of these key indicators are emerging as alarming red flags.
Conclusion of Analysis
This is an extremely atypical move that we are seeing, as there appears to be a clear divergence regarding VIX related trading vehicles such as being up 8%, and being up 15% in a 3-week period while the S&P 500 appreciated 3% instead of declining as it would normally. Moreover, record inflows and a surge in demand for option protection, coupled with bubble like technical conditions, further supported by fundamental factors lead us to believe that a correction at these levels is a healthy, necessary and most likely unavoidable occurrence that will create an instant and violent surge in volatility.
Opportunity for Investors and Trading Professionals
The very healthy and reasonable correction that the market could so badly use at this point can cause a decline of anywhere from 5%-10%. The last 5% correction had was in late October 2016 which lasted for about 2 trading weeks. During this time frame gained approximately 30%, while skyrocketed from $65 to $105 (split adjusted) nearly doubling in 9 trading days. Naturally, call options concerning the underlying securities appreciated thousands of percent over this same period. Our analyses indicate that a mild correction of 5% - 7% would yield approximately 50% in and 100% in. It is important to mention, that the underlying ETNs mentioned in this article do not typically make wise long term investments and are much more efficient when applied as short term trading vehicles.
Although market timing is impossible, to perfect we must strive for perfection, regardless.
Victor Dergunov, MBA
CEO Albright Investment Group
Disclosure: I am/we are long VXX.
I wrote this article myself, and it expresses my own opinions. I am not receiving compensation for it (other than from Seeking Alpha). I have no business relationship with any company whose stock is mentioned in this article.