Bloomberg ran an article a couple of days ago on the possibility that Apple (NASDAQ:AAPL) might pay a dividend. They said,
The company is likely to declare a quarterly dividend of about $2 a share before the year is out, according to data compiled by Bloomberg. The projections are based in part on the dividends paid by other large technology providers, including Microsoft Corp. (NASDAQ:MSFT) and International Business Machines Corp. (NYSE:IBM)
I guess it could be $2 per share. But I have absolutely no idea why what Microsoft and IBM did years ago would have anything to do with what Apple might do today
But I also ran into this,
Apple may choose to make a one-time distribution, rather than making a quarterly payment, said Doron Nissim, a professor of accounting at Columbia Business School in New York. A single payout would leave investors less vulnerable to subsequent increases in taxes on dividends, while also removing the risk to Apple's stock price if they someday were to end the dividend, he said.
As a shareholder, a one-time distribution, or "special" dividend is the option I prefer least. But options traders could be taken by surprise if it does happen - especially if the special dividend is some odd amount, like $38.75 or something.
Here's why: When a company issues a cash distribution like that, option strikes are adjusted accordingly.
The most recent example I could find was for Columbia Banking System (NASDAQ:COLB). The Options Clearing Corporation issued this release back on January 30.
Columbia Banking System, Inc. has announced a Special Cash Dividend of $0.29 per COLB

Common Share. The record date is February 8, 2012; payable date is on February 22, 2012. The ex distribution date for this distribution will be February 6, 2012.

STRIKE PRICES: Strike prices will be reduced by 0.29 (for example, a strike of 17.50 will be reduced to 17.21; a strike of 25.00 will be reduced to 24.71)
So now if you view the May options for this stock, you'll see this: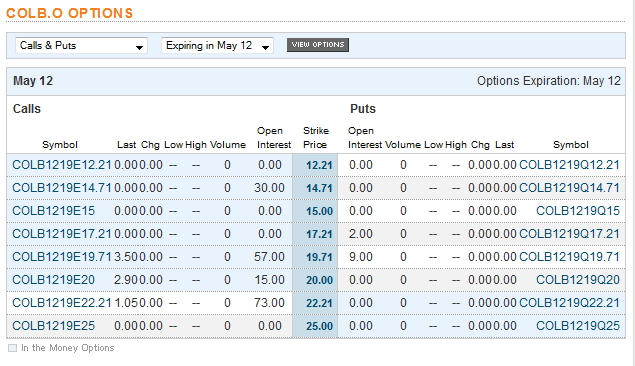 There are strike prices like 17.21, 19.71, 22.21, and 24.71 trading alongside the more "normal' round number strikes. This stock has hardly any options trading in any month, but can you imagine something like this happening in Apple's option chain? It would be chaos.
As I said, I'm not in favor of a special dividend, but note to Apple's board: If you issue one, please make sure it's an even amount, divisible by 5.
No, you don't owe any fiduciary responsibility to Apple options traders, but at lease have mercy on all the options brokers who will be getting thousands of phone calls on why the options have weird strike prices.