The plan by Whiting Petroleum (NYSE:WLL) to spend $1.1 billion on capital expenditures in 2017 raises concerns in light of several credit-related ratios moving in the wrong direction since 2015, despite the narrative of deleveraging last year. Counter-intuitively, the firm is currently less optimistic about the quality of its acreage than it was in 2016. While these factors indicate an elevated degree of risk, a measure of safety is provided by the company's proved reserves. I will argue that, unlike claims about the estimated ultimate recovery (EUR) of recent wells, Whiting's proved developed reserves are probably sound both by volume and by dollar value. A potential catalyst for an upward move in shares could emerge in the spring, if the firm convinces its bankers to redetermine upwards its revolving line of credit to at least partially undo the downward redetermination that occurred in 2016. An upsized revolver will mitigate concerns that might exist about credit-related ratios and will be a signal of confidence in the firm's assets.
Deleveraged or not, credit-related ratios are worse than one year ago
Whiting's bank credit agreement and indentures for bonds the company has issued both include covenants the firm must abide by. One of these concerns the interest burden relative to EBITDAX. The ratio of "EBITDAX to consolidated cash interest" must be no less than 2.25. At 6.34 at year-end 2015, it moved adversely to 4.21 as of December 31, 2016. It is an indication that, despite the deleveraging the company went through in 2016, the interest burden is now higher than one year ago.
The cash flow picture has also deteriorated, even when viewed relative to presumably lower fixed charges represented by interest expenses. A bond covenant concerns the "ratio of consolidated cash flows to fixed charges", which must be over 2. This ratio stood at 4.28 at the end of 2015 and declined to 3.35 by the end of last year.
Lastly, looking at the amount borrowed on the revolver relative to EBITDAX, a ratio that must not rise above 3, results in the same image of a company that is borrowing more than it used to. At 0.57 as of December 31, 2015, this ratio rose to 0.72 by 2016 year-end.
Potential drilling locations declined in every basin, despite a rise in oil prices
With shares around $10.78, Whiting's enterprise value is approximately $7.2 billion, made of $3.91 billion market capitalization and $3.3 billion in net debt. In comparison, the company's proved developed producing (PDP) reserves were stated at $2,266 million in 2016 Form 10-K. While reserve analysis will be undertaken below, what is clear already is the existence of a large gap between the value of PDP reserves and the company's enterprise value.
This gap, accounting for over one half of the stock price, is how the market perceives the firm's proved undeveloped (PUD) reserves together with its potential resources. The principal differences between the former and the latter are that undeveloped reserves are supposed to be audited by an outside petroleum engineer, while the firm must have a plan to develop them within the following five years. In comparison, potential resources are more speculative. At the end of the day, however, PUDs and potential resources have much in common: either refers to resources under some acreage, that has yet to be drilled yet is claimed to hold hydrocarbons underneath.
It is from this point of view that I find the decline in potential drilling locations claimed by Whiting in both basins where the company currently operates, to be a reason for concern.
In the Williston Basin, 735,968 gross acres contained "5,334 potential gross drilling locations as of December 31, 2016". An illuminating comparison is provided by the presentation released by the firm exactly one year ago, in March 2016. There, it claimed 778,850 gross acres holding 6,052 locations. The passage of one year since then meant a 5.5% decline in gross acreage, yet the gross number of drilling locations shrunk by 12%.
Similarly in Redtail field, 157,178 gross acres currently hold estimated 5,437 potential gross drilling locations. The amount of acreage is somewhat greater than 154,256 one year ago, yet Whiting saw 16% more, or 6,318 potential gross locations as of December 2015.
Ceteris paribus, a decline in the number of drilling locations would signify a reduction in the value of the firm's potential resources and a lower valuation via a sum-of-parts method.
A critical look at the proved developed reserves
Proved developed reserves, of which PDP reserves constitute over 99.8% by value (as per 2016 Form 10-K) are the critical foundation Whiting relies on to borrow money from banks, for example, in its revolving line of credit.
A reserve disclosure is, in brief, a statement about the volume and the dollar value of reserves. Here, I would like to explore the question of whether Whiting's claims regarding its PDP reserves are reasonable. The question is motivated by how well productivity is often thought to be exaggerated. EUR figures, representing production over many years, are upgraded seemingly based on newer wells outperforming the older wells during the initial 3-4 months of production. For instance, Whiting's EUR claims have risen from "targeting 700+ MBOE EUR wells in 2016" as of March 2016 corporate presentation, to "900 to 1,500 MBOE EUR wells in 2017". Here, even the lower figure from 2016 is above 650 MBoe estimate for the company's average recent (2015-2016 vintage) wells my own analysis resulted in. Hence the question is, does the EUR exuberance extend to reserves?
PDP reserves represent already flowing wells. To estimate the PDP volume, we need to forecast these wells' future output. This can be accomplished by segmenting Whiting's 2016 exit production volume by vintage, as presented in the following chart.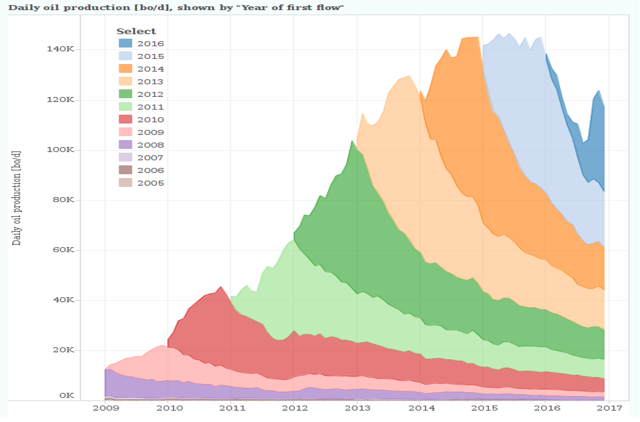 Source: shaleprofile.com
A decline curve will also be needed, specifying how production of an average well changes over time. Then, each slice at the right edge of the above chart will be projected forward according to the respective starting point on the decline curve. As a shortcut, and because shaleprofile.com methodology appears to match the process just described, I will use their projections for Whiting and Kodiak Oil & Gas (USA) Inc. wells in Bakken and Niobrara, shown in the exhibit below. The resulting production curve is then applied to project Whiting's Q4 2016 production of 119 MBoe/d for the next 40 years, using an 8% terminal decline after 10.5 years covered by the production forecast.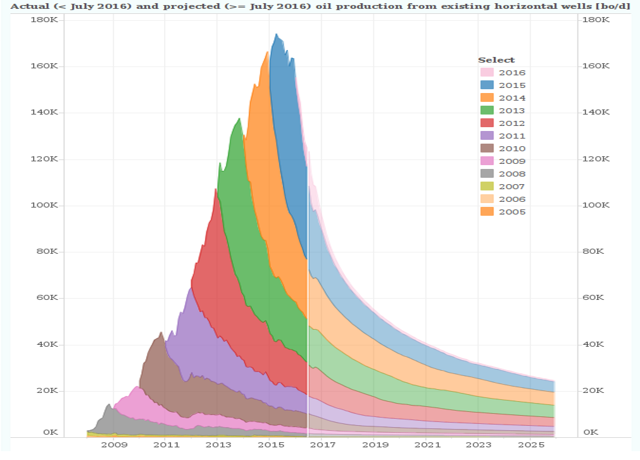 Source: shaleprofile.com
Resulting are the estimates of PDP volumes by product. The PDP estimate for oil, at 180.6 MMBbl, is remarkably close to 181.4 MMBbl stated in the 2016 reserve disclosure. The analysis, using projected output for oil only, effectively assumed the gas-to-oil (GOR) ratio to remain unchanged at the 69% level seen in Q4 2016. As GOR tends to increase over time, this simplified approach is expected to understate production of natural gas and natural gas liquids (NGL). Indeed, the resulting estimate of the NGL part of PDP reserves, at 40.4 MMBbl is less than 51.5 MMBbl estimate in Form 10-K. The natural gas part of PDP reserves is similarly estimated below the level disclosed in the reserve report, at 244 Bcf compared to 335 Bcf. The disagreement here is also at least partly an artifact of not using a separate decline curve to forecast natural gas production.
The takeaway is that Whiting's reserve disclosures are likely to be a good forecast of the volume of PDP reserves.
Estimating the dollar value of PDP reserves, I use the standard discount rate of 10% per annum, the tax rate of 9% on wellhead revenue and the lease operating expense at $9 per Boe as per Q1 2017 guidance. I also use oil, NGL and natural gas price realizations, consistent with 2016 SEC pricing as specified in Whiting's reserve report. The result after the 10% discounting, at $2,316 million value of PDP reserves, is encouragingly close to $2,266 million stated in Form 10-K.
It appears that Whiting's year-end reserve disclosure presents a fair estimate of the value of PDP reserves. Together with the very close agreement I have found for the volume of the oil part of PDP reserves, this suggests that, unlike the EUR claims for recent wells, reserve estimates can be relied upon at least for their PDP part.
A higher credit limit would make the firm look better
The company's borrowing base was cut one year ago, from $4 billion with $3.5 billion committed at the time, to the current fully committed level of $2.5 billion. At the time, this might have been a reasonable reaction to sharply lower oil prices and the consequent reduction in reserve values. As of now, however, the $2.266 billion figure in Form 10-K understates the value of Whiting's PDP reserves.
I estimate PDP reserves to have a $91 million sensitivity to $1 change in WTI. Currently, WTI is around $54, about $11 higher than assumed by the calculation of the standardized measure. However, in the latter Whiting specified a surprisingly narrow differential, at $7.5 below WTI compared to Q1 2017 guidance of $9-10 below, so the benefit of higher oil prices might be $9 rather than the full $11. I will ignore the impact on the PDP value from changes in natural gas prices from 2016 SEC pricing to today's market levels. The reason is that the natural gas price realization used by the reserve report, at $2.61 per Mcf, looks odd compared to the SEC price of $2.49. Still, the rise in oil prices would mean an increase of $819 million in the value of PDP reserves, if they were valued using the current futures strip.
Having PDP reserves valued at about $3.1 billion in today's market, while Whiting's line of credit is capped at $2.5 billion leaves a sizable, though not unusually large, gap between the two. On the other hand, taking a 10% haircut to the estimate of PDP reserves means upsizing the revolver to $2.8 billion could be justified.
Conclusion
An examination of Whiting Petroleum's creditworthiness reveals that the firm has moved closer to thresholds specified by the terms of its bank credit agreement and the bond finance covenant. Another concerning development is how the firm sees its acreage as supporting fewer potential drilling locations than it did one year ago. On the upside, unlike very optimistic claims Whiting makes about EUR of its recent wells, the volume and dollar value of its proved developed reserves appear solid. The value of PDP reserves in the current market appears to justify a small increase in the size of its revolver, from the current $2.5 billion to $2.8 billion. While not predetermined, an upward redetermination of the revolving line of credit would indicate to the market that Whiting's bankers have confidence in the company's investment plan and could serve as a positive catalyst for its shares.
Note from the author: Thank you for reading. If you like this article, please follow me by clicking the "Follow" link at the top of this page and choosing "Real-time alerts on this author" to be informed of my latest ideas.
Disclaimer: Opinions expressed herein by the author are not an investment recommendation and are not meant to be relied upon in investment decisions. The author is not acting in an investment, tax, legal or any other advisory capacity. This is not an investment research report. The author's opinions expressed herein address only select aspects of potential investment in securities of the companies mentioned and cannot be a substitute for comprehensive investment analysis. Any analysis presented herein is illustrative in nature, limited in scope, based on an incomplete set of information, and has limitations to its accuracy. The author recommends that potential and existing investors conduct thorough investment research of their own, including detailed review of the companies' SEC filings and consult a qualified investment advisor. The information upon which this material is based was obtained from sources believed to be reliable, but has not been independently verified. Therefore, the author cannot guarantee its accuracy. Any opinions or estimates constitute the author's best judgment as of the date of publication and are subject to change without notice. The author explicitly disclaims any liability that may arise from the use of this material.
Disclosure: I/we have no positions in any stocks mentioned, and no plans to initiate any positions within the next 72 hours.
I wrote this article myself, and it expresses my own opinions. I am not receiving compensation for it (other than from Seeking Alpha). I have no business relationship with any company whose stock is mentioned in this article.