This research was released January 13th to subscribers of Yield Hunting when the shares traded at $13.95.
Ladder Capital Corp (LADR) is an internally managed commercial real estate finance company. LADR invests in conduit loans that they securitize ((cMBS)) and hold on their balance sheet. It also has nearly $1 billion of real estate assets, mostly triple net lease properties. The shares trade at $14.64 and yield over 7.5% on a regular basis and 13.1% over the trailing twelve months when accounting for their special dividend payments.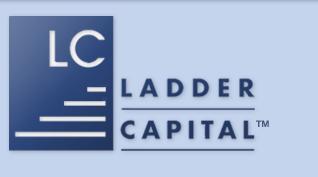 Business Overview
LADR is a commercial real estate finance company that was originally set up as a C-Corp., which allowed the firm to continue to recycle capital back into the business. In late 2014, it converted to a REIT structure. The firm has three lines of business:
Lending - $2.4 billion in assets at year-end and 67% of their net revenue. This segment is split between loans held for investment directly on their balance sheet and conduit loans held for sale. They originate and invest in mortgage loans secured by the underlying real estate. Conduit loans are fixed-rate, five- to ten-year mortgage loans sold into cMBS trusts, which earns a return on the gain.
Securities - $2.1 billion of assets as of December 31 and 14% of net revenue. The firm invests in short-duration, investment grade cMBS.
Real Estate - $944 million of directly-owned properties and 19% of net revenue. They own 7.2 million square feet of real estate including 4.1 million of net lease property and 3.1 million of office and multi-family real estate.
The commercial real estate market continues to show growth, though it did decline in 2016. LADR will likely benefit from the huge amount of demand from non-bank lenders because of the ongoing regulatory burden placed on commercial banks. Those burdens include Dodd-Frank's Volcker Rule, Basel III requirements for tier one capital, and risk retention rules. Given this backdrop, banks are reducing their commercial lending which has given rise to non-bank lenders like LADR, business development companies, and other direct, private lenders.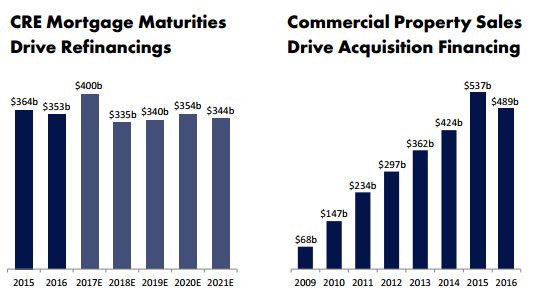 (Source: Investor Presentation)
This is not a U.S.-only phenomenon but a global one. European banks are being subjected to the same regulatory requirements, which has led to a reduction in their lending capacity. The non-bank sector will continue to move into the void left by the growing commercial real estate market and banks reducing exposure.
Diversified Business Model
Given the three operating lines, the firm can be opportunistic and choose the most attractive commercial real estate investments. This is especially true in times of financial stress when these types of real estate assets can trade at distressed prices. This is similar to some non-agency MBS closed-end funds like PIMCO Dynamic Income (PDI), which acquired "toxic" mortgage-backed securities at deep discounts following the financial crisis.
However, when the market is in expansion mode, they can utilize the securitization market taking their conduit loans, packaging them, and selling them off their balance sheet for gains. Since the firm is as a C-Corp., they can recycle capital as they wish and are not beholden to rules requiring them to pay out 90% of net investment income.
cMBS securitization are an economically important part of their business model. Given their ability to recycle capital to where the best opportunities lay, they can generate very high returns on equity by being opportunistic. Today, securitizations remain strong given investor demand for higher-yielding, investment-grade securities.
Securitziations can substantially boost ROE on a lower levered investment and mid single-digit gain on sale margin compared to balance sheet lending.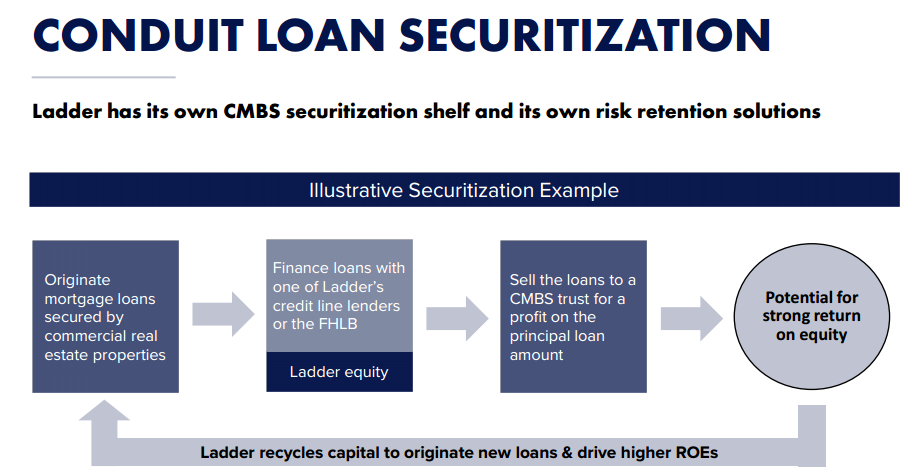 How It Works
One of the issues surrounding the shares is the complexity of the business. It is not as simple as understanding a retail operation such as Starbucks (NASDAQ:SBUX). We think it is helpful to walk through an example of their two primary revenue-generating activities.
The first is their on-balance sheet lending, which makes up 64% of their net revenue. They would then originate a $25 million commercial mortgage loan for a client yielding Libor plus a spread of say 500 bps. This loan would generate approximately $1.3 million in interest income annually to LADR.
LADR would lever the transaction 3-to-1 debt-to-equity, meaning they would put up $6.25 million of equity and finance the rest at maybe 2.50% plus Libor for the remaining $18 million. So LADR has put up $6.25 million and is netting $1.3 million minus their interest cost of $450K for net interest income of $850K on $6.25 million of equity. That equates to a 13.6% ROE [850,000/6,250,000].
For securitizations, these transactions would typically be done at less leverage. For the same notional loan value of $25 million, a conduit mortgage loan, $15 million would be financed (1.5x leverage) with $10 million in equity for LADR. They may sell the loan for $26.25 million, generating a $1.25 million profit on $15 million of equity. The result would be 12.5% of return on equity per transaction that they facilitate.
The more prudent loans that they can make and hold, and the greater amount of securitizations they can perform, the more profitable they will be.
Portfolio - Hedge Against Higher Rates
Investment portfolio remains very conservative with 45% consisting of cMBS with 97% of those investments rated investment grade.
Continue to focus on senior secured loans with senior secured assets and cash making up approximately 80% of total assets.
Launched their own mutual fund last year, the Ladder Select Bond Fund (MUTF:LSBIX), along with their 40th securitization.
In a rising rate environment, the company has $1.8 billion of floating rate loans that would be re-priced every 90 days. These securities are finally "floating" as three-month Libor has risen above the 1.00% floor to the current 1.05% level. For every 100 bps move in Libor higher, the firm would generate another $6.7 million in net interest income. However, remember that an increase in rates would also reduce book value equity.
While they benefit from higher interest income from the floating rate securities, their leverage is derived from fixed-rate debt. So as rates rise, the spread they are earning on these borrowed assets widens and increases their return on equity.
The firm also has over $900 million in notional value interest rate swaps to hedge higher rates on that book value decline. As the fixed-rate payer/floating-rate receiver, as rates rise, they would benefit from higher cash flows off the swap.
Recent Financial And Market Performance
Despite the negative press, the commercial real estate market remains very stable while spreads continue to decline based on the expectations for accelerating growth in the U.S. economy. Per-square-foot rental prices continue to grow among all sectors: multi-family apartments, office space, and retail property.
LADR has been growing simply due to the demand for both loans and securitizations. The best way to value the shares is on a multiple of book value. On February 23, the company reported fourth quarter results that showed book value per share at $13.57. The shares currently trade at 1.09x book value. We think it is prudent to pay at least 1.3x book value, or $17.64.
GAAP book value, however, suffers from the depreciation problem, which tends to depress stated book value. A non-GAAP measure called undepreciated book value per share is often used as a better barometer of the book equity of commercial real estate companies. The calculation is total capital, adjusted to exclude non-controlling interests in joint ventures, and also adjusted to include real estate accumulated depreciation and amortization.
Using this measure, the shares are trading right at undepreciated book value of $14.76. Given the flexibility of the business model and the opportunity set available to them, we think they could achieve 1.1x-1.2x of that book value estimate.
In addition, the shares pay a $0.30 regular quarterly dividend distribution, which was recently increased from $0.275 per share per quarter, a 9.1% increase. The firm has completed two dividend increases in the last two years, from $0.25 to $0.275 to the recent increase to $0.30.
Over the last several years, they have paid several "special" dividends at year-end, similar to many closed-end funds. In 2016, the board paid $0.16 to class A shareholders attributable to REIT taxable income. In 2015, they paid a larger $1.175 special dividend. Both of these special distributions are a combination of cash and new stock.
Balance Sheet
As of the end of the fourth quarter 2016, the firm had 2.6x leverage with a pre-tax Core return on average equity of 10.6%. Management prefers to keep leverage between 2x and 3x. They have $5.6 billion in assets and $1.5 billion in equity. Of the $3.9 billion in debt, 85% is secured debt.
The structure of the business allows the flexibility of seeking the highest amount of return. Management takes a very conservative approach to its balance sheet, likely because of the amount of their own capital that they have in the company, owning over 11% of the shares outstanding.
The leverage of 2.6x includes the underlying portfolio of liquid securities, 83% of which are rated triple-A. If you exclude those securities, the leverage ratio falls to 1.2x.
The dividend payout (81%) is also well-covered by core earnings per share. In the fourth quarter, core EPS was $0.37 compared to cash dividends set at $0.30 per share, for coverage of 1.23x. Over the last two years, the average coverage ratio has been 1.53x [0.414 Core EPS vs. $0.27375 dividend payment].
Risks
Obviously, the commercial real estate market is the main risk driver for LADR. Management has been prudent and given their long years of experience, remain cautious in their capital deployment and dividend payment. A repeat of the 2008 financial crisis would significantly damage the business and the shares.
Secondary offerings are often used by lenders to take advantage of strength in their share price to raise fresh capital and make opportunistic buys. This can dilute existing shareholders.
The securitization market can be on or off and if it's the latter, meaning the demand for cMBS is low, a key component of earnings and revenue would be lost.
The Bottom Line
Shares of LADR can be volatile at times given the liquidity and the perceived sensitivity to interest rates. Intraday swings can be quite large with some extreme days as high as 10%. Ideally, we would like to acquire shares opportunistically at a discount to book value as they traded back in late October. It is conceivable that another sell-off due to a secondary offering or market conditions gets us back to a discount to book.
In the interim, the 7.5% yield appears very safe given the payout ratio. They have paid two special distributions in the last two years, which are likely to continue, but we think at a reduced rate compared to 2015 and 2016.
LADR is a well-run income generator for investors. You can be opportunistic and add shares on the volatility. The yield is one of the safest in the high-yielding REIT sector. Other safe-yielding REITs of LADR's quality typically yield half the current 8.1%-plus current yield with higher payout ratios.
We view the shares as a solid commercial real estate loan originator, securitizer, and real estate property investor. The business model mix and conservative management team are a unique find in the space. We think the shares offer a solid income stream that is well-covered and that the volatility of the share price can offer unique entry points to add to positions.
Comments appreciated.
Note: To get these types of articles as soon as they are published, just click on the "Follow" button next to my profile and choose the "Real-time alerts" option.
Marketplace Service For Those Hunting For Yield
In April 2016, we launched our marketplace service "Yield Hunting: Alternative Income Investing" dedicated to yield/income investors who wish to avoid the risk associated with most of the equity market. The Core Portfolio targets an 8%+ yield from closed-end funds, BDCs, REITs, preferred stock, baby bonds, and high-yield equity. We encourage investors to utilize the free two-week trial in order to benefit from our yield opportunities with easy-to-follow models, a buy list, and trade log. For more information on the service, please go to our marketplace page.
Disclosure: I am/we are long LADR.
I wrote this article myself, and it expresses my own opinions. I am not receiving compensation for it. I have no business relationship with any company whose stock is mentioned in this article.
Additional disclosure: The commentary does not constitute individualized investment advice. The opinions offered herein are not personalized recommendations to buy, sell or hold securities. As I have no knowledge of individual investor circumstances, goals, and/or portfolio concentration or diversification, readers are expected to complete their own due diligence before purchasing any stocks mentioned. The strategies discussed are strictly for illustrative and educational purposes and should not be construed as a recommendation to purchase or sell, or an offer to sell or a solicitation of an offer to buy any security. There is no guarantee that any strategies discussed will be effective. The information provided is not intended to be a complete analysis of every material fact respecting any strategy. The examples presented do not take into consideration commissions, tax implications or other transactions costs, which may significantly affect the economic consequences of a given strategy. This material represents an assessment of the market environment at a specific time and is not intended to be a forecast of future events or a guarantee of future results. This information should not be relied upon by the reader as research or investment advice regarding the funds or any security in particular.