Thesis
I think AmerisourceBergen (NYSE:ABC) has a bright future. I think the company presents a value and growth opportunity. The dividend is stable and has room to grow. I think it makes sense to add to a long term portfolio.
About The Company
AmerisourceBergen is a pharmaceutical sourcing and distribution company. The company provides services to both healthcare providers and pharmaceutical manufacturers. It stocks drugs in inventory from pharmaceutical companies, negotiate contracts for the drug prices, and then distribute the drugs to healthcare providers.
What I Like
With markets approaching levels of irrational exuberance, I am going to write about companies that perform well in periods of decline. Specifically, I am going to write about companies in the top quartile of performers for the financial crisis, and the corrections in 2010 and 2011. Past performance is not an indicator of future performance, but, I believe that some companies are more immune to downturns than others because of the nature of their business. Today I will discuss AmerisourceBergen.
I like their valuation. Currently the company has a P/E of 15 which is low. Price/Sales comes in at an extremely low 0.14 but this makes sense. Amerisource is a distribution company so there is $150B in Revenue but the company had to pay for the drugs they distribute. Finally, Amerisource also trades at a discount to future cash flow. This is shown in Figure 1.
Figure 1: AmerisourceBergen Future Cash Flow

Source: Simply Wall St
Amerisource has thrown out some serious numbers. Their five year CAGR for revenue and operating income is 13% and 10% respectively. The company has an outstanding earnings growth history spanning fifteen years. Note: this goes back to 2002 and encompasses the financial crisis. Their earnings and CAGR are shown in Figure 2.
Figure 2: AmerisourceBergen EPS And CAGR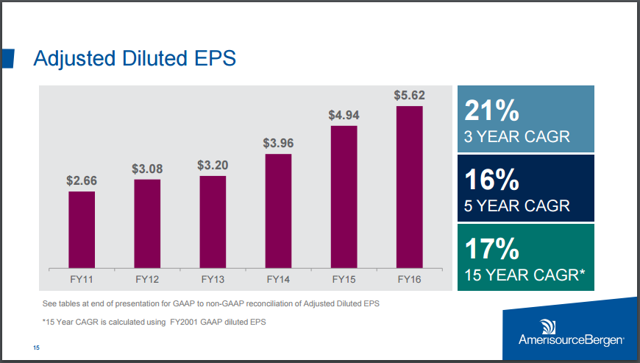 Source: AmerisourceBergen JP Morgan Conference
Amerisource also boasts an extremely impressive return on equity and capital. ROE is 78.8% and ROC is 23%, both substantially ahead of the healthcare sector as a whole. It is worth mentioning that Amerisource also pays a 1.59% dividend with a payout ratio of 22%. This is not a make or break but it is something that I like to see. I am always appreciative of a company that returns money to shareholders.
Finally, I like that Amerisource is involved with Animal Health. In fact, I have been looking to write an entire article based on a company that focuses on animal care. Animal care/upkeep/health or whatever you want to call it is one of the hottest growth sectors out there. Amerisource is a giant and this $23B market for animal health needs distributors. I believe Amerisource has the potential to fill this position.
Opportunities And Drivers
I like the opportunity for growth that Amerisource has. Yes drug prices have taken a lot of heat, but I feel Amerisource has been overly punished. The idea is that falling drug prices or drug prices not being raised as much as previously thought means less money for the distributors. This is a fair argument but I believe that drug distributors have more to gain with the aging population. I believe that while Amerisource is down from its high in Spring of 2015, the baby boomers getting older will increase demand for pharmaceuticals. And, I believe that Amerisource will negotiate contracts that earn them a profit.
I also like the contracts that Amerisource has. It is shackled up with Walgreens Boots Alliance (NASDAQ:WBA) and Express Scripts (NASDAQ:ESRX). Express Scripts has a massive mail order drug service. Walgreens is actually a major shareholder of Amerisource and has recently extended their contract to 2026.
Finally, I think the biggest driver for Amerisource will be its undervaluation. I think the analysts have been to harsh, I think the P/E does not justify its past and future growth. I think they have a bright road ahead of them despite the outlook for the pharmaceutical manufacturers.
Risks
Debt is what I want to address first. Amerisource has a debt/equity of 211% which I don't like to see. Although, the interest on the company's debt is well covered by earnings and total debt is well covered by operating cash flow. This makes me a rest a little easier.
Next, the analysts are not very kind to Amerisource. There are seventeen analysts covering it with twelve rating Amerisource a hold. I think that analysts are being to harsh. Amerisource provided guidance for a 2-5% earnings increase in 2017. Maybe this justifies such a low P/E but I see room for more.
Although I have already somewhat mentioned it, I'll talk about drug prices briefly. I don't think that whatever socio-political pressure there is on high drug prices will affect Amerisource too much. I think if new contracts have to be negotiated, they will, and that is that. The company will operate on the same tight margins that it operates on do now.
Final Thoughts
I think Amerisource has demonstrated some outstanding growth and currently trades at an attractive value. The company is well positioned to take advantage of the baby boomers getting older en masse. It also has performed well during corrections and crashes due to the nature of its business. When the market is 'frothy' like I think it is now, these are the companies I look for.
Disclosure: I/we have no positions in any stocks mentioned, but may initiate a long position in ABC over the next 72 hours.
I wrote this article myself, and it expresses my own opinions. I am not receiving compensation for it (other than from Seeking Alpha). I have no business relationship with any company whose stock is mentioned in this article.