American Outdoor Brands Corporation (NASDAQ:AOBC) recently reported their Q3 2017 Earnings and the results were once again better than expected. This was the first earnings report since December 13, 2016 when stockholders approved a change in the name of the holding company from Smith & Wesson Holding Corporation to American Outdoor Brands Corporation, which became effective on January 1, 2017.
AOBC reported earnings of
Third Quarter GAAP Net Income per Diluted Share of $0.57
Third Quarter Non-GAAP Net Income per Diluted Share of $0.66
Analyst predictions had clocked earnings at Non-GAAP Net Income at $0.53 for the quarter which resulted in a positive surprise of 24.5%.
AOBC did however miss on revenues of $233.5M while analysts were expecting $235.8 a miss of $2.3M (Still a gain of 10.3% Y/. The real highlight of AOBC earnings is the increase in profit margins however. Despite the ongoing integration of new acquisitions, AOBC boosted its profit margins to 42.5% which contributed largely to the unexpected boost in earnings (Analysts were expecting 40%). AOBC gross margins previously were 41.7%.
Also mind you these earnings are $.01 higher than the previous quarter last year which directly followed the San Bernardino attack.
Currently I feel AOBC is a good buy for several reasons
AOBC is Undervalued Historically and Compared to Its Own Recent Growth.
Pictured below is the 5 year chart for AOBC. AOBC is now trading below 2016 values and significantly below its value 1 year ago when it closed at 25.40 on March 3 rd 2016. Now look at the chart below depicting AOBC's historical price, price to earnings, and revenue over the course of the past 3 years. Keep in mind that AOBC has been improving its profit margins as well when looking at revenue.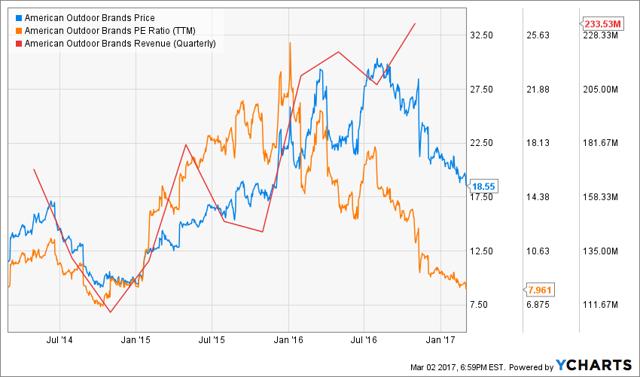 Tell me what you see. From July 2014 to July 2015 the stock seemed to trend with its fundamental value. As revenue increased so did the premium paid for growth. As revenues decreased the cost of the stock and price to earnings decreased. But since January 2016, there has been a fundamental breakdown in the correlation between revenue growth (And improving margins) and the price of the stock. AOBC is becoming a better and better value monthly.
AOBC Obtained a Ton of Cash During the Last Year (Election Year)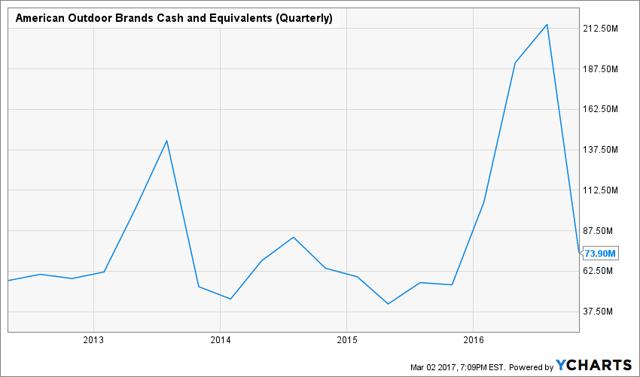 See the enormous influx of cash that AOBC obtained during 2016? We all know and rightfully assume that it was due to record high gun sales. But what did AOBC do with all their cash? Typically companies return the value to their shareholders in the form of dividends or share buybacks. Not AOBC, they are still a rapidly growing company and they are diversifying their book of business. In the last year they have been using cash on hand to make intelligent acquisitions such as:
November 4, 2016 - Smith & Wesson announced that its Outdoor Products & Accessories segment, through a subsidiary of Battenfeld Technologies, Inc., will acquire the business of Ultimate Survival Technologies, Inc., a provider of high quality survival and camping equipment, in an asset acquisition for $32.3 million in cash. In addition, up to $2.0 million will be due over a period of two years following the closing, contingent upon the financial performance of the acquired business.
Source: StreetInsider
And…
August 29, 2016 - Smith & Wesson Holding Corporation announced that it has completed the acquisition of Crimson Trace Corporation (Crimson Trace), the industry leader in laser sighting systems and tactical lighting for firearms, for $95.0 million
Source: StreetInsider
And…
July 18, 2016 - Smith & Wesson Holding Corporation a leading manufacturer of firearms and a provider of quality accessory products for the shooting, hunting, and rugged outdoor enthusiast, today announced that its Accessories Division, Battenfeld Technologies, Inc., has signed a definitive agreement pursuant to which BTI Tools, LLC ("BTI Tools"), a newly formed, wholly owned subsidiary of Battenfeld Technologies, Inc., will purchase substantially all of the assets of Taylor Brands, LLC ("Taylor Brands"), a designer and distributor of high quality knives and specialty tools, for $85.0 million, utilizing cash on hand.
Source: PRNewswire
These acquisitions should provide a significant boost to revenue and growth in the coming years as they are easily integrated with AOBC's existing niche retail business. All the acquisitions were made in cash with no direct or significant increase in liabilities or dilution to the balance sheet. Speaking of strong balance sheets check this out: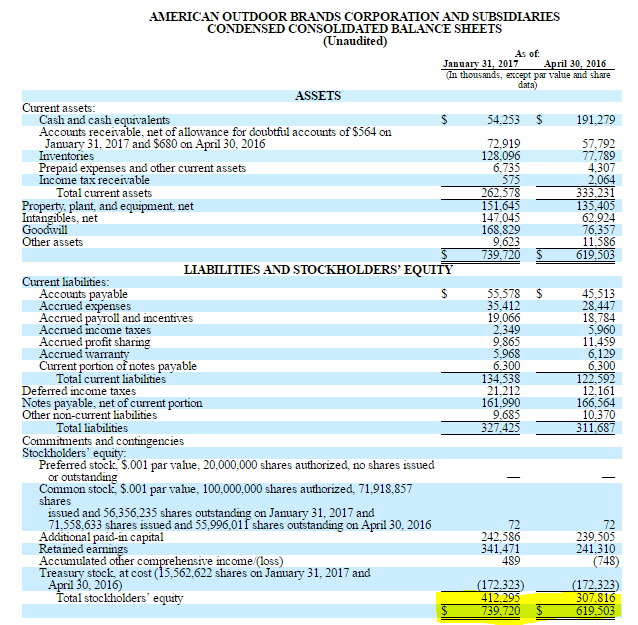 AOBC has added around $120M in assets to their balance sheet since Q1 was reported while adding a little under $16M liabilities. The actual net return to stockholder equity was $104.48 M. A nice chunk of change accounting for a 16.8% increase in asset value. Amazing! But as far as prices go, AOBC is down 16.5% since the end of April (Q1).
AOBC is Undervalued Compared to Competitors
There are not many public companies listed on the US exchange related to firearms. (This probably contributes to the volatility in valuation) but the best benchmark we have is to compare AOBC to the valuation of Sturm, Ruger & Company (NYSE:RGR).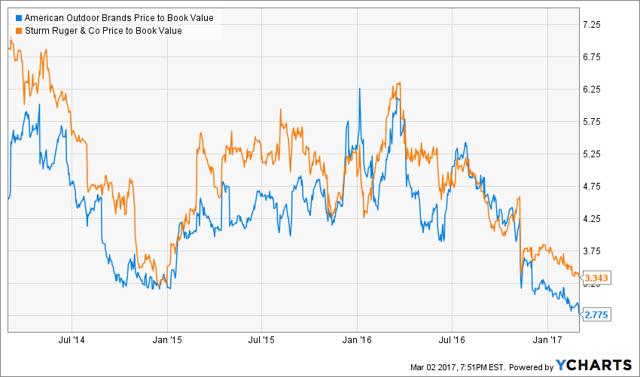 Comparison of Historical Book Value

Source: Ycharts
Comparison of Revenue and Income

Source: Ycharts
Comparison of Forward and TTM PE Ratios
The charts tell the story, AOBC is undervalued when compared to RGR in growth and income potential, earnings, and book price. Fundamentally, I believe AOBC provides a margin of safety against it's competitor RGR.
Finally I would like to look at how AOBC stacks up against S&P 500.
Measure

S&P 500 Current

Average

S&P 500 Historical Average

AOBC

P/B

3.06

2.75

2.775

P/E

26.74

15.64

7.96

P/S

2.1

1.45

1.2
Source: Multpl
I just selected a few key indicators that can generally paint a picture of a margin of safety for a long-term position. (I calculated these at EOD prices 3/2/16)
In Conclusion
I think that AOBC is a very undervalued and overlooked stock right now. As a contrarian investor I like the fact that it has been pushed lower and many investors are underestimating the prospects AOBC has for long term growth over the course of the next 3 to 5 years. As for its valuation, the stock has lost all the steam and then some that it picked up during the 2016 Election and provides a great entry point with a large margin of safety at its current price. Its important to remember that the firearms industry is cyclical and will continue to infuse AOBC with capital to create less cyclical segments of business and significantly grow their cash flow. Buy the stock cheap now and wait for the revenue growth to come from their acquisitions and the rest of the market to catch up.
Do not however take a large position now if you are looking for immediate gains. Dollar Cost averaging if the stock continues to drop as analysts and underestimate growth and unload positions is a solid way to lock up an amazing long term investment able to weather potentially strong economic headwinds in the coming years.
Disclosure: I am/we are long AOBC.
I wrote this article myself, and it expresses my own opinions. I am not receiving compensation for it (other than from Seeking Alpha). I have no business relationship with any company whose stock is mentioned in this article.