This morning, we awoke to some most welcome news, KKR (NYSE:KKR) is conducting early stage discussions with SinoPharm (OTCPK:SHTDF) (OTCPK:SHTDY) and Fosun (OTCPK:FOSUF) (OTCPK:FOSUY) to potentially make a bid for GNC Holdings, Inc. (NYSE:GNC).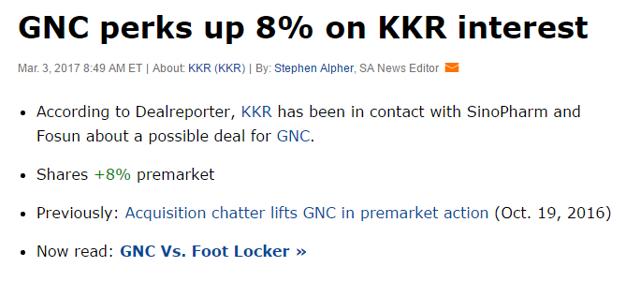 For perspective, Sinopharm Holding CO LTD has a $12.75 billion USD market capitalization and Fosun International Limited has a $13.6 billion USD market capitalization. So, at least on paper, both firms have the financial wherewithal to make a credible bid, if they are so inclined, and assuming KKR & Co could arrange a deal.

Source: Google Finance

Source: Google Finance
However, today's piece is to discuss the parallels of how the Masters of the Universe shorts badly misplayed Weight Watchers (NYSE:WTW) and are making the same mistake, but worse, when it comes to GNC.
On December 22, 2016, I wrote a brief article that Weight Watchers was poised for an "Epic Short Squeeze". This minority view was met with incredible skepticism as if I was some fringe yahoo talking nonsense to generate page views. However, what the Masters of the Universe underestimated was that this scrappy UMass Amherst graduate, class of 2003, has the dogged determination and passion for investing like no other, despite my average IQ and stellar 570 GMAT score (that I didn't study for and that Babson had to hold their nose and look the other way on to grant me admission to their Evening MBA program).
In fact, I felt so good about this idea that I wrote an email to Steve Cohen pitching Weight Watchers and suggesting it could squeeze to $20 on an earnings beat and FY17 guidance raise. And yes, that Steve Cohen, the billionaire with a $12 billion plus PA. Mr. Cohen sent me back a nice two sentence note that "I'm not sure if lightning strikes twice", but we shall see. If you give me an inch, I take a mile, so over New Year's Eve weekend, I spent at least ten hours researching and crafting this piece: Weight Watchers Has The Momentum As Oprah Leans In, which was published exclusive here on SA, on January 3, 2017. I sent Mr. Cohen a copy of this article. Also, I wrote a detailed article titled: My Spidey Sense Suggests Weight Watchers' Shorts Are Nervous (published on December 29, 2017). Lo and behold, this Maximus Decimus Meridus, was right and my short squeeze thesis played out as if I had scripted it for a Steve Mnuchin funded Hollywood movie, as WTW squeezed, this week, to as high as $19.65.
As I pointed out in a few other pieces leading up to WTW's February 28, 2017 earnings, I kept readers abreast to WTW's climbing short interest. Moreover, I argued that hedge funds had badly miscalculated and were foolishly adding to their short position between the high $11s and high $12s despite the precarious position this placed them in as Artal and Oprah's shares aren't eligible for securities lending programs. Outside of the initial two sentence response, my follow up emails to Mr. Cohen have gone unreturned. I have no idea if he ever read any follow up emails or if I convinced him to buy shares of WTW.
This leads me to my current high conviction bet, GNC. I have written a number of fairly in-depth articles about GNC expressing my far sighted bullishness and my consistent and steadfast view that Robert Moran is the right leader at this pivotal time to execute this turnaround. Lo and behold, a few weeks after I started really digging into GNC, Mr. Moran announced that he bought $5 million worth of shares on the open market at around $8.50. And by the way, Mr. Moran never responded to my two emails requesting an interview. Yesterday, I put out another piece: GNC vs. Foot Locker where I said GNC is too cheap and private equity might come knocking. My spidey sense is tingling.
However, despite today's news, the Masters of the Universe are shorting GNC to prevent it from piercing the critical $9 price level. As we can see, the hedge fund are fading today's pop.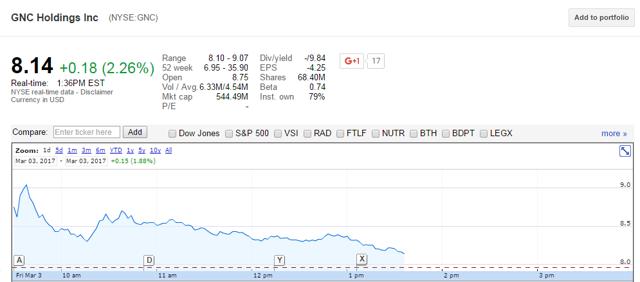 However, if we look at WTW's historical data, we see the same pattern where the Masters of the Universe faded WTW's December 22nd pop as well as on January 4th when they faded the mini squeeze.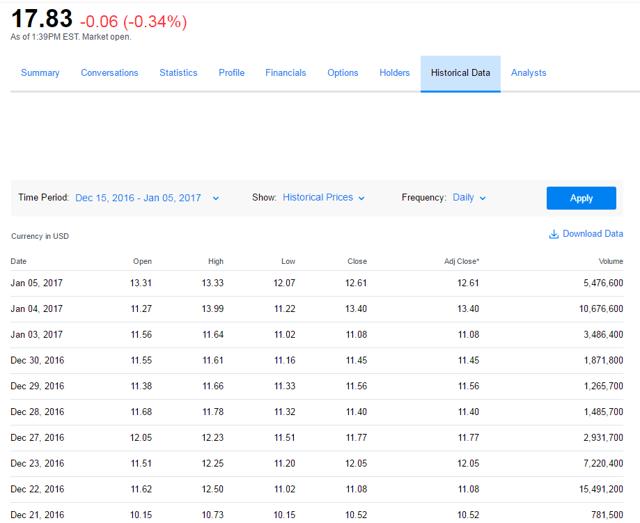 Source: Yahoo Finance
Here is the Weight Watchers' short interest data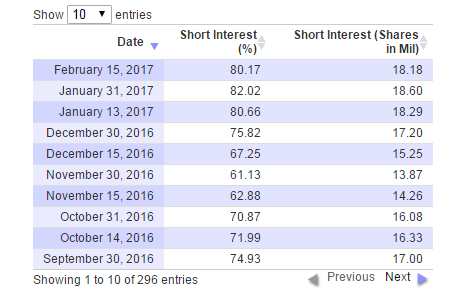 Source: Guru Focus
Takeaway
Similar to my Weight Watchers' thesis, I was alone on an island and considered crazy. The Masters of the Universe thought they had a sure thing bet and this arrogance led to them foolishly increase their short bet by 4.6 million shares from December 1, 2016 through January 31, 2017 to keep a lid on WTW's price.
We are witnessing the same behavior pattern in GNC.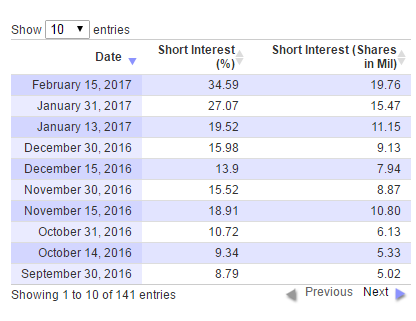 Source: Guru Focus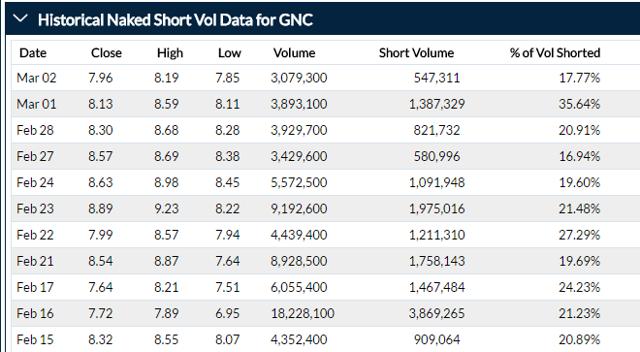 Source: NakedShortReport.com
And finally, of course, I wrote out to Mr. Cohen to pitch him GNC as my best current high conviction idea. He hasn't written back yet and I have no way of confirming if he has read any of my GNC research, yet. Stay tuned.
Disclosure: I am/we are long GNC.
I wrote this article myself, and it expresses my own opinions. I am not receiving compensation for it (other than from Seeking Alpha). I have no business relationship with any company whose stock is mentioned in this article.
Editor's Note: This article discusses one or more securities that do not trade on a major U.S. exchange. Please be aware of the risks associated with these stocks.