Markets are hitting all-time highs almost on a weekly basis for several factors such as low interest rates or Trump's promised policies. Tech companies are no strangers to this, with investors increasingly giving them lofty valuations. This raises one question whether it is the right time for private tech companies to start riding this wave?
The "stay private longer" trend
Long gone are the days where tech companies would IPO after only a few years of existence. Before the dot.com crash came and investors lost their appetite for such risky ventures, retail investors were acting like venture capitalists, i.e. they would buy public stocks of a very young and unproven company in the hope of huge returns. At the time, the Internet was the new gold mine, and everything coming out of it was shining.
What investors didn't know was that such potentially huge returns were also associated with risks. For every Google (NASDAQ:GOOG) (NASDAQ:GOOGL) or Amazon (NASDAQ:AMZN), there are hundreds of Pets.com. And so, after the 2000 crash, early tech investing was left to venture capitalists alone.
This total rejection from public investors towards young internet companies in the aftermath of the crash, made tech companies to fear and dislike the public markets. The public markets, in addition to the heavy disclosure requirements and bureaucracy, could also kill a company in a matter of days. This mutual dislike led tech companies to focus on building sustainable businesses privately, and only then consider any sort of public listing.
This trend was further emphasized by the abundance of capital in the private markets, first from traditional venture capital, but now from all sorts of investors, such as hedge funds, mutual funds and corporate investors. Where before, an IPO was primarily driven by a need of liquidity - either by the company itself, or by the founders and investors - it is now a business decision. There is enough money in the private markets to solve any liquidity issue, either by injecting fresh capital into the company, or by acquiring shares from founders, or employees and investors in what are now very well-developed secondary markets.
What this all means is that most of the value upside of a tech company is absorbed by the private markets these days. But with these also come potential losses. Today, for every Facebook (NASDAQ:FB) or Alibaba (NYSE:BABA), there still are hundreds of Fab.coms out there. This stay private longer trend has diminished the risks for retail investors by reducing their options - and therefore, keeping them away from potential huge returns, as the chart below clearly illustrates.
Source: Google Finance data
Some advocate that the rise of crowdfunding solves exactly this problem, but it is well known in the industry that the best companies raise money from the best venture capitalists, and only those who struggle with that path turn to the average Joe online. The notable exception being the companies that have a consumer brand and want to use crowdfunding as a marketing tool, like Monzo.com is currently doing. But for every E-Car Club (exited to Europcar after fundraising through CrowdCube) - notice how few there are that I had to mention a relatively unknown company - there are thousands of those companies that fail early on.
2016 in review
2016 was a relatively good year for tech IPOs, although not very eventful. There were few IPOs, and none by a large well-known company, such as Facebook, Alibaba, Twitter (NYSE:TWTR) or Snap (NYSE:SNAP). These all gathered a lot of attention for their public profile - usually associated with consumer-facing companies - or their unusually large size.
There are a few reasons for the low number of tech IPOs: Markets were not very welcoming ("are we in a bubble?"), the continuous abundance of money on the private markets, and the increasing M&A spree by corporates. Indeed, M&A seems a very interesting alternative to an IPO, with no stock volatility and the pressure associated with it, no public disclosure, and a path for the founders to quietly leave the company if they wish so.
But it also means you lose your independence, which is something young start-up CEOs dread. Some sell early, but there are a few who are bold enough to reject billion-dollar acquisitions, such as Mark Zuckerberg or Evan Spiegel.
But the few tech companies that did IPO in 2016 performed relatively well. Indeed, tech IPOs were the second best asset class in 2016, only after crude oil.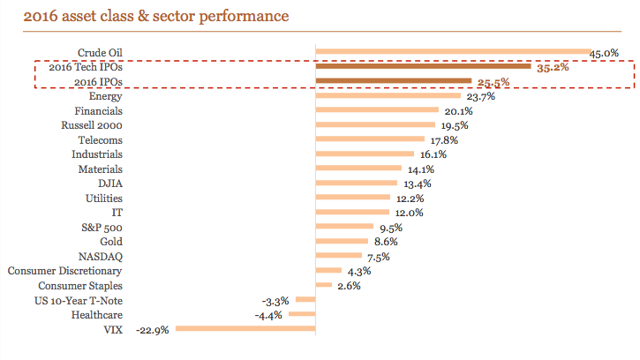 Source: CBInsights (Factset as of December 30, 2016)
Note: IPO performance represents average offer/current price
A closer look at some of the underlying data gives an interesting view on first day pops (note this table does not include all 2016 tech IPOs).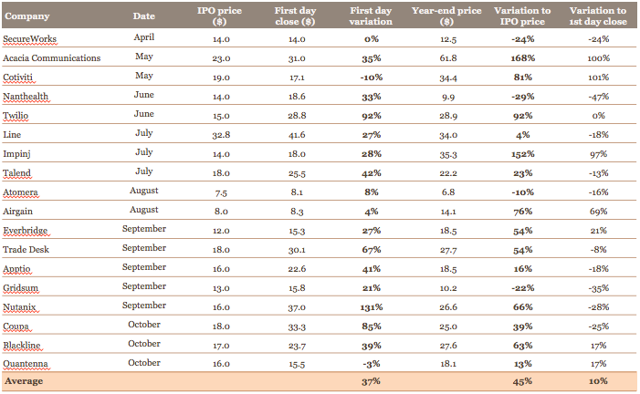 Source: Bloomberg data
While on average these companies were returning 45% at the end of the year, most of that value was captured by big institutional investors who have access to the shares at the IPO price, rather than retail investors like you and me. IPO allocations are a very profitable business, which I will touch upon on a new article next week.
The year ahead
2017 started off quietly on the trading side, but with a lot of buzz around two companies that had filed to go public in Q1: AppDynamics and Snap.
AppDynamics was set to be the first tech IPO of this year, and although it is not a household name, investors were very much looking forward to it to test the waters. Unfortunately, that test was delayed by a month, as Cisco (NASDAQ:CSCO) swooped in last minute and acquired the company for $3.7bn. This was a great outcome for the company and all its shareholders, but it meant public investors would need to wait to deploy capital into new tech companies.
That leaves us with Snap: The young, loss-making, low revenue generating, little understood company that is growing at an impressive rate and seeking a very lofty valuation. This is the ultimate test for the markets: Would they buy it or let it sink? They bought it! The company priced its shares at $17, slightly above the initial $14-16 range, and it closed just under $25 on the first day of trading, with an impressive 44% increase.
The Snap IPO proved two things: First, there is a strong appetite for new tech companies in the public markets, and second, it is again possible to successfully tap the public markets as a very young and unproven business with hyper-growth. Public investors, including retail investors, are again excited to be part of the growth of these companies, "willing to risk 50% of their investment for a 1,000% return potential." Very much inspired by the recent successes of Facebook and Alibaba and the unstoppable performance of the F.A.A.G. stocks (the fact that the dot.com crash was too long ago for anyone to remember the real impact also helps).
This is obviously very encouraging for other companies, which are looking for an opportunity window to tap the markets for liquidity. Another interesting point is that most companies are (hopefully) aware that there is a limited amount of public money to inject into those larger tech companies, so being first might be an important advantage. Had Snap IPO'd right after Uber (Private:UBER) and Airbnb (Private:AIRB), would there be as much demand? Probably not…
So who are the large private consumer-facing unicorns out there looking closely at the public markets?
My best guess for 2017 is Spotify - in what would be the biggest European venture capital-backed IPO ever - and a great boost for the local ecosystem. It's been rumored for a few years now, and the company seems ready from a governance perspective, but it still needs to lock-down new agreements with the record labels to make it a sustainable business. If that happens in the first half of this year, I'm confident Spotify will IPO in 2017.
Uber most likely won't be able to tap the public markets before 2018/19: The business is still churning too much money, regulation is still a big open question, it is facing too much competition worldwide, and does not yet have the necessary culture to be a public company.
Airbnb seems to be doing great, having reached profitability in the second half of next year. But its private valuation might dictate another year or so as a private company so the multiples look better. It seems the founders are aiming for a sustainable EBITDA multiple valuation rather than the typical hyper-growth revenue multiple.
Dropbox (Private:DROPB) is another name mentioned very often in the pipeline. The company has recently released new interesting data points, such as $1b in annual run rate and that it is now free cash flow positive. This is usually done to associate a company with good news and increase investor interest ahead of a potential public markets debut.
And Dropbox definitely needs good press on that topic, given how it has struggled with it in the past few years. So will Dropbox be inspired by Snap's debut? Hard to say given how different their business models are and how different the valuation methodology is, but maybe they will take the bet and IPO before an Airbnb or Uber. We will see…
There are many other tech companies in the pipeline - mostly B2B - and markets expect this to be a busy year for IPOs. It will be interesting to see after Snap's success debut how many S-1 forms will be filed in the next couple of months. I expect a lot.
And how many of these IPOs can the markets absorb? To be seen, but probably a lot. That is unless Trump decides it's time to kill the party.
Note: This is my first article, and I would appreciate any feedback.
Disclosure: I am/we are long GOOG, FB, AMZN, AAPL, SNAP.
I wrote this article myself, and it expresses my own opinions. I am not receiving compensation for it (other than from Seeking Alpha). I have no business relationship with any company whose stock is mentioned in this article.