By Josh Steiner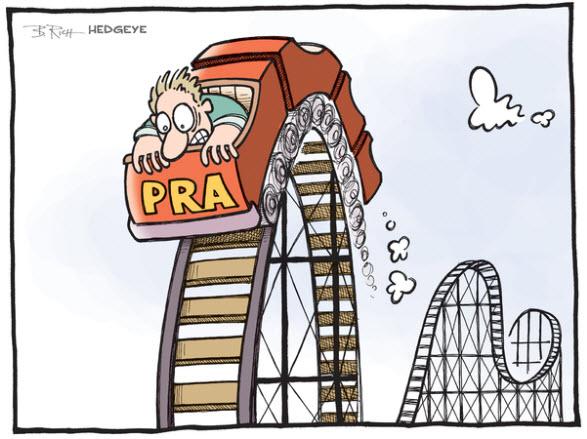 PRA Group (NASDAQ:PRAA) calls itself "a global leader in acquiring and collecting nonperforming loans." The irony isn't lost on us. After reporting fourth quarter earnings, it would appear as though many of the debt collector's loans remain nonperforming.
In fact, it's our contention that a growing portion of these loans won't be paid back at all.
With allowance charges rising - a fancy way of saying the portion of the purchased receivables that may ultimately be uncollectible - profitability of the $1.4 billion debt collector will remain severely challenged over the coming quarters.
That's been our call for some time now. After reporting earnings late Tuesday night, PRA shares have plunged -16%. The company missed total revenue expectations of $224.8 million, reporting $155.3 million and recognizing a massive $62.5 million allowance in the fourth quarter.
Moreover, total revenue was down -33% year-over-year from $230.2 million in 4Q15. Looking at the bottom line PRA reported GAAP earnings per share of -$0.38 versus estimates of $0.72, or -144% lower year-over-year than last fourth quarter's $0.87.
The worst may be yet to come. Looking deeper, fourth quarter results embolden our short thesis by revealing continued trouble for PRAA.
Adjusting for the incremental allowance charge, revenues were still down -10% year-over-year in the fourth quarter of 2016. And while management insists that the $62.5 million allowance charge recognized in the fourth quarter was, in essence, a non-event pertaining to a harmless, routine change in accounting estimates, it is rather clear that revenue, independent of the allowance shock, is still trending downwards as older, more profitable receivables portfolios wind down.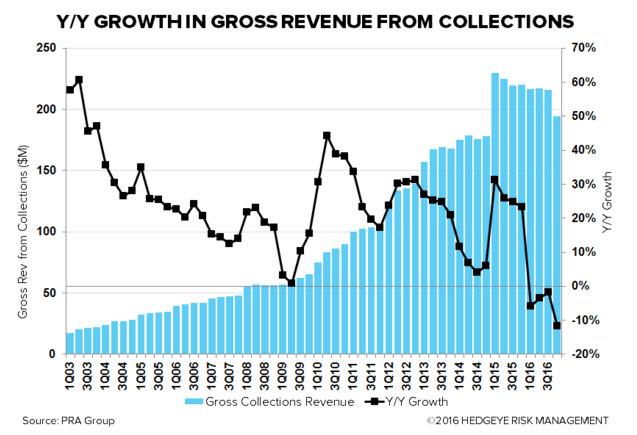 PRA's management refrained from echoing the optimistic sentiments of its competitor, ECPG, regarding the future outlook of the industry. While ECPG's fourth quarter earnings call focused on projections of 15% growth in U.S. supply accompanied by a 15% decline in pricing, PRAA's management had a much more cautious view on the future.
To illustrate, when asked about the state of supply growth in the U.S. core market, CEO Steve Fredrickson gave an answer that, in the limit, surely converges to zero:
"...It appears to us as though we are seeing some signals, some body language, and in some cases, some movement by existing sellers to offer, perhaps, a bit more volume than we might have anticipated at this point in time."
Not good.
That's why our numbers stand in stark contrast to the Street's earnings per share estimates of $2.93 and $3.16 for 2017 and 2018, respectively. In fact, our estimates are -53%, and -57% those estimates.
This short call is far from over.
Disclosure: I/we have no positions in any stocks mentioned, and no plans to initiate any positions within the next 72 hours.
I wrote this article myself, and it expresses my own opinions. I am not receiving compensation for it. I have no business relationship with any company whose stock is mentioned in this article.