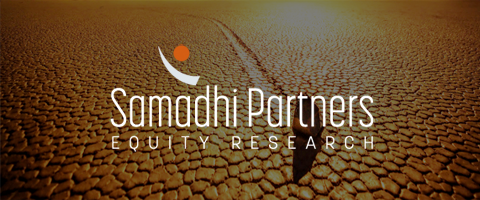 Contributing Authors: Fred McClimans, Zach Mitchell, John Freeman.
Snap, Inc. (NYSE:SNAP) closed yesterday's trading session at $24.48, +44%, vs. its initial pricing of $17, concluding the most anticipated tech IPO since Alibaba's (NYSE:BABA) in September 2014. +44% on opening day is great, but it's worth noting that the opening trade took place at $24.00, and stayed within a range of $23.50-26.05.
The $24.48 share price gives SNAP an impressive (we might say overvalued) $28.3b market cap - about 2.5x the value of Twitter (NYSE:TWTR), and greater than the $26b Microsoft (NASDAQ:MSFT) paid to acquire LinkedIn last December.
To be fair, however, we consider TWTR a bit overvalued as well, and believe the best mechanism for TWTR to realize shareholder value is through an acquisition.
SNAP's small float - only about 19% of total shares outstanding - played a significant role in facilitating the large initial jump at the open that persevered all day. The underwriters did a phenomenal job of: 1) ensuring demand, 2) minimizing volatility, and 3) earning healthy commissions.
Despite SNAP's strong IPO, we've got eight good reasons why we are intentionally avoiding SNAP at this time.
So, where does yesterday's IPO place SNAP relative to its closest peer in the social networking space? (We're not convinced SNAP is a camera company.)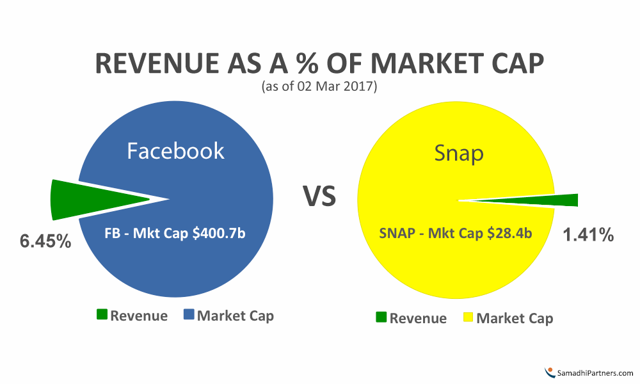 Comparing market cap to revenue for SNAP and Facebook (NASDAQ:FB) highlights one of our concerns with SNAP: valuation. SNAP's 2016 revenue represents only 1.41% of its $28.4b post-IPO market cap. In comparison, FB's 2016 revenue weighs in at 6.45% of its $400.7b market cap. Granted, FB is a considerably more mature, and diverse, firm than SNAP. But - and here's the important part - they are both competing for a finite pool of advertising dollars for the younger generation of social users.
Snap Analyst Ratings
Pivotal Research initiated SNAP with a Sell, and a price target of $10.
Nomura initiated SNAP with a rating of Reduce.
Atlantic Equities and Susquehanna both initiated SNAP with a Neutral, which we agree with.
A Strategic Investment for Snap?
NBCUniversal, owned by Comcast (CMSA), is reported (by CNBC, which is also owned by CMSA) to have taken a $500m position in SNAP through the IPO, with a pledge to hold the shares at least one year. Other strategic investors in SNAP include Alibaba and Tencent (TCTZD). NBCUniversal has history with SNAP, particularly in the area of reworked content for delivery through Snapchat.
We're not sure of the strategic value given the lack of shareholder rights afforded to SNAP shareholders, but it is an interesting move for a media company looking to migrate its audience from the TV to the mobile device. Note that 50 million shares of the IPO ($850m) appear to have been allocated to investors agreeing to this lockup period (which will help minimize volatility in the near term).
The dynamics behind large IPO allocations are always interesting, and we look forward to SEC filings including SNAP's 10-Q and high-profile 13-Fs to see who else besides NBC has put their money on yellow.
Now to the rest of the Non-SNAP universe…
Apple Goes Operational on Qualcomm
Apple (NASDAQ:AAPL) has launched another lawsuit at Qualcomm (NASDAQ:QCOM), this one in the UK, where it asserts QCOM is charging "royalties for technologies they have nothing to do with." You can find a good Seeking Alpha source here.
More than anything, this reflects our core thesis on AAPL that it has become very focused on the operational aspects of its business and is looking for leverage points to better negotiate with QCOM. Who would have guessed APPL would be playing the Art of the Deal.
On another note, we are interested in the possibilities of AAPL's leveraging of curved OLED screen technology in its iPhone 8 (and potentially wearables). However, the big question we have is not whether it will look cool, but rather if it will bring new breakthrough user functionality.
Autodesk
Autodesk, Inc. (NASDAQ:ADSK), with one of those "off cycle" fiscal years ending January 31, reported its 4Q numbers, including a better-than-expected loss of $170.5m on revenue of $478.8m. The 3-D design company is in the midst of a business model transition, away from perpetual software licenses in favor of a subscription/service model. It's the right thing to do, but it could mean a bit of a rough ride for the next couple of quarters.
Lyft Sees an Uber Opportunity
Sensing blood in the water after a series of management gaffs at rival Uber (Private:UBER), the WSJ is reporting Lyft (Private:LYFT) is looking to raise a half billion new money at a $6-7b valuation. We think the timing is right for Lyft, but we're not sure that Lyft has the same tech-fueled disruptive vision that has driven Uber's growth (which is truly a tech company, rather than merely a ride company).
Palo Alto Networks Tanks
Palo Alto Networks (NYSE:PANW) reported a solid revenue miss in its 2Q 2017 release, reinforcing our decision to not include PANW in our client portfolio. It posted revenue of $422.6m that was +26.3% Y/Y but $7.12m below estimates. Here's an interesting write-up by Kayode Omotosho on his lack of conviction with PANW.
YouTube Finally Goes Over The Top
YouTube (NASDAQ:GOOG) (NASDAQ:GOOGL) has extended its dive into the consumable content market with the launch of YouTube TV. Unlike its prior efforts, this is a direct attack on the OTT (over the top) cable TV providers, offering a bundle of 40 "network channels for $35/mo." The beauty here is the delivery: up to six users/devices (think laptop/mobile) that can stream via Google Cast to the large screen (exactly how my family consumes the majority of its content).
Of note, the bundle will include a number of channels that show live sports, including ESPN, ESPN2, and 10 regional sports networks, and YouTube's Chief Business Officer Robert Kyncl stated that about 80% of televised sports events in the US will be available in the offering. Further, as CBS, NBC, and FOX are all included in the bundle, YouTube TV will be able to stream all non-Thursday-night NFL games. The inclusion of live sports, especially the NFL, is a compelling feature that eliminates a major reason why would-be cord cutters have balked thus far.
We love this move for GOOG, as it is leveraging its existing tech infrastructure to not only attract more advertising dollars, but to also earn subscription revenue that could make a significant, positive bottom-line impact.
________
Don't miss an alert or update. Follow us on Seeking Alpha and subscribe to our email list for exclusive insights and analysis.
Disclosure: I am/we are long GOOG, MSFT, FB.
I wrote this article myself, and it expresses my own opinions. I am not receiving compensation for it. I have no business relationship with any company whose stock is mentioned in this article.
Additional disclosure: This information is intended as an informational newsletter only. No investment advice is offered. Samadhi Partners, a provider of equity research services and newsletters, is a commonly-controlled affiliate of Samadhi Capital Partners that offers a long/short and long-only strategy. Samadhi and/or its affiliates may have positions in stocks mentioned and/or traded in these names as of today. I am/we are short AAPL.