The EIA reported a historic +7 Bcf injection yesterday, which was 7 Bcf higher than our forecast of 0 Bcf. Be sure to read our summary of the storage figures here.
We anticipate a storage draw of -58 Bcf for the week ending March 3.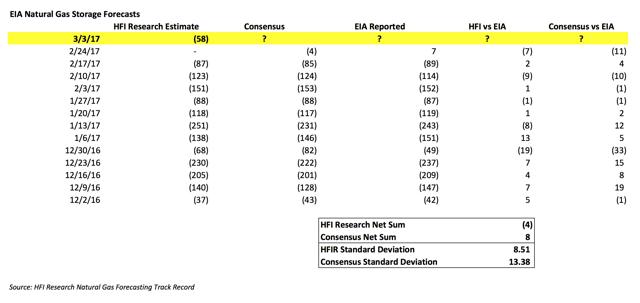 We will be resetting our track record of storage forecasts at the end of March. Current forecasting track record pins our net sum to EIA storage figures at -4 Bcf, and a standard deviation of 8.51 against EIA estimates. This compares to the 8 Bcf net sum the consensus estimated, and a standard deviation of 13.38 against EIA estimates.
We hope to improve upon our storage forecasts going forward. We have recently made some adjustments to our method, and now post our daily supply and demand tables for premium subscribers. The weekly summary of each week's storage forecasts is broken down to daily implied flows as to give a better sense of what's driving what demand increases.
Here's how the fundamentals matched up to the previous week: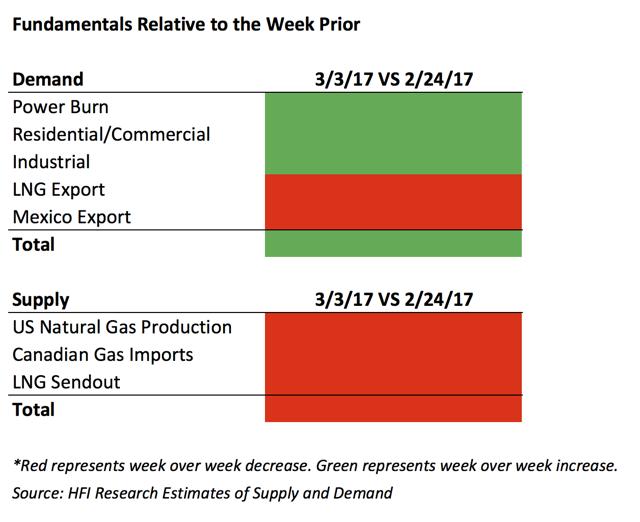 As a service to our premium subscribers, we will no longer be posting specific data each week. Rather, we will post the general direction of how fundamentals are shifting. Green represents an increase week over week, while red represents a decrease week over week.
Total demand increased for the week ending 3/3 relative to the week before. Total US gas (NYSEARCA:UNG) supplies decreased for the week ending 3/3 relative to the week before.
If the EIA storage report comes in around -58 Bcf, it would be compared to a -138 Bcf five-year average and -63 Bcf from last year.
For those interested in following the daily natural gas fundamentals, you can sign up here. For more info on premium, please read this.
Disclosure: I/we have no positions in any stocks mentioned, and no plans to initiate any positions within the next 72 hours.
I wrote this article myself, and it expresses my own opinions. I am not receiving compensation for it (other than from Seeking Alpha). I have no business relationship with any company whose stock is mentioned in this article.