By Gene Kirsch
Last month we took a look at 14 undervalued bank stocks that represented good investment value. One month later, the complete basket of 14 bank stocks is up 9.9%.
When we identified these bank stocks, 10 of them had hit their 52-week low in the fourth quarter of last year and one in early January. These 14 stocks were culled from the 1,190 publicly traded banks rated by us for financial strength that met the following criteria as of January 26, 2012:
Positive earnings per share
Current stock price to tangible book value less than 90%
Current stock price at least 10% off its 52-week high
Forecast stock price based on next year's earnings greater than its current stock price
For example, as of January 26, KeyCorp (NYSE:KEY) traded at $7.88 per share, with a book value of $9.10 at September 30, reflecting a ratio of 87%. And the bank was trading at a 19% discount from the 52-week high of $9.77 reached on February 15, 2011. Based on an average P/E of 11.62 and forecast EPS of $0.89, we forecast a 12-month price target of $10.34 or an increase of 31.3%. The assumptions to arrive at the price target were fairly conservative using an 11.62 P/E compared to the historical average of 14 for all publicly traded companies, and the forecast EPS was the average of all analysts reporting on that bank for the most recent fiscal year of 2012.
Let's take a look at how the selected undervalued banks have performed relative to the market and its peer group since that time.
Click to enlarge
See full original table in January article.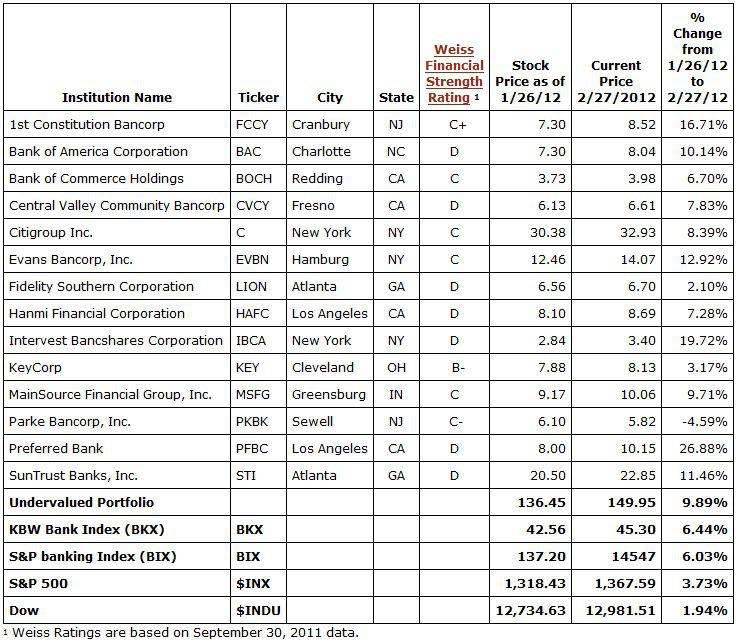 1 Weiss Financial Strength Ratings - what they mean.
Let's look at the 9.89% increase for the basket of 14 bank stocks over the past month in comparison to other industry benchmarks. During the same month, the KBW bank Index (BKX), a weighted index of 24 geographically diverse stocks representing national money centers and leading regional institutions, gained just 6.44% for the same period. The S&P Banking Index (BIX), a much broader banking index that includes all banks in the Standard & Poor's, gained just 6.03%. While, the general market for both the S&P 500 and Dow gained only 3.73% and 1.94%, respectively. As you can see, the 14 undervalued stocks increased in value even more robustly than the banking sector which has been one of the top performers during the past month and for all of 2012.
Looking at individual performance of the 14 bank stocks we found Parke Bancorp, Inc. (NASDAQ:PKBK) was the worst performer, down -4.59% on average 10 day volume of 8,442 shares and at only 37% of our target price point. Just one of the 14 stocks - SunTrust (NYSE:STI) - hit the price target we set. SunTrust exceeded our target at almost 109%. The current average stock price in the portfolio is only 81% of the group's aggregate price target, still leaving plenty of room for price appreciation in the portfolio going forward.
Among the top performers so far this month are Preferred Bank, Inc. (NASDAQ:PFBC), up 26.88% with an average 10-day trading volume of 17,333 shares, and Intervest Bancshares Corp. (NASDAQ:IBCA), up 19.72% with average 10-day trading volume of 42,614 shares. While those two names were thinly traded, Bank of America (NYSE:BAC) was up 10.14% on average trading volume of 290 million shares and SunTrust Bank was up 11.46% on just over 7.2 million shares on average.
Taking overall financial strength into consideration, the investment choices narrow somewhat: The highest-rated bank on the list is KeyCorp at B- ("good"). Those with a rating in the C ("fair") range are also considered safe and could be interesting to consider. Of course, risk takers might be willing to disregard the issue of financial strength entirely and invest based solely on the potential short-term price upswing. That opens up the whole list, including those with ratings in the D ("weak") range.
To evaluate whether this trend is likely to continue several things have to be considered. First, consider the macroeconomic climate. Domestically, the economy appears to be stabilizing. GDP growth has been positive for the last 10 quarters, with the latest GDP growth rate at 2.8% in Q4 2011. And the current unemployment rate of 8.3%, for January 2012 is down from 8.5% in December 2011; the lowest level since April 2009.
Challenges still remain in the housing market and the European debt crisis is likely to have an effect on the U.S., but low interest rates and the strong dollar should help offset those risks in the short term. The Fed keeping borrowing costs relatively cheap for consumers and businesses should continue to provide a boost for the banking industry through increased lending activity and improved profitability.
To review bank performance, see our complete lists of the strongest and weakest banks here.
Disclosure: I have no positions in any stocks mentioned, and no plans to initiate any positions within the next 72 hours.