Market Services PMI came in for Europe overnight. Overall, the majority of the countries continue to expand. However, GB fell modestly for the month compared to DE and FR. EURGBP rallied on the news, but I am not buying into this rally. I still believe that EURGBP is heading lower over the course of the year and will continue to put this profitable short trade on-and-off.
The Markit charts
The respective Markit Services PMI charts for Great Britain, Germany and France are shown: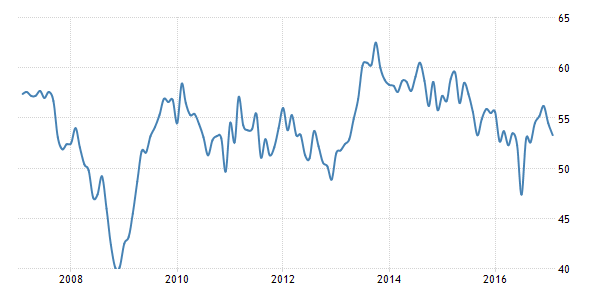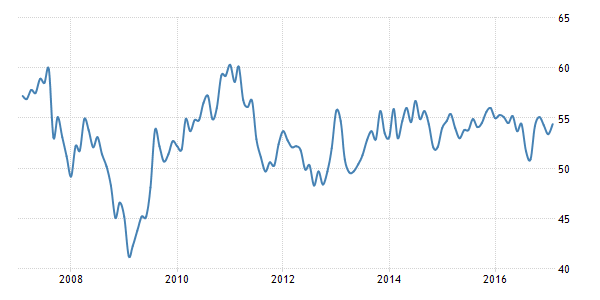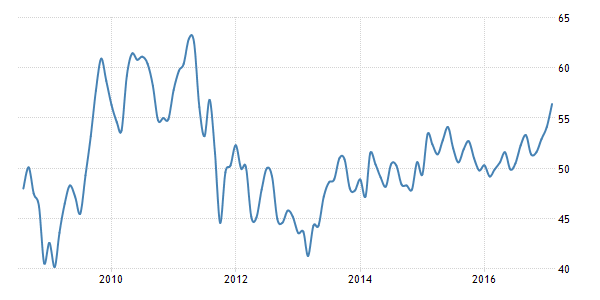 First, all of these charts are expansionary as they are above 50. The drop in U.K. Services was from 54.5 to 53.3, not earth-shattering. Just a drop. Regardless, the United Kingdom is still expanding. In fact, Europe on a whole is continually expanding, just like the United States. I believe that this is the trend we will see throughout the remainder of the year.
But, to think that all of Europe is expanding more so than Great Britain sells short the idea that Germany and France represent all of Europe. What about Italy, Spain, Greece and countless other individual states that have yet to turn that corner?
The difference in interest rates
FX moves are driving by differentials. One of the biggest differentials driving currency moves is interest rate differentials. The differential for EU is still wide and will likely widen before anything else. The ECB was late starting and they will be late finishing QE. The EU is still committed to buying €60 billion in bonds over the course of the next year. However, Great Britain is more likely to push interest rates upward over the course of the year. That differential is going to push interest rates to favor GBP over EUR; shorting EURGBP is the way to take advantage of that:
I read an article regarding inflation having an effect on the purchasing power of Brits over the past few months. I do not see the U.K. having a monopoly on inflation; price pressures are becoming a world-wide event. This is prompting the Federal Reserve to push up interest rates. It is also going to push the Bank of England and the ECB to do exactly the same. The ability of Great Britain to raise rates a little earlier is important. This will push the GBP upward versus EUR, and I have been taking advantage of that opportunity.
The Trade
I have shorted EURGBP on and off multiple times over the past couple of weeks. The trade has worked. Ultimately, I expect EURGBP to move below the level of .8200 before year's end. In the meantime, playing 1% moves here-and-there has been profitable.
One economic indicator does not make an economy, economics is a process, not an individual release. As far as I can see this one economic release is nothing more than an opportunity to sell into this market again with more comfortable entry levels.
Disclosure: I am/we are short EURGBP.
I wrote this article myself, and it expresses my own opinions. I am not receiving compensation for it (other than from Seeking Alpha). I have no business relationship with any company whose stock is mentioned in this article.