Since the surprising results of the U.S. presidential election in November, the equity markets (especially those in the U.S.) have generally marched steadily upward. In fact, through mid-February, almost all major global equity indices have generated positive returns year to date. This also holds true for most global industry sectors and major country indices. Despite this rally in equities, most global and U.S. bond indices have achieved positive returns as well, including both long-term U.S. Treasuries and high yield bonds. Lastly, not to be outdone, the broad commodity indices are also up for the year, as is gold.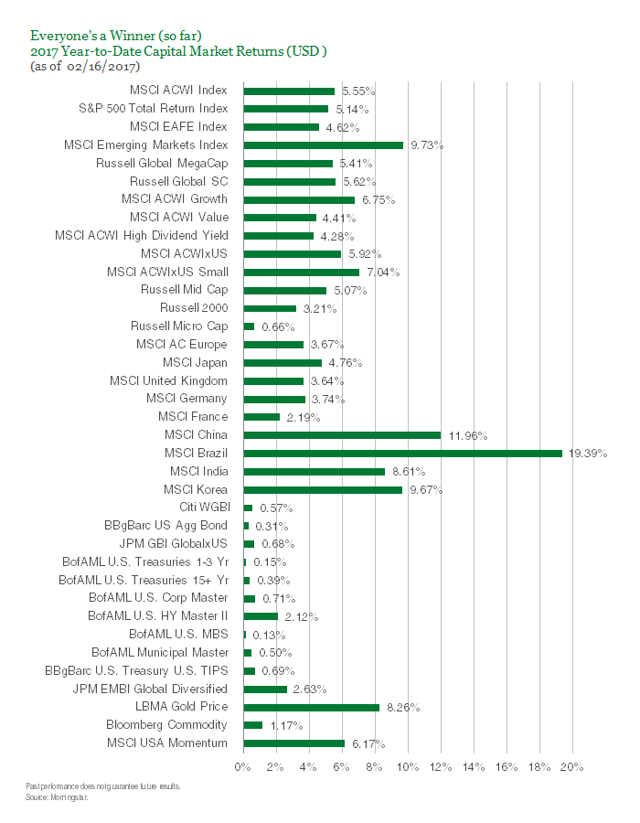 Many investors are undoubtedly wondering what to make of the current market environment. Does the market rally signal the reset of the current market and economic cycle, or is it simply the last gasps of a bull market that began nearly eight years ago? While it is tempting to think in terms of these extremes, we would like to point out that the current environment may neither be the end or a new beginning.
As has been the case for the past several years, economies across the globe continue to expand at a relatively muted pace. In the U.S., a number of economic indicators suggest that we may be in the later stages of an economic expansion. This is especially evident in the labor markets, with the economy likely approaching full employment and signs of upward pressure on wages. Likewise, valuations across most global equity markets remain at or somewhat above fair value, with significantly fewer pockets of cheap valuations remaining compared to the past several years. Lastly, a number of sentiment measures, including consumer expectations, have spiked since Novembers, while the VIX continues to hover near all-time lows.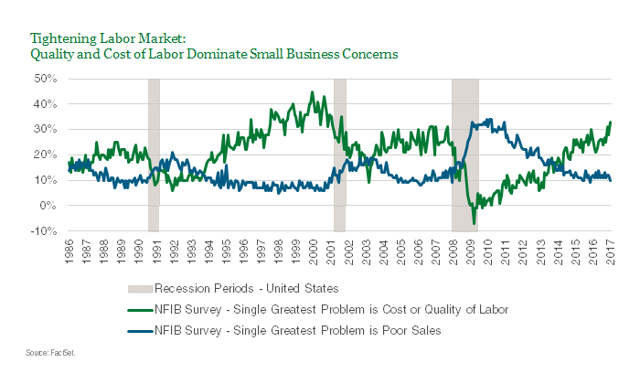 That being said, we see little evidence of excesses or extreme speculation in the economy or the markets. Inflation remains generally well contained, and the Federal Reserve is expected to tighten monetary policy at a gradual pace. Likewise, while corporations have taken on a substantial amount of debt over the past several years, the low interest rate environment has resulted in manageable debt service burdens for many companies despite the higher debt levels. Additionally, even if valuations are elevated, history has shown that they could persist at these levels for a number of years.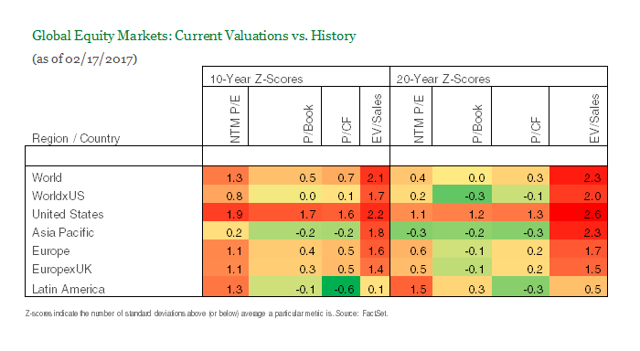 Thus, until we begin to see more extremes in the markets (e.g., signs of an overheating economy) or increasingly speculative valuations/sentiment, we continue to recommend a neutral to modest underweight allocation to equities. Investors should also note that in the event equity valuations continue to increase from current levels without an underlying improvement in economic and market fundamentals, it is likely that our recommended equity allocation would decrease. While we recognize that such a recommendation may negatively impact relative performance in the near term should the markets continue to rally, history suggests that purchasing equities at elevated valuations has rarely been a recipe for long-term success. As investors, we are always cognizant of the trade-off between risk and return and would remind investors that market risk is often greatest when most people believe it is non-existent.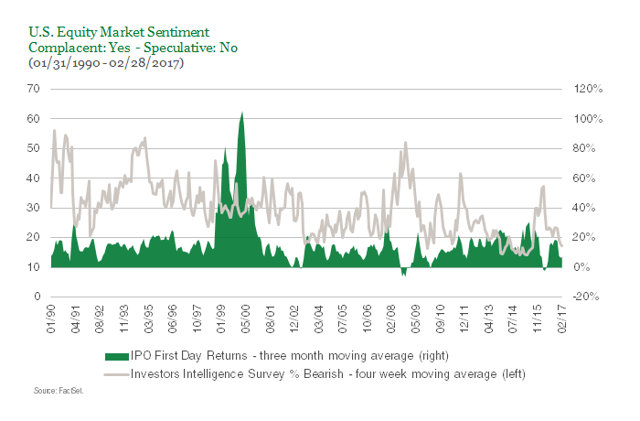 Despite these somber warnings, we would like to emphasize that we are not prophesying doom, but merely acknowledging the market environment investors are in today. Ultimately, our indicators have given us little reason to recommend meaningful portfolio adjustments over the past several months, and we continue to believe that flexibility and the ability to take advantage of temporary market dislocations remains important in the current market environment.