Valeant (NYSE:VRX) stock tanked after earnings on Feb. 28, 2017. The market reaction was not due to disappointing results. The company beat the EPS estimate by $0.05 with $1.26 per share and beat the revenue expectation by $60 million with $2.40 billion in revenue for the fourth quarter (note this represents a decline of 13% from Q415).
Full year revenue came out at $9.67 billion compared to $10.45 billion in the year prior. This is a 7% drop - severe but not insurmountable if sales volume can stabilize. However, the new CFO Paul Herendeen seems to suggest this stabilization will not occur in 2017, and he shocked the market with guidance significantly worse than expectations. Is Valeant's new guidance a 'kitchen sink,' or is the outlook for Valeant as bleak as its stock price suggests? Tentatively, we believe this guidance seems unreasonably conservative, and the stock has priced in too much bad news.
Valeant's Guidance History
It makes sense for a new management team to 'kitchen sink' financial results to get all the bad news out of the way before the turnaround. Joe Papa started this process in the 3rd quarter with a massive $1.22 billion impairment charge to reflect the company's history of poor acquisitions, namely the recent Salix and Sprout buyouts. On guidance, however, Valeant continued to disappoint, and it slashed its predictions repeatedly in quarters before Herendeen took over the CFO position.
Herendeen has both his reputation and Valeant's reputation on the line with his guidance projections, and management is incentivized to under promise and over deliver on guidance to prevent further guidance cuts in the future and bolster their turnaround narrative. Valeant's new guidance is very conservative:
1.) Total Revenues $9.55 billion to $9.65 billion, from previous range of $9.9 billion to $10.1 billion
2.) Adjusted EPS (non-GAAP) $5.30-$5.50, from previous range of $6.60-$7.00
3.) Adjusted EBITDA (non-GAAP) now $4.25 billion-$4.35 billion, from previous range of $4.80 billion-$4.95 billion.
The case for this weak guidance is predicated on a series of patent LOEs, and sales volume declines across the portfolio. This guidance appears to assume that the LOEs will automatically result in lost revenue and Valeant's new product launches: Addyi, Siliq, Vyzulta, and 1DP-118, will not be able to negate this decline. Perhaps, even more, disturbing is the assumption that sales price hikes of below 10% will not be able to stabilize revenue.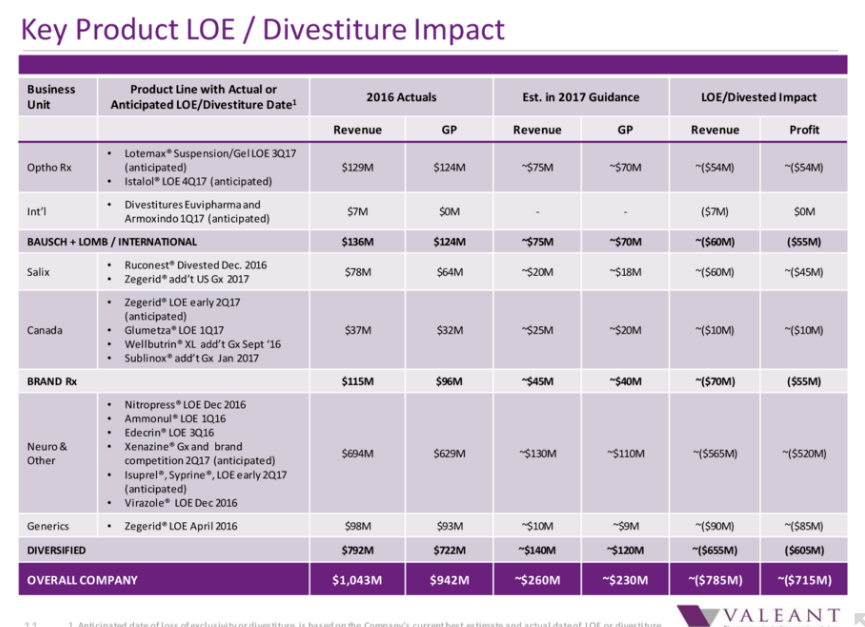 Valeant's guidance is making some very negative assumptions that can be taken in one of two ways:
1.) Valeant's financial situation is much worse than we know, and product sales are declining so fast that sub 10% price hikes cannot stem the bleeding. Valeant's new products are not very valuable, and they won't even put a dent in the sales decline.
2.) Valeant has 'kitchen sinked' guidance, and an unreasonable amount of bad news is priced into the stock.
Conclusion
We tentatively believe Valeant has provided unrealistically conservative guidance due to management's incentive to regain the trust of the market by under promising and over delivering. Also, the guidance seems to assume LOEs will automatically result in lost revenue when this is not necessarily the case - generics still have to enter the market, and this could take years. The guidance also assumes Valeant's new products will be unable to counterbalance declines in the established portfolio.
All this being said, Valeant has become a somewhat binary investment. If this guidance turns out to be accurate, the long-term thesis for investing in this company is shattered due to highly negative assumptions implied in the guidance. If this guidance is an underestimation, investors can see upside because the priced-in negativity is unwarranted.
Disclosure: I/we have no positions in any stocks mentioned, and no plans to initiate any positions within the next 72 hours.
I wrote this article myself, and it expresses my own opinions. I am not receiving compensation for it (other than from Seeking Alpha). I have no business relationship with any company whose stock is mentioned in this article.
Additional disclosure: May invest in VRX over next 12 months.