Nearly two and a half years ago, it was again my turn to be the night watchman at the local marina. For once I decided to bring my laptop instead of whatever book I was reading at the time. QE3 tapering was fast approaching its end and the excess reserves of U.S. banks were closing in on an unfathomable $2.7 trillion.
As I was working through the weekly Federal Reserve and commercial bank balance sheets including reserve ratios, a beautiful number appeared on my computer screen that lighted up the dark night at 3 a.m. just south of the arctic circle: 100.1%! U.S. banks were no longer fractional reserve banks in terms of reserve ratios; they were 100% reserve banks based on a relatively strict measure of the reserve ratio.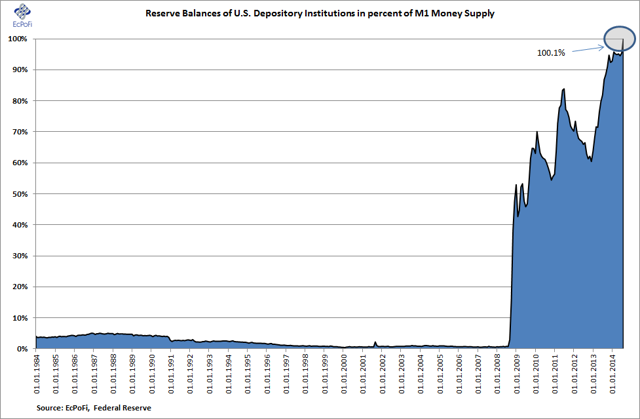 Then it struck me, though with great skepticism: did the Fed undertake QE1, 2, and 3 not only to save the banks at the expense of everyone else, but also as part of a bigger plan to alter the entire U.S. banking system? Were the FOMC members planning to abandon fractional reserve banking, a system they too surely by now had realised was responsible for the inflationary booms and inevitable busts that had steered American citizens more toward poverty than increased prosperity? Were they to rectify this by replacing it with full reserve banking, a system whereby the granting of credit would be based entirely on what others have saved instead of by money created out of thin air at the expense of savers and sustainable capital accumulation?
I decided to write down my thoughts on paper. The resulting article was published 10 September 2014 here on Seeking Alpha; U.S. Banks Are Now Operating With 100% Reserves - Is Full-Reserve Banking The Next Step? The article attracted many readers, is still read today, and remains one of the most-read articles I've ever published on any platform. Comments spanned "interesting speculation" to "ridiculous." Understandably so.
So what has since happened with the reserve ratio, in this case calculated as the sum of required and excess reserves (total reserves) divided by the M1 money supply? The required reserve ratio has remained largely the same; the 5.1% in August 2014 is 5.2% today. Which means it is still reserves classified as excess which make all the difference. So what has happened with the excess reserves to M1 money supply ratio? It has plummeted, from 96.9% in August 2014 to the current 58.6%. Which brings the total reserves to M1 money supply ratio right back to where it was during the middle of QE1 in October 2009; around 60%.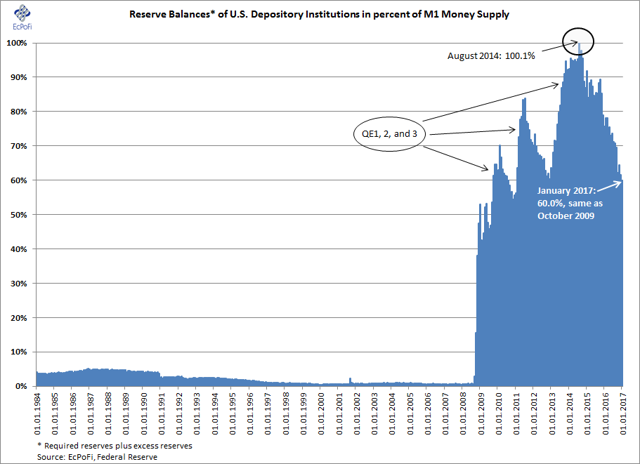 It hence seems appropriate to throw in the towel and acknowledge that full reserves as defined above was not intended to become a requirement, at least for now. Though bank capital ratios have not improved much for banks in the aftermath of the 2008 banking crisis...

...their reserve positions have improved significantly since the dismal state on the eve of the banking crisis.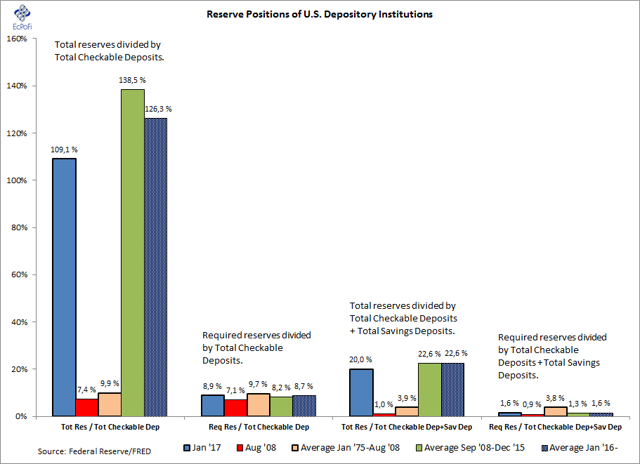 But the above definition of a "full reserve" requirement is as mentioned relatively strict. Why? Because reserves according to that definition are meant to cover not only 100% of reservable deposits (i.e. deposits legally withdrawable on demand), but also currency held by the non-bank public (notes and coins in "circulation"). This reserve ratio discussed therefore covers all monies, not just withdrawable deposits.
If we relax the above definition of the reserve ratio and remove currency from the denominator, we are left with a reserve ratio that indicates the extent bank reserves cover withdrawable deposits only.

When defined this way (which some might deem a more appropriate definition of a 100% reserve requirement) U.S. depository institutions ("banks") have been operating with 100% reserves ever since the beginning of 2009. In fact, every time the ratio dropped to near 100%, a new round of QE was initiated by the Federal Reserve. Could it therefore actually still be the Fed's intention to implement full reserve banking, with this less stringent reserve ratio as the benchmark?