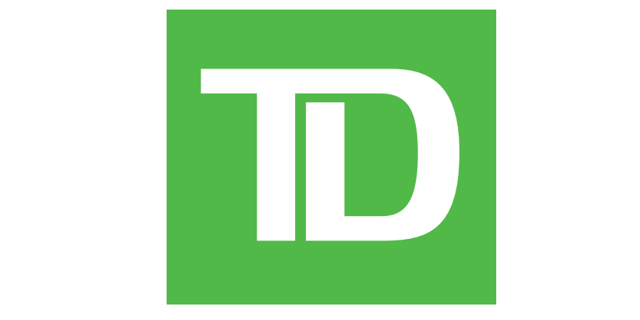 This is an article covering the investment prospects and performance of Toronto-Dominion Bank (NYSE:TD). It is the third in a series covering the big 5 Canadian banks, and you can find the first 2 on Royal Bank of Canada (NYSE:RY) here and The Bank of Nova Scotia (NYSE:BNS) here. The other 2 Canadian banks that will be covered and are compared throughout the article are the Bank of Montreal (NYSE:BMO) and the Canadian Imperial Bank of Commerce (NYSE:CM).
TD had another great quarter, which I have come to expect from them and so has the market. TD trades at the lowest yield of the major Canadian banks, around 3.2%. Compare this to their peer CM, which investors can grab today at a ~4.4% yield, and it's apparent that TD is expected to show stronger growth. With EPS growth of 13% YOY, net income growth of 14%, and revenue growth of 6%, it did not disappoint. The bank announced a 15M share buyback to combat dilution, which I discussed was an issue in my last article.
Source: Analyst Presentation
TD derives a little over a quarter of its net income from American retail banking, and 60% from its Canadian operations. In Canadian retail, TD outpaced both RY and BNS in deposit growth with 12% growth, and a 4% loan growth YOY. Similarly, investments into technology and customer experience increased 7% YOY. Business loans improved by 10%, and personal loans increased 4%. TD drove an outsized portion of its gains through business clients and its wealth management division.
On the American retail side, net income increased 10% YOY with a 1% contribution from the bank's ~42% stake in TD Ameritrade (NASDAQ:AMTD). Revenue was up 9%, deposits grew by 11%, and loans increased by 7%. This was a great performance, marked by gains in efficiency and technological improvement. This has been a recurring them when analyzing the bank, and TD increased expenses by 7% YOY to invest in digital initiatives.
15% of all checking account sales are now performed digitally, and digital credit card sales are >20%. Additionally, the app TD MySpend now has over 850K users. The introduction of TD ASAP allows customers to connect directly to an advisor through their devices. All of these initiatives have led to better efficiency and increased customer satisfaction.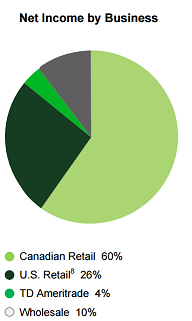 Source: Analyst Presentation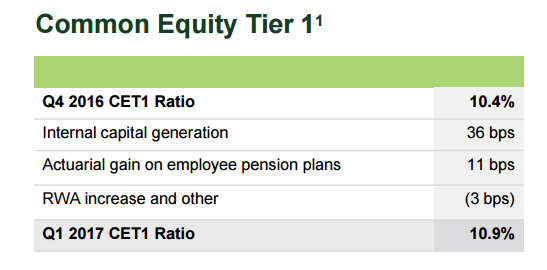 Source: Analyst Presentation
TD maintained a strong CET1 ratio, well above the 6% requirement mandated by the Basel accords. This ratio functions as a stress test, showing the ability of a bank to weather a downturn. The 10.9% figure is largely in-line with its peers, and TD has maintained among the top 2 credit ratings of the major banks. BNS, BMO, and CM all have identical ratings on their long-term debt, but RY is better with Fitch and TD holds the top spot at Moody's. Regardless, these credit ratings are very strong and show a conservative bank with a strong balance sheet.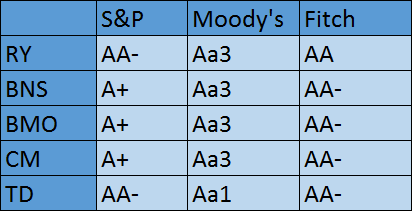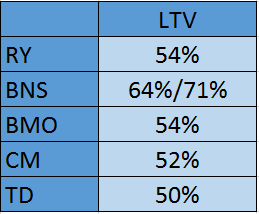 TD has the most conservative mortgage portfolio of the majors. With a 50% LTV average on its uninsured mortgages, investors should not worry about TD's portfolio being too adversely affected in the case of a Canadian housing downturn. As I have discussed in previous articles, the Canadian housing market is very different than its American counterpart. With significantly higher levels of equity and fewer delinquencies, the Canadian housing 'bubble' occurring in select cities is likely overstated. The Canadian housing market is very steady year to year, and with the conservative nature of the banks, it should give investors a measure of confidence moving forward.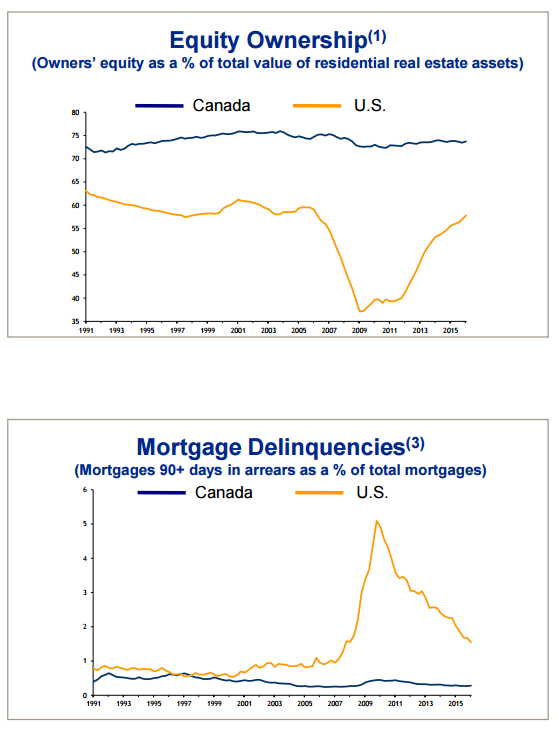 Source: RY Presentation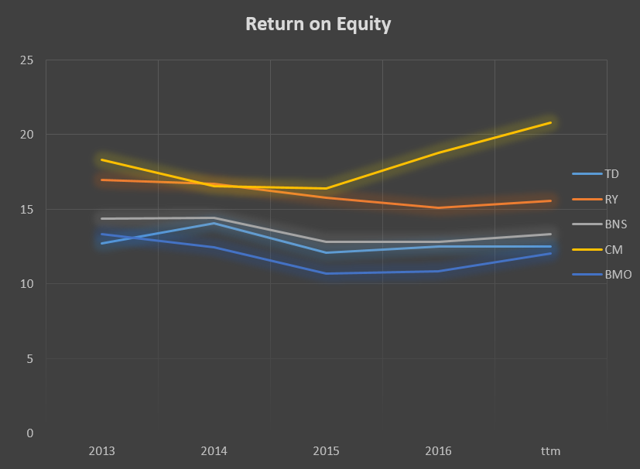 The bank's ROE doesn't wow me, however. Although TD's ROE in the 13% range compares well with many of its American peers (notably Wells Fargo (NYSE:WFC) and J.P. Morgan Chase (NYSE:JPM), it falls in with the bottom 3 among the Canadian peers. CM is a standout here, and RY takes 2nd. This profitability measure is a common one to compare financial companies. The key takeaway here is that TD has a strong ROE, but key competitors are even stronger.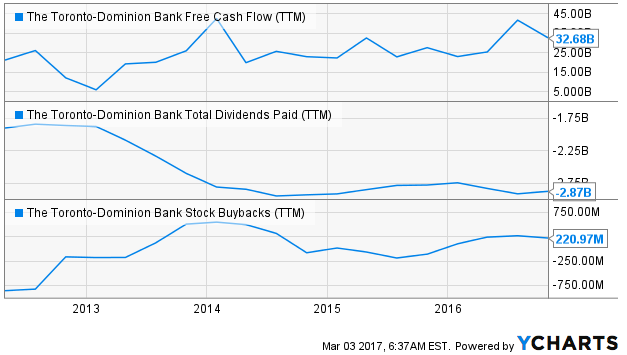 One area that TD does shine in is incredibly important to dividend investors. Its FCF generation is outstanding, with TTM FCF coming in at $32.68B, obviously covering the dividends and buybacks. TD does currently have the lowest yield, likely due to its growth prospects in America. Its payout ratio stands at 46.10%, in-line with peers, and over time the dividend growth has been excellent. The most recent increase was 9%, in-line with historical trends. Considering the massive FCF generation, conservative payout ratio, and strong earnings growth I believe investors can look for close to double-digit dividend growth for the near future.

Source: Data from Canadian Dividend All Star List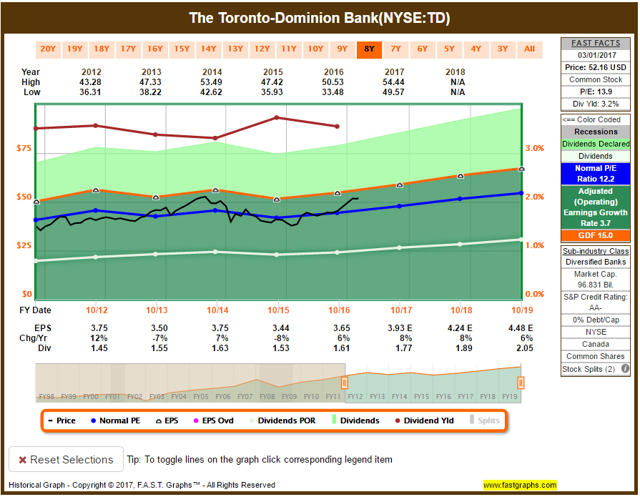 TD has entered likely overbought territory for the moment. It is trading around 14X earnings, with a long-term average of close to 12X. Additionally, TD generally trades for a higher yield, as shown below.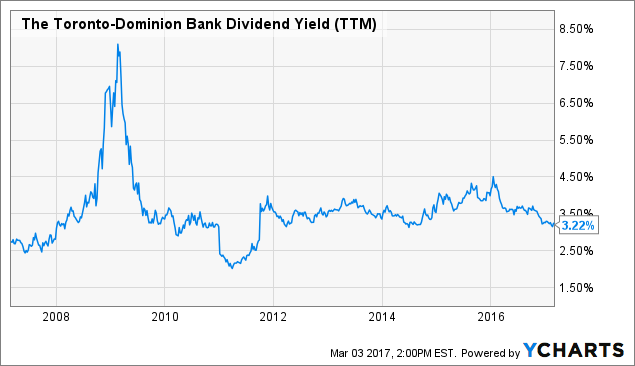 TD Dividend Yield (NYSE:TTM) data by YCharts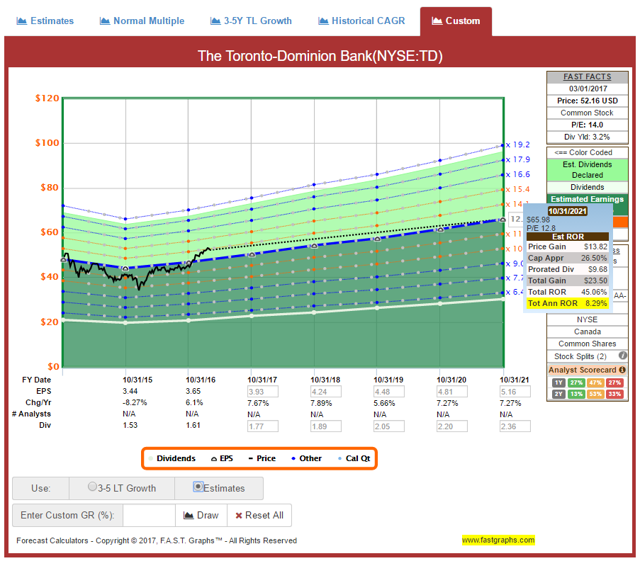 S&P Capital FV is set at $58.10, giving the stock an upside of ~12%. Additionally, due to strong growth expectations, an expected ROR going forward based on analyst estimates would be 8% annualized. This is considering a return to the average long-term valuation. For these reasons, I see TD as an outstanding long-term holding and investors wouldn't go wrong buying here. However, both CM and BNS are better values and patience for TD to pullback is likely prudent here.
If you liked this article, and would like to read more like it, please click the "Follow" button next to my picture at the top and select Real-time alerts. Thanks for reading.
Financial statistics were sourced from Morningstar, with the charts and tables created by the author, unless otherwise stated. This article is for informational purposes only and represents the author's own opinions. It is not a formal recommendation to buy or sell any stock, as the author is not a registered investment advisor. Please do your own due diligence and/or consult a financial professional prior to making investment decisions. All investments carry risk, including loss of principal.
Disclosure: I am/we are long CM.
I wrote this article myself, and it expresses my own opinions. I am not receiving compensation for it (other than from Seeking Alpha). I have no business relationship with any company whose stock is mentioned in this article.