With both the Manufacturing and Non-Manufacturing ISM reports coming in better than expected this week, there were definitely a number of bright spots in this week's calendar of economic data. While both reports showed strength, they also showed a pickup in the number of commodities rising in price. The table below shows the number of commodities cited by respondents as both rising and falling in price in each of the ISM reports. In the Manufacturing sector, respondents noted price increases in 26 commodities, which was the highest for a single month since May 2011, and up four from January. While 26 commodities were up in price, just one commodity was down in price (Scrap Metal). In the Non-Manufacturing sector, 19 commodities were reported as being up in price (highest since July 2014), while nine were down in price (highest since February 2016).
On a combined basis, 45 commodities were up in price, which was the highest since April 2012, while just ten were down. As shown in the chart, the three-month average of our commodities survey tends to track changes in inflation over time, and February's increase in the number of commodities rising in price brought the moving average up to 29.7. That was the largest one-month increase since May 2016, taking the three-month moving average up to its highest point since June 2014 and confirming the uptick in y/y inflation to 2.5%- the highest level since March 2012.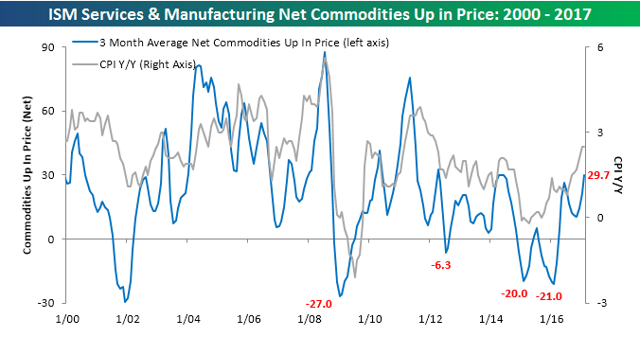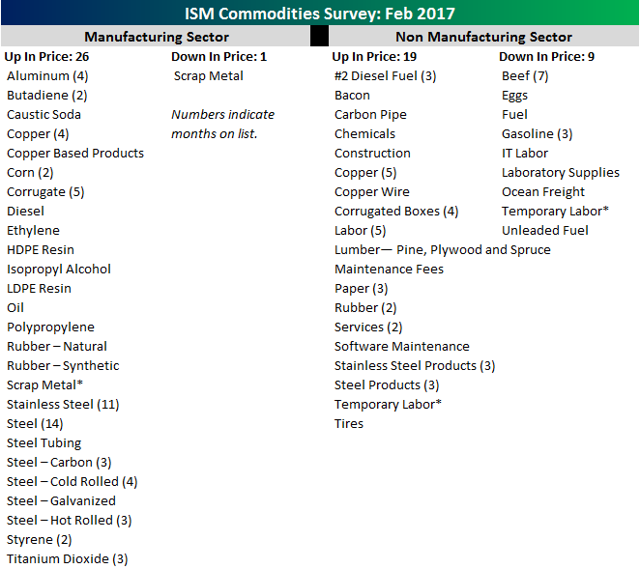 Thanks for reading the article. Follow our account to get our articles as soon as they're posted to Seeking Alpha. To get our full newsletter, sign up for Bespoke Newsletter PRO. Subscribers to that service get access to Bespoke's model stock portfolios, actionable data-driven insights, and in-depth analysis of everything that drives the markets, among other things.