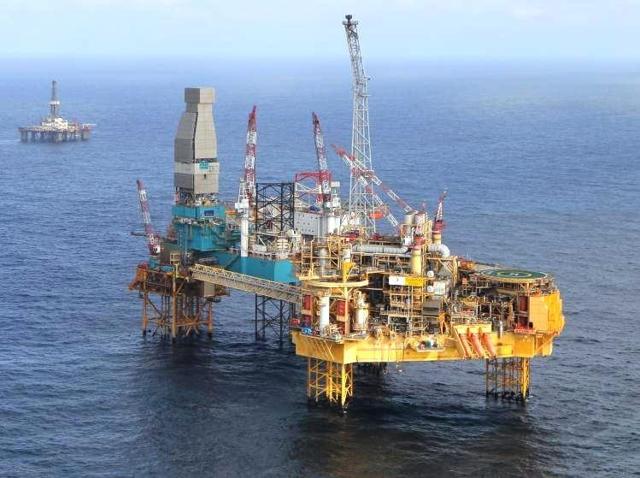 Source: Offshore Energy Today
Transocean (NYSE:RIG) reported Q4 revenue of $974 million and EPS of $0.63. The company beat on revenue by $164 million. RIG closed up over 3% after earnings were released. I had the following takeaways on the quarter.
Contract Revenue Continues To Decline
Transocean's total revenue of $974 million was up 8% sequentially and down 47% Y/Y. Its other revenue included a $169 million early termination fee for a drilling contract. Sans the early termination fee, total revenue would have been down 11% Q/Q. That said, its core contract revenue continues to decline.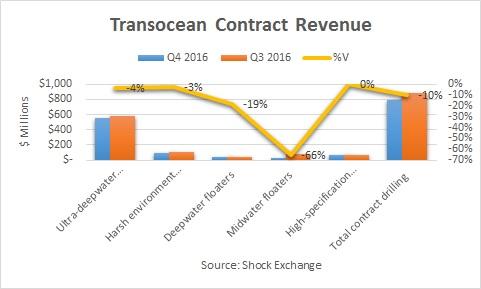 Contract revenue fell 10% sequentially. The biggest decliner was Midwater Floaters which was off 66%; I actually expected this segment to outperform and have the most upside at current oil prices. Ultra-deepwater Floaters fell 4%. This segment represents over 70% of total contract revenue, up from 66% in Q3. Deepwater drilling is prohibitively expensive vis-a-vis other offshore segments. Experts predict offshore will be the last segment of the oil industry to rebound. It might not happen until 2018 or beyond.
For now, the offshore market remains oversupplied and dayrates continue to fall. Transocean's average daily revenue fell 1% sequentially. The biggest decline was in Mid-Water Floaters which saw dayrates fall 47%; Ultra-deepwater Floaters were next with an 18% decline. Moreover, fleet utilization was only 46% during the quarter, down from 49% in Q3 and 60% in the year earlier period.
Is $60 Oil The Magic Number?
The sharp rebound in oil prices off their January 2015 lows has been a boon to certain segments of the oil industry. North American shale plays have been making money hand over fist; the increase in the rig count implies drilling will continue at current oil prices. However, Transocean's management believes prices must stay above $60 to spur investment in offshore drilling:
While we and the rest of the off-shore drilling industry have done an admirable job of reducing cost through the downturn, the IOCs are unlikely to sanction new projects until we see a sustainable price per barrel in excess of $60. For 2017, we currently expect the IOCs to continue to preserve liquidity while the NOCs independent take advantage of the favorable drawing economics currently available in the market and move forward with some of their programs. As we look towards 2018, we are increasingly encouraged.
I believe oil prices could remain range bound for some time. With the Dow (NYSEARCA:DIA) at nearly 20,000 who knows where RIG will trade a year from now? Until dayrates and utilization rates improve, Transocean could continue to tread water financially.
Solid Liquidity
As the sector still looks for a bottom, the biggest determination of where company trades is whether investors believe it can survive. In my opinion, there is a delineation amongst drilling contracts - there are those with liquidity and those without. First of all, the company has a respectable EBITDA margin of 51% for full-year 2016. Transocean has reacted to the oil industry downturn by rationalizing the business, which helped stem cash burn.
Its working capital of $2.2 billion should be a large enough buffer to help sustain the company until equipment spending picks up. This is in stark contrast to Seadrill (NYSE:SDRL), which has negative working capital of over $1 billion. Transcoean's $8.3 billion in debt equates to 3.9x EBITDA. If the metric approaches 5x then it could enter junk territory and could become a cause for concern. It is paramount that the company keeps a lid on its cost of capital until the offshore drilling market rebounds. This appears manageable for now.
Takeaway
Transocean continues to tread water and will likely do so for the rest of 2017. At 5x EBITDA RIG remains a hold for now.
Disclosure: I/we have no positions in any stocks mentioned, and no plans to initiate any positions within the next 72 hours.
I wrote this article myself, and it expresses my own opinions. I am not receiving compensation for it. I have no business relationship with any company whose stock is mentioned in this article.