Adidas (OTCQX:ADDYY) (OTCQX:ADDDF) has grown revenue by 32% since 2012, riding the positive trend in athleisure and helped by the strong performance of some footwear lines, such as Adidas Superstar. The market is still pricing a high growth scenario and analysts are very positive in their ratings. Nonetheless, there are some warning signs that could threaten the bull case, such as the fading momentum of the Adidas superstar line.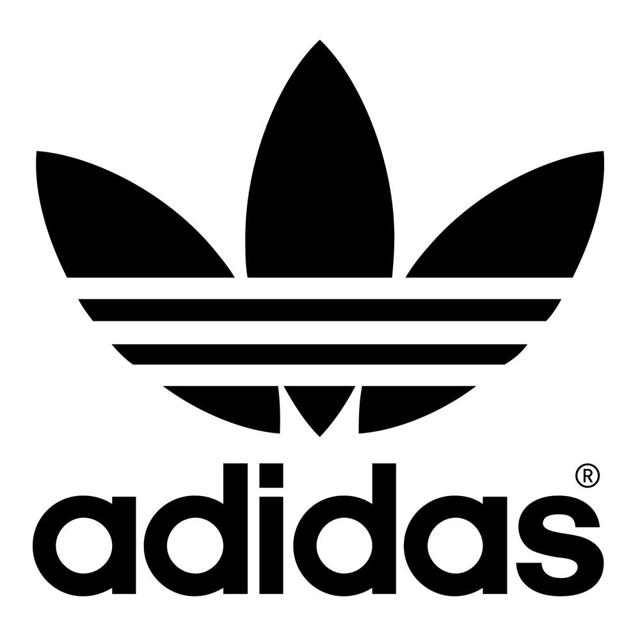 Adidas' shares have performed very well in the last few years. The current momentum is undeniable, and the company has been able to grow revenue by 32% since 2012, although it hasn't been able to increase margins, so far.
The stock is currently trading at the all-time highs and at very rich valuations, if compared to the company's historical ratios. All the multiples have skyrocketed, showing that the market is discounting a high growth rate in the stock price. Price-to-Sales and Price-to-Earnings are very close to the 10-year high, showing that the market has very positive expectations on the company's growth.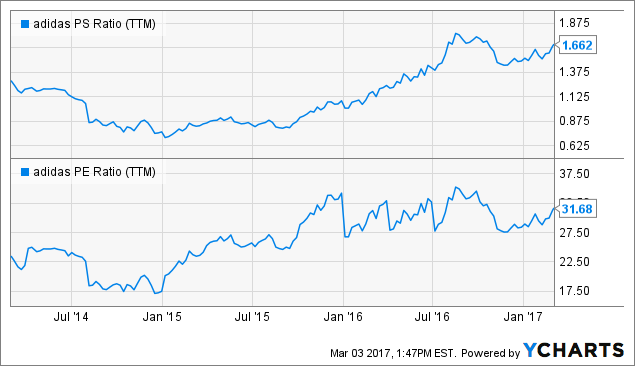 ADDYY PS Ratio (TTM) data by YCharts
The stock is still trading at a discount to Nike (NYSE:NKE) in terms of Price-to-Sales due to the much higher margins that Nike reports, especially in North America, where Nike is by far the dominant player in sportswear and athleisure.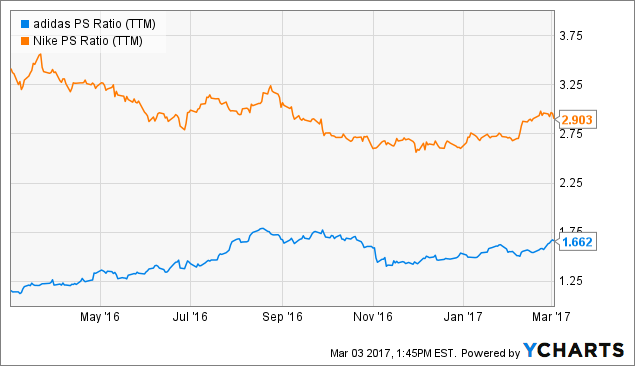 ADDYY PS Ratio (TTM) data by YCharts
Much of the performance that we can expect from Adidas depends on how much market share it can gain in North America at the expense of Nike and Under Armour (NYSE:UAA) (NYSE:UA). The company needs much higher sales to increase margins and justify the current earnings multiple. Adidas has recently benefited from the success of its Superstar sneaker and other lifestyle running shoes, doubling its market share of the U.S. athletic footwear market and becoming the second brand in the United States, below Nike and above Under Armour.
Most analysts are still rating Adidas as a buy or hold, expecting the company to maintain the current momentum in North America. Analysts expect Adidas to lift the EBIT margin to 9.4 percent by 2019, according to Thomson Reuters Smart Estimates. It's a challenging goal.
The company has been a laggard in North America for years, where Nike's sales are still 2 and a half times those of Adidas, even after the recent expansion.
Let's compare the most recent growth rates (from Q3) of Nike and Adidas to understand how the two companies are performing in the various geographical areas.
If we excluded the growth in North America, Nike's growth rate in Q3 would be 5.1% and Adidas' growth rate would be 10.6%. The difference is not very high, especially if we consider that part of Nike's underperformance is due to currency disadvantages.
The main battlefield is clearly North America, where we can already notice a deceleration in Adidas' revenue. Sales grew 23.7% in Q1, 22.6% in Q2 and 19.5% in Q3 from the corresponding periods in 2015.
I don't think growth rate is going to improve from this point. There are several warning signs that I think should not be overlooked.
First, part of the outstanding growth in North America was due to the success of some retro styles such as Adidas Superstar, which helped the company double its market share in the US athletic footwear market from 5% to 10%. Sales of this line were the main driver of revenue growth. The line sold 15 million pairs worldwide in 2015 and accounted for 10% of total sales.
It's clear that the last thing we want to see is the line losing momentum and not being replaced by another line with an equally strong performance.
It's exactly what's happening. Let's have a look at search results for "adidas superstar" worldwide. I added "adidas originals" and "adidas stan smith" to highlight the relative strength.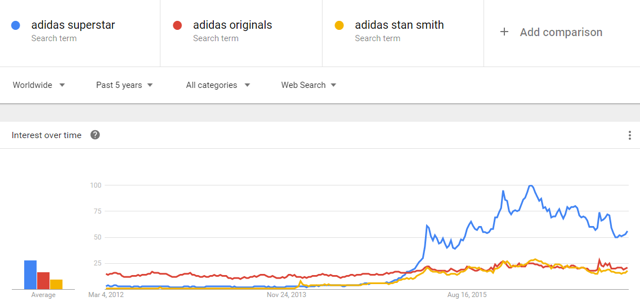 As you can see, growth has been massive in 2015 and interest was very high in 2016 as well, but is declining since March 2016. As I said, the battle is in North America, so let's see how search results have changed there.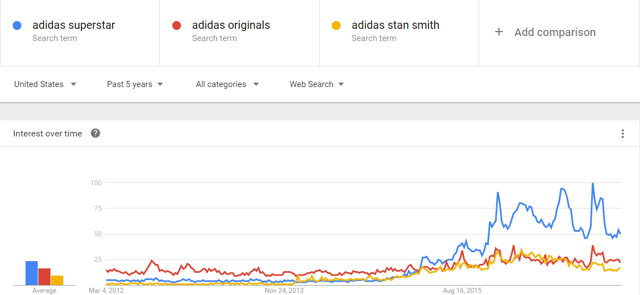 The interest for "adidas superstar" has been more resilient in the U.S. than in the rest of the world. Nnonetheless, it's not growing anymore.
It's clear that the success of Adidas Superstar has been the main driver of the company's growth. The success of this line has helped the brand gain more popularity, driving sales of other products as well. I think that with this line losing momentum, the high growth expectations currently priced in the stock may be too optimistic. After all, the U.S. athleisure market is expected to grow at a 4% CAGR in the next 5 years. Even if we double that amount, we would still have a 8% expected growth rate, less than half of Adidas' current growth rate.
This means the only way Aadidas can grow in the United States (at a decent pace) is by gaining market share at the expense of other players, mainly Nike. But with Adidas Superstar losing momentum, this is a very difficult goal.
If we want to check how Nike and Adidas compare to each other in terms of popularity, Google trends can help us again.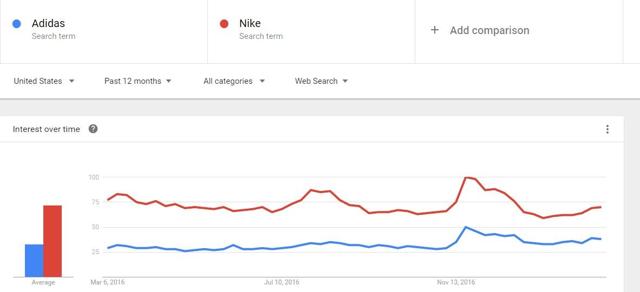 The gap between Nike and Adidas has been basically constant in the last few months. If Adidas doesn't manage to increase its popularity and gain market share at the expense of Nike, there is no possibility for the company to maintain the current growth rate or a similar one.
Thanks for taking the time to read the article. If you liked it, click on the follow button at the top of the page. You will get my articles as soon as they are published.
Disclosure: I am/we are long NKE.
I wrote this article myself, and it expresses my own opinions. I am not receiving compensation for it (other than from Seeking Alpha). I have no business relationship with any company whose stock is mentioned in this article.
Editor's Note: This article discusses one or more securities that do not trade on a major U.S. exchange. Please be aware of the risks associated with these stocks.