Investment Thesis: Snap Inc. (NYSE:SNAP) is an amazing business with a very coveted user base. However, the valuation and the risk factors around the business have made this a compelling short opportunity at $27 per share after its post IPO runup. Aside from the crazy valuation, shortened insider lockup period, the cost of sending each snap (COGS) exceeds the revenue the company makes from storing and sending each snap, with the company unable or unwilling to articulate a strategy to change this. During the roadshow video, the company even had a section titled, "Free Cash Flow", but the only thing that was mentioned was the business is asset light, with no guidance on how the company will generate free cash flow and when and how much it will be able to generate. We believe without a path to free cash flow generation, and with an enormous valuation, investors should consider shorting the stock as soon as they are able to acquire shares and/or use put options with a year time horizon.
Business Description: Snap is a social networking mobile application which allows people to communicate and interact with each other through photos, short videos, and chats. Snap is known for its "self-destructing" feature, which deletes photos instantly after they have been viewed. Snap's main revenue source is advertising.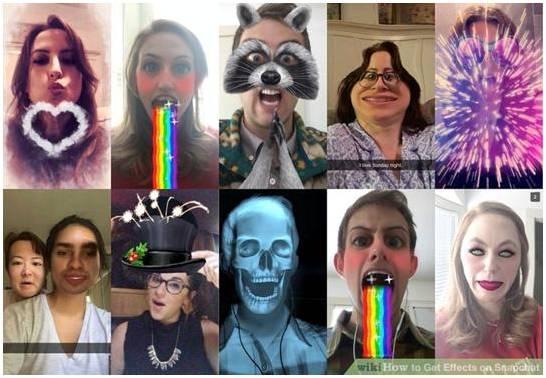 Source: Snapchat Wikihow Page
Snap continues to introduce new features, introducing its on demand geofilter in July 2014, which allows users to upload pictures and logos to generate their own filter within a specific location. This feature is currently offered in the U.S., U.K., and Canada. These on demand geofilters are usually used during special events like weddings and anniversaries. Depending on the time period and the size of the geofilter, the price can be as low as $5 per day and have a size limit up to 5,000,000 square feet.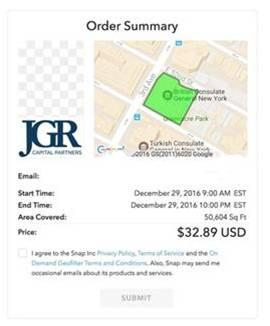 Source: Snap Mobile Application
Mergers and Acquisitions Are Core Strategy For Snap:
Snap has explained that mergers and acquisitions are a core part of its business strategy, with numerous acquisitions likely to occur over the next 18 months. The company is likely to continue to acquire companies for their technology and/or teams. Some of the notable acquisitions include the company acquiring Bitmoji and Scan Inc. Bitmoji allows users to design and generate cartoon images of themselves and then add them as photos, videos, and conversations. The acquisition of Bitstrips cost Snap $100 million and Bitmoji is still running as an independent application outside Snap. These acquisitions will further dilute investors and are likely to be companies with limited revenue, let alone EBITDA or profit.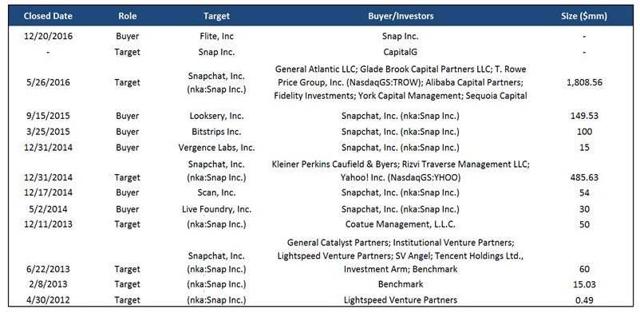 Source: Company Filings
Competition: On August 2, 2016, the Facebook (NASDAQ:FB)-owned photo-sharing app Instagram announced its new feature called Stories, which sounds and works almost the same as Snap's Stories. Instagram's Stories feature allows users to post photos and mini videos as many times as they want without them appearing on the user's profile. Similar to Snap's Stories, Instagram's Stories delete after 24 hours. The main difference between the two apps is Snap's Stories offer special effects and lenses, and Instagram does not. Instagram now offers mostly the same experience but with a broader reach. According to Business Insider, Instagram has about 300 million daily active users, whereas Snap has around 150 million. Based on the research done by AdvertisingAge, Nike (NYSE:NKE) got over 800,000 views on a newly posted Instagram Story versus 66,000 views on Snap's Story. Although Snap has many loyal users, Instagram has a larger user base and captures a bigger portion of the market.
Facebook and Twitter (NYSE:TWTR) are the mainstream communication and social networking apps, but when it comes to the actual growth in their posts, Snap has the edge over both of them. According to Olapic, as of 2015, Snap was outpacing Facebook, Instagram, and Twitter at the same 4-year point in their existence. Users like the ephemeral nature of Snap. People now prefer information at their fingertips and tend to spend less time sitting and reading every post on their news feed. Snap did not allow users to upload pictures from their camera roll until late 2016, which made the content feel more original.
Financials: Snap has historically posted large losses with a net loss of $514 million for FY 2016. When looking at the revenue breakdown for Snap, we see that 96% of its 2016 revenue comes from advertising. Snap has a significantly higher percentage of advertising revenue to total revenue than the other major social media companies. Even though Snap's revenue is almost all advertising based, it has no significant long-term advertising contracts. Potential long-term clients are not putting money towards Snap due to the uncertainty of whether Snap's ads are effective, while competitors such as Facebook and Google (NASDAQ:GOOG) (NASDAQ:GOOGL) have established effective advertising models for their clients. The uncertainty is due to the type of ads that Snap is offering. SnapAds are 10-second video advertisements placed through user's stories. The main drawback for advertisers is that these ads can be skipped with a swipe. If a user does not want to watch the ad, they skip it at the cost of the advertiser, not Snap. Additionally, Snap's ability to track users and quantify an advertisement's effectiveness is questionable given the limited data it stores on users relative to Facebook.
Snap also has to spend an enormous amount of capital on bandwidth, evidenced by its Google cloud platform license agreement. On January 30, 2017, Snap entered a five-year agreement with Google where it's required to purchase at least $400 million of cloud services from Google every year. A major covenant related to this agreement is that in the event Snap does not reach the $400 million yearly minimum, it's required to pay the difference to Google. Snap only recorded $404 million in revenue for 2016 and this contract will severely limit any gross profit going forward. Snap is one of the only public companies of its size which does not even have positive gross margins, which is likely to continue in the coming quarters. Snap stated it also has a major contract with AWS (NASDAQ:AMZN). It has committed $1 billion over the next five years for the same service Google is offering. Amazon Web Services is redundant infrastructure for Snap given the Google deal structure. It will be paying $600 million just to run its service and this is before any other business expenses, including sales and marketing and research and development. Free cash flow has also declined significantly and does not have a bright outlook. In 2016, free cash flow declined to negative $677 million, a decrease from 2015's negative $325 million. While a negative free cash flow can indicate investments with a high return, we do not see this as the case for Snap.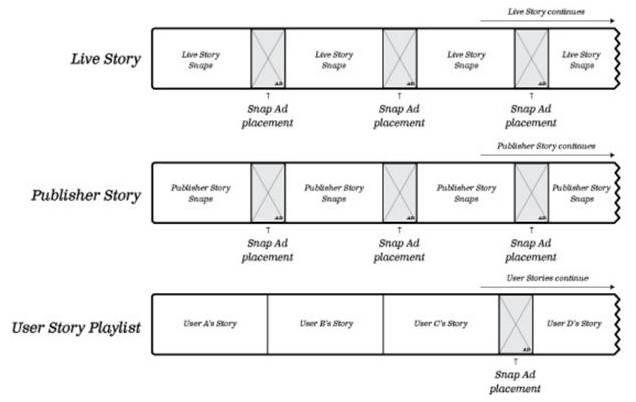 Source: Snap Inc. S-1

Source: Bloomberg Article
Management: Evan Spiegel and Bobby Murphy will still control Snap due to them having the majority of the voting stock. We believe that the founders are going to sell a good amount of their ownership in the coming months while still maintaining enough to give them control over major decisions. In 2013, after raising $60 million from investors, each Snapchat founder reportedly also swapped $10 million of stock for cash. Other startups that have done this strategy, including Zynga, Groupon and Foursquare, have had poor stock performance since these transactions.
Valuation: When doing our valuation of Snap, we used three different valuation models to help find the intrinsic value of the company. The models that we used were comparable company analysis, discounted cash flow analysis, and comparable value per user. We felt these models help provide the most accurate valuations for Snap since they take into account the industry valuations and Snap's potential growth. Since we are using 3 different models, we blended the 3 prices together to get a price target of $9.
For our discounted cash flow, we used very aggressive growth assumptions in order to value SNAP. When looking at its gross profit margin we forecasted major improvements, similar to that of Facebook. As of fiscal year 2016, Snap had a gross profit margin of -11%, we forecasted the 2017 gross profit margin to reach 40% and by 2021 to reach 81%. For 2016, Snap reported net income of negative $514 million and a net margin of -127%. We forecast that the margin will shrink to -30% in 2017 and improve by 2021 to reach 22%.
The weighted average cost of capital was determined using the Capital Asset Pricing Model (CAPM). Due to Snap not having a trading history, we used the average of its competitors' beta. From this, we came to a beta of 1.1. We used a risk-free rate of 1.4% which was taken from the S-1 filing. To find risk premium, we used the S&P 500 index return of 9.8% and the ten-year treasury bill rate of 2.3%. To find the premium, we subtracted the ten-year rate from the S&P 500 return to get a risk premium of 7.5%. Using the CAPM formula, we derived a cost of equity of 9.7%. The 1.7% cost of debt was taken from the interest rate on the notes Snap has issued. Using a terminal growth rate of 3% and the WACC of 9.6%, we came to a share price value of $9, indicating substantial downside (note the low discount rate still resulting in a very low share price relative to recent trading).

A major driving point of Snap's S-1 filing is its Daily Active Users and Daily Active User growth. For this reason, we looked at the active user base for its competitors (note DAU was not available for competitors). For this, we used market cap and divided it by the monthly user base in order to find the value of Snap's users. We looked at competitors with major user bases, as well as individual apps with smaller user bases, both with high engagement. Based on the value per user method, we arrived at a $14 per share price target.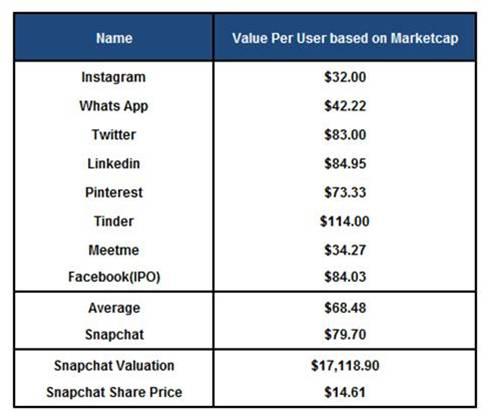 Source: JGR Capital Partner's Analysis

Source: Facebook and SNAP Corporate Filings
In order to value Snap, we did a comparable company analysis. We decided to compare Snap to GoPro (NASDAQ:GPRO), Netflix (NASDAQ:NFLX), Twitter, Facebook and Google. When deciding which companies to select, we looked at their main product, as well as the business they operate within. Snap is considered a major social media company that is why we compared it to Twitter, Facebook, and Google. Unlike Facebook and Twitter, Snap focuses on the fast timeline model where you can only see "posts (pictures)" for up to 24 hours while other companies focus on rolling timeline, where you can see past posts. Netflix is one of the leaders in streaming content, with a major following on mobile devices. Snap is a "camera company", so GoPro is a perfect comparable company with its similar social media focus. Snap's recent launch of Spectacles directly competes with GoPro's first person camera. Looking at quarterly revenue growth for SNAP, it is significantly higher than its competitors and most likely will be unable to maintain this level. It is currently 15 times the average growth of its competitors, which have significantly more history behind their quarterly revenue growth. Our comparable company analysis found that Snapchat should be valued at $4 per share when using peer multiples. We used a blended price target, placing greater weight on the discounted cash flow given the company's new business model and high growth, and arrived at a price target of $9. We note this is relatively in line with the lower sell side price target of $10, which Pivotal Research recently used.

Source: JGR Capital Partners Analysis
Stock Restrictions: Snap has offered 200 million Class A shares in its IPO. There are two types of Class A shares that were offered in this IPO. 50 million of these Class A shares have a lockup clause which restrict holders from selling their stock for one year and the other 150 million shares are unrestricted shares. Employees of Snapchat have a better structure than Class A holders since they can sell their position after 150 days. This restricted period is shorter than the usual 180 days and, in our view, might reflect insiders' high interest in taking profits at these elevated levels. This gives the employees a significant advantage over the restricted new investors. Snap also gives new shareholders no voting rights, which limits investors' ability to influence the business' direction, as opposed to being a shareholder at most public companies.
Risk Factors: In the short term, the main risk factor for shorts is that the momentum driven long investors drive up shares to absurd levels; however, shares will pull back over the next 12 months in our view. The main long-term risk is that the company is acquired for some ridiculous valuation. From our acquisition screen, no technology company has been acquired in recent history above $30 billion, with the LinkedIn-Microsoft (NASDAQ:MSFT) acquisition even occurring at levels below where SNAP trades, thus we view an acquisition at a premium to current levels as highly unlikely.
Conclusion: Overall, we see Snap as a compelling short opportunity trading around $27 per share. Snap has a valuation which prices in all its growth and then some and is likely momentum driven rather than for any fundamental reason. With negative gross margins and billions locked in for cloud storage and no plan to generate meaningful free cash flow, we see this as one of our high conviction short ideas.
Disclosure: I/we have no positions in any stocks mentioned, but may initiate a short position in SNAP over the next 72 hours.
I wrote this article myself, and it expresses my own opinions. I am not receiving compensation for it (other than from Seeking Alpha). I have no business relationship with any company whose stock is mentioned in this article.