BlackRock (NYSE:BLK) is one of my favorite holdings in my portfolio. It is one of the rare companies combining both a stable business model and strong growth vectors. The company is a leader in its market and actively rewards shareholders through consistent dividend raises and share buybacks. I'm reviewing BlackRock after management announced a 9% dividend raise in January, its 7th consecutive year of dividend hike.
What Makes BlackRock a Good Business?
BlackRock is an investment company mostly known for being the world's largest ETF provider through its iShares brand. But what makes BLK so strong in its market is its wide product offering. BlackRock offers investment products in all asset classes enabling it to generate fees regardless of whether investors are bullish (moving toward equity products) or bearish (seeking fixed income and cash products).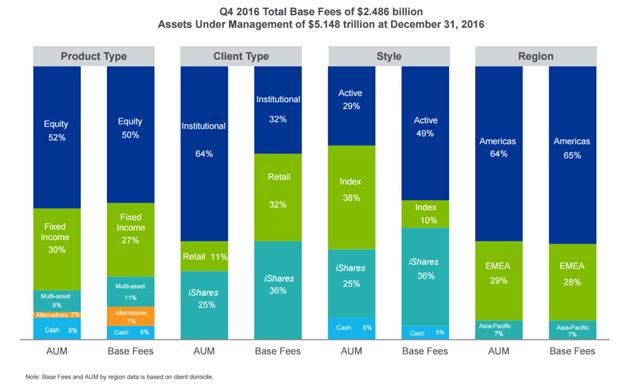 Source: BLK Q4 presentation
The fact that BlackRock shows 64% of its assets under management with institutional clients creates a solid core business model. This type of clientele is less likely to cash funds in a hurry when the market goes wrong.
Revenue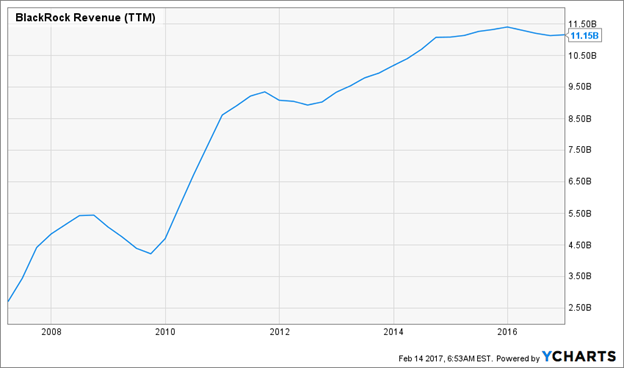 Revenue Graph from YCharts
In its most recent quarter, BLK reported a revenue drop of 2% compared to last year even as the company recorded a net inflow of $202 billion in assets under management. How could revenue drop if there is more money to manage? It's because the new money is going into lower profitable products such as fixed income and ETFs. Actively managed funds are more profitable but tend to become less interesting for investors as index investing has made its place in this industry.
How BLK Fares Against My 7 Principles Of Investing
We all have our methods for analyzing a company. Over the years of trading, I've been through several stock research methodologies from various sources. This is how I came up with my 7 investing principles of dividend investing. Let's take a closer look at them.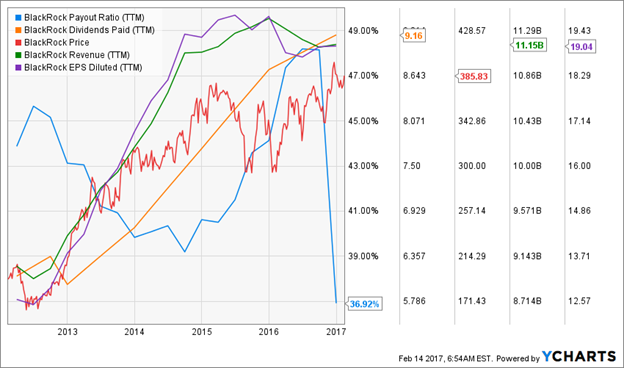 Source: YCharts
Principle #1: High Dividend Yield Doesn't Equal High Returns
My first investment principle goes against many income-seeking investors' rule: I try to avoid most companies with a dividend yield over 5%. Very few investments like this will be made in my case (you can read my case against high dividend yield here). The reason is simple; when a company pays a high dividend, it's because the market thinks it's a risky investment, or that the company has nothing else but a constant cash flow to offer its investors. However, high yield hardly comes with dividend growth and this is what I am seeking most.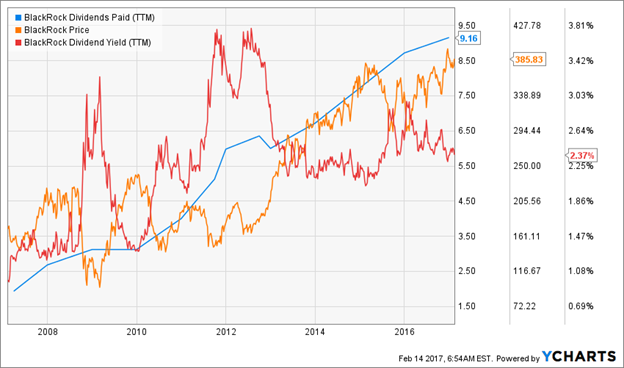 Source: Data from YCharts.
Before the 2008 market crash, BLK's yield wasn't interesting for most income-seeking investors with a yield around 1.50%. As the dividend payment hiked rapidly in the past 7 years, BLK is now offering a dividend yield between 2.25% and 2.50%. This is a very strong performance as the stock price doubled over the past 5 years.
BLK meets my 1st investing principle.
Principle #2: Focus On Dividend Growth
My second investing principle relates to dividend growth as being the most important metric of all. It proves management's trust in the company's future and is also a good sign of a sound business model. Over time, a dividend payment cannot be increased if the company is unable to increase its earnings. Steady earnings can't be derived from anything else but increasing revenue. Who doesn't want to own a company that shows rising revenues and earnings?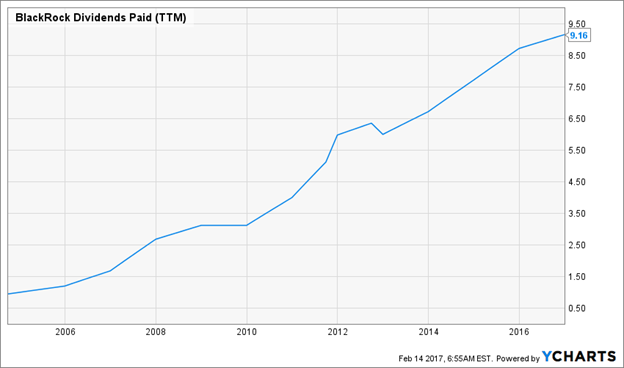 Source: YCharts
As previously mentioned, BLK has successfully increased its dividend payment for 7 consecutive years. This doesn't make it a dividend aristocrat or king as the company still has a long way to go before earning its prestigious dividend title. Further analysis will be required to see if the dividend growth is sustainable, but management clearly shows an intention of rewarding their shareholders through payout increases.
BLK meets my 2nd principle.
Principle #3: Find Sustainable Dividend Growth Stocks
Past dividend growth history is always interesting and tells you a lot about what happened with a company. As investors, we are more concerned about the future than the past. This is why it is important to find companies that will be able to sustain their dividend growth.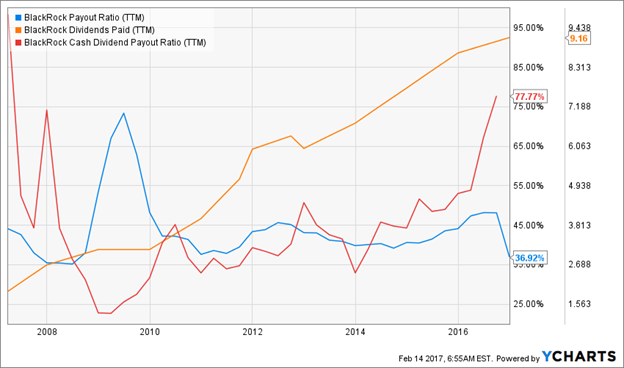 Source: Data from YCharts.
As the dividend rose through the years, the payout ratio remained highly stable between 35% and 45%. This is quite impressive considering the 8.27% CAGR dividend growth. The cash payout ratio raised during the last quarter, but that could be momentary. Overall, even at 77%, the cash payout ratio is still well under control. With such ratios, the dividend payment could continue to rise for many years.
BLK meets my 3rd investing principle.
Principle #4: The Business Model Ensures Future Growth
BlackRock is the leader of a highly profitable market segment: investment products. As a leader in its industry, it benefits from a strong brand name and solid bond with its institutional clients. As the world's largest ETF provider, it is in perfect position to leverage this growing market.
U.S. regulations have now been put forward to enforce financial advisors to offer the best products to their clients. We will then see cash movement out of highly expensive mutual funds to more index investing solutions such as ETFs. BLK will naturally get its share of the market.
To make sure the company doesn't miss the boat, it has put significant effort in developing a new platform offering advisors what they need to sell BLK products: Aladdin. This platform saw a 13% revenue growth in 2016.
BLK has a strong business model and therefore meets my 4th investing principle.
Principle #5: Buy When You Have Money in Hand - At The Right Valuation
I think the perfect time to buy stocks is when you have money. Sleeping money is always a bad investment. However, it doesn't mean that you should buy everything you see because you have some savings aside. There is valuation work to be done. In order to achieve this task, I will start by looking at how the stock market valued the stock over the past 10 years by looking at its P/E ratio: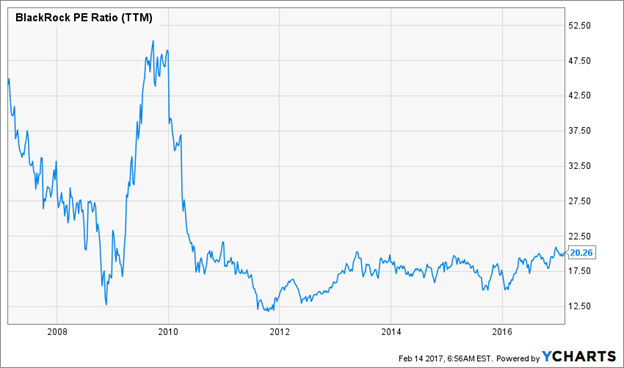 Source: Data from YCharts
BlackRock's P/E ratio has been going from 16 to 21 for the past 3 years. At the current valuation (20.26), the company doesn't look like a bargain, but it doesn't look overvalued either. Keep in mind there is also some premium to pay for a solid company.
As a dividend growth investor, I'm more interested in the company's capacity of raising its payouts. For this reason, I use the Dividend Discount Model. I've used a 9% dividend growth rate for the next 10 years as I believe the ETF trend will offer additional growth opportunities. Plus, management increased their dividend rate following this pace over the past 5 years. Then, I reduced the growth rate to 7% to keep a more conservative approach. While the financial market has its highs and lows, I use a discount rate of 10%.

Here are the results of my calculation:

Source: Dividend Monk Toolkit Excel Calculation Spreadsheet
As you can see, BLK's stock value is not undervalued by a mile, but still offers a small margin of safety. A good entry point would be around $375 upon a market dip, but the current price is still acceptable considering the company's potential.
BLK meets my 5th investing principle.
Principle #6: The Rationale Used To Buy Is Also Used to Sell
I've found that one of the biggest investor struggles is to know when to buy and sell their holdings. I use a very simple, but very effective rule to overcome my emotions on when it is time to pull the trigger. My investment decisions are motivated based on whether or not the company confirms my investment thesis. Once the reasons (my investment thesis) why I purchase shares of a company are not valid anymore, I sell and never look back.
Investment Thesis
An investment in BlackRock is an investment in the future of financial products. The company offers a wide variety of products making it less sensitive to investors' moods. Regardless of whether money is switching from fixed income to equity, BlackRock can retain the money under its management.
The growing ETFs trend is not about to slow down as more investors look into fees paid and switch over to index investing. BlackRock also counts on Larry Fink, chairman, and CEO of the company since BLK went public in 1999. He is the architect behind the major deals with Merrill Lynch and Barclays (leading to the iShares brand).
Risks
While BlackRock will be less affected during a bear market than other investment firms, its business model will not completely shield it. Market mood swings will still affect its growth potential. Plus, as the money is moving toward low-fee investment products, BLK will face another challenge to maintain its margins.
BLK shows a strong investment thesis and meets my 6th investing principle.
Principle #7: Think Core, Think Growth
My investing strategy is divided into two segments: the core portfolio built with strong and stable stocks meeting all our requirements. The second part is called the "dividend growth stock addition" where I may ignore one of the metrics mentioned in principles #1 to #5 for a greater upside potential (e.g. a riskier pick).
Having both segments helps me to categorize my investments into a "conservative" or "core" section or into a "growth" section. I then know exactly what to expect from it; a steady dividend payment or higher fluctuation with a great growth potential.
I rarely consider a company as both a core and growth potential holding. This is the case with BlackRock. From one side, being an established leader and serving institutional clients create a solid core business for any core portfolio. On the other side, BLK is showing strong growth of its assets under management due to its product innovation ability, and the fact that it's the largest provider of ETFs offers the company strong growth vectors for the future.
BLK could be a good CORE or GROWTH holding.
Final Thoughts on BLK - Buy, Hold or Sell?
In the light of this analysis, BlackRock continues to be a good buy even at this price. There is a 9% margin of safety using the dividend discount model. It's not the bargain of the year, but this is the price to pay for a solid company showing both stock and dividend growth potential.
The opinions and the strategies of the author are not intended to ever be a recommendation to buy or sell a security. The strategy the author uses has worked for him and it is for you to decide if it could benefit your financial future. Please remember to do your own research and know your risk tolerance.
Disclosure: I am/we are long BLK. I wrote this article myself, and it expresses my own opinions. I am not receiving compensation for it (other than from Seeking Alpha). I have no business relationship with any company whose stock is mentioned in this article.