I don't call market tops or market bottoms.
That's a fool's errand (although, I have variously suggested that perhaps slapping a $24 billion valuation on a company whose business model partially revolves around transforming teenagers' faces into Bambi might be indicative of speculative excess).
But I will go out on a limb and call this peak complacency. The most dangerous thing about the week that was is the extent to which virtually everything went right. If you'd made a checklist last Sunday and called it "outcomes I would ideally like to see in the next five days if I'm to stay 'long and strong'", you could check every box on Friday afternoon.
Trump successfully reads a teleprompter and avoids rattling markets with ad-libbing or needless bombast: check. He even made a new commercial to celebrate how awesome his speech was (really).
Fed telegraphs rate hike without reigniting tantrum fears: check. There are a number of ways to visualize this, but the following chart is particularly interesting: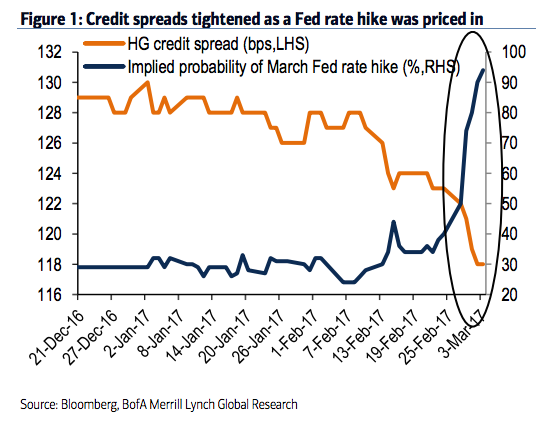 (Chart: BofAML)
French political risk recedes helping to rein in OAT-bund spreads: check.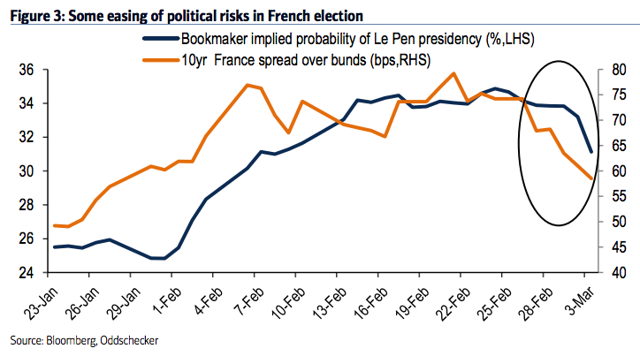 (Chart: BofAML)
Market continues to focus on "hope" rather than actual economic data: check.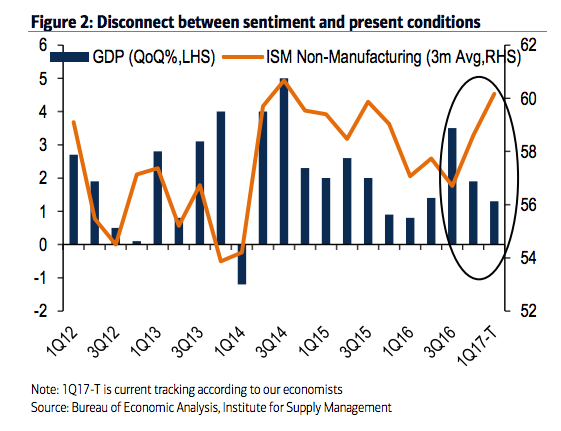 (Chart: BofAML)
Financial conditions remain supportive of another hike (in stark contrast to February 2016) thanks to higher stocks, tighter spreads, and a well behaved dollar: check.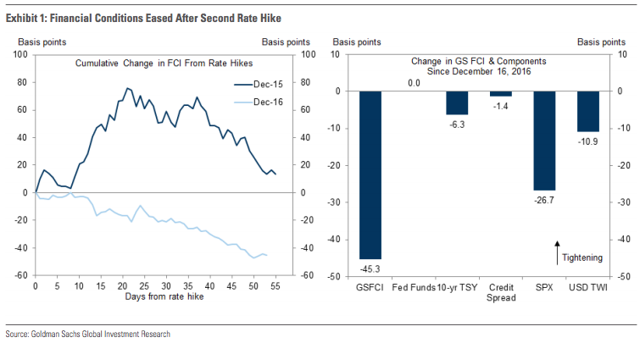 (Charts: Goldman)
Market survives a super-hawkish Friday afternoon Yellen speech without rates sharply repricing: check.
It was all there.
On the flows side of things, you saw retail investors pile in on Wednesday, as mom and pop dumped $8.2 billion into the largest equity ETF (NYSEARCA:SPY), the biggest daily inflow in four years. Panning out a bit, flows into equity and bond mutual funds and ETFs were strong in the week ended March 1. Equity funds saw the second best week in terms of flows of the year.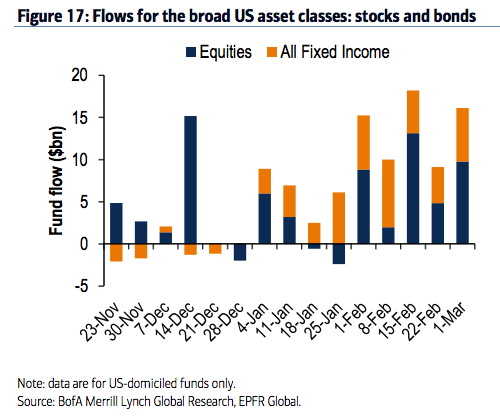 (Chart: BofAML)
Meanwhile, as I noted on Friday, hedging is non-existent as the cost of buying liquid protection plunged to a six-year low.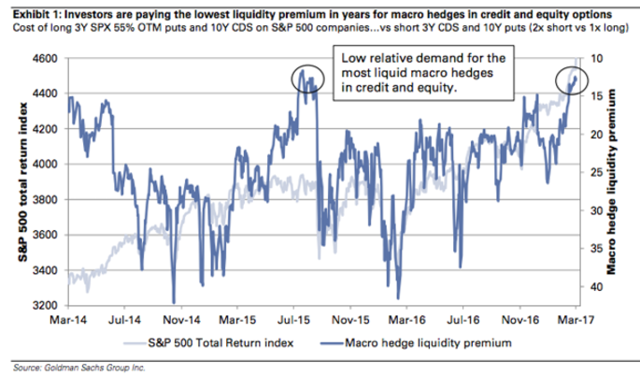 (Chart: Goldman)
Here's some color from Goldman:
In the first stage of the Trump Rally (from the election to year-end), investors appeared to hedge as the market rallied. This drove a divergence in our macro hedging indicator (dark blue line in Exhibit 1) and the equity market (light blue line) in November and December. Since the start of the year, our macro hedging indicator has traded along with the equity market; this suggests investors are both buying equities and discarding their hedges. Our indicator is now in-line with its most complacent level in the past six years, suggesting investors are generally unhedged across both equities and credit.

In periods of stress, investors in each market reach for hedges in the part of the curve with the most liquidity. We see this desire for liquid hedges at its lowest level in almost two years.
Supporting this contention is another chart from BofAML showing macro hedge fund positioning: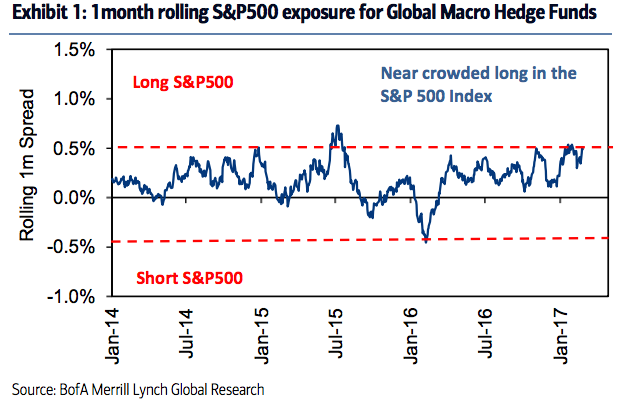 (Chart: BofAML)
And here's P/E and P/B: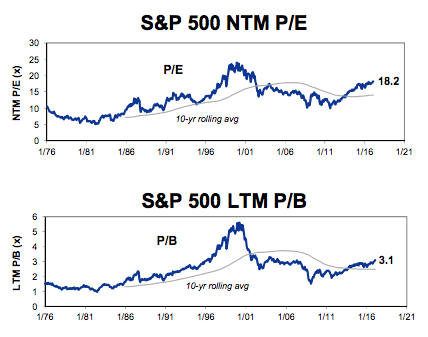 (Charts: Goldman)
Oh, and short interest: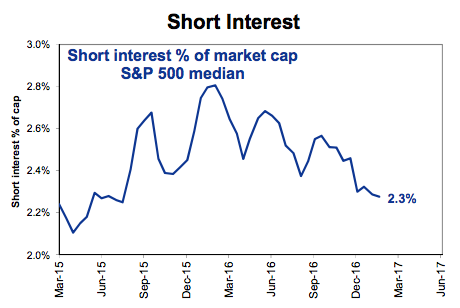 (Chart: Goldman)
And don't forget about HY, where spreads are now in the 16th percentile versus history: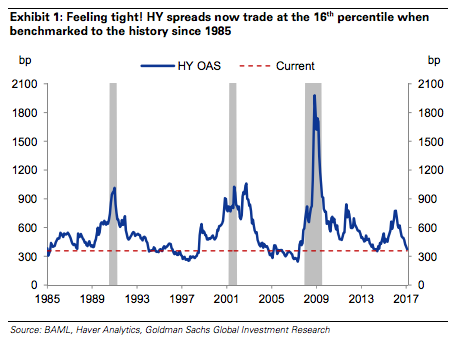 (Chart: Goldman)
I mean, am I getting through to anyone out there? I seriously doubt it. But again, as an impartial observer with no positions, all I can do is throw up my hands.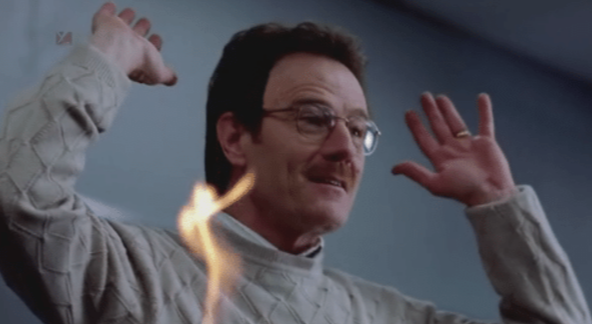 I'd wager the percentage of people reading this that actually took the time to internalize all of the charts shown above and draw conclusions is well below 50%, and that will be promptly reflected in someone's comment.
But the nice thing about people who skim posts is that they always read the conclusion. That's part of skimming. You read the first line, then you scroll, and then you read the last several lines.
So just know that while all of the above is going according to plan (to a fault), the undercurrents suggestive of what could go wrong were still readily apparent this week.
Marine Le Pen called the European Union a "corpse that still moves," for instance. Oh, and the Attorney General of the United States decided to recuse himself from an investigation into possible Russian tampering with the election because... well, because he spoke with some Russians during the election.
So you know, while you're not caring about anything I say, do remember this: I tried to warn you.
Disclosure: I/we have no positions in any stocks mentioned, and no plans to initiate any positions within the next 72 hours.
I wrote this article myself, and it expresses my own opinions. I am not receiving compensation for it (other than from Seeking Alpha). I have no business relationship with any company whose stock is mentioned in this article.