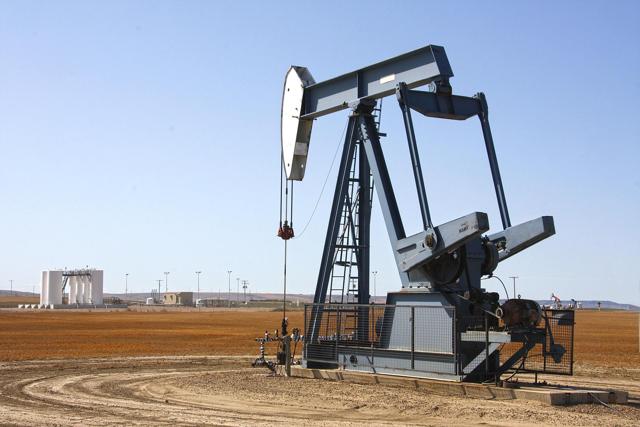 Source: Stock Photo
I've talked in the past about Exxon Mobil (NYSE:XOM) making a big mistake by not more aggressively increasing and developing more U.S. shale assets. It had been thinking in terms of the old way of doing things, and by its lack of action, didn't believe the price of oil was going to stay lower for longer.
In January 2017, Exxon showed it was going to increase its exposure to onshore oil in the U.S. by acquiring 225,000 acres in the Permian from the Bass Brothers, which brought its total of BOE to 6 billion.
In a press release at the time, Exxon Chairman and CEO Darren Woods said this:
"This acquisition strengthens Exxon Mobil's significant presence in the dominant U.S. growth area for onshore oil production. This investment gives us an exceptional Delaware Basin position in a proven multi-stacked play that can generate attractive returns in a low-price environment."
Advantages
One of the major reasons I think Exxon was slow to take a larger shale position in the U.S. is the shorter life spans of the wells. The company has been used to developing long-term offshore wells for the most part, and because of the assumption the price of oil would rebound, I think it was hesitant to take too much of a position in shale.
In hindsight, it's obvious U.S. will soon become the global leader in energy, which is why Exxon and its large peers are now allocating more capital to acquire and develop shale resources. Again, I think the slow response was associated with the company waiting to see if U.S. shale was a fad or a long-term trend.
Working shale assets has two major advantages: companies are able to produce at a low price, while at the same time increasing output.
In an oil environment that could take years to find consistent support for the price of oil, it's imperative for companies like Exxon to reduce costs. There is no better place in the world to do this than in the Permian basin.
Maybe the most important advantage of increasing shale exposure is the added flexibility Exxon will have in making decisions on how much resource to develop at any given time, based upon market conditions.
With the emergence of the U.S. shale industry, it has added a third major global competitor which has weakened the past influence of OPEC and Russia. No company wants to be reliant upon what OPEC in particular does in order to generate predictable revenue and earnings.
Low-cost shale production is what is allowing companies to take their future more into their own hands, and because of the nature of the wells themselves, which because of their shorter life spans, allow companies more control over the impact of the wells on the performance of the company.
Woods has noted this. He said the company now has the ability to move closer in conjunction with the market than it has in the past because of its latest acquisition.
"One of the advantages we have with this recent acquisition that we did in the Permian is we have a much bigger portfolio of short-cycle investments. That gives us the flexibility to move as the market moves, and raise our investment levels up to match what we see as opportunities in the marketplace."
I believe investors in Exxon will have to get used to less visibility on spending because of this. It will move up and down based upon market conditions. That's the nature of short-cycle wells.
Building out its upstream business
Exxon will significantly reduce its CapEx in 2017 against 2016 spending, cutting it from $30 billion to $22 billion.
When recently talking to analysts, Woods said this about the cut in spending:
"...This allows us to advance investments and adjust, either up or down, to commodity prices, price conditions and cash flow. We anticipate the average annual budget through the end of the decade will be around $25 billion."
This suggests to me he was talking specifically about upstream expenditures with its shale assets, as far as adjusting investments "up or down."
Exxon has about 5,500 wells in the Permian that can return at least 10 percent if oil is at $40 per barrel. Many of them do much better.
What's very important about its recent acquisition is for the most part, it's contiguous. This, according to Woods, will allow the company to drill the longest lateral wells in the Permian basin. Presumably, that means it could lower its costs to compete at levels low-cost market leader EOG Resources (NYSE:EOG) produces at; at least for the wells being drilled within the geographic parameters of its new assets.
Over a third of its 2017 CapEx will be allocated to developing short-cycle wells. The majority of those will be located in the Permian and Bakken.
Woods said it'll take about three years to generate positive cash flow after the "initial investment."
Conclusion
In the new oil environment, the key to success is to be able to lower costs while increasing supply. The price of oil will no longer save inefficient companies; it's not going to respond to OPEC production cuts or other non-market manipulations as it has in the past. That's one of the main things the emergence of the U.S. shale industry has disrupted.
Now that Exxon is aggressively pursuing the shale segment of the market, it will lower upstream costs across its entire portfolio, which means over time, the company will be able to compete far better and more profitably in most price environments. It won't be as competitive as the better pure shale companies, but as the price of oil finds sustainable support from increased demand over the next few years, it won't need to be the lowest cost producer to enjoy earnings growth.
And as the company said, the additional flexibility coming from increased development of short-cycle wells will determine the level of expenditure. It allows the company to better control the outcomes of its spending by completing wells at the most optimum times.
This is what I'm looking for in the strategy of any company with exposure to oil. The days of OPEC taking charge of the price range of oil is over, and any company not understanding that will struggle to generate earnings or survive, if it doesn't take that into account when making long-term investment decisions.
Exxon understands that, and increasing exposure to shale assets is the best way to improve costs and increase production. Because of its size, it'll take longer to benefit from these moves, but in about three years or so, it will be able to consistently enjoy the fruits of the seeds it is planting today, as will shareholders.
Disclosure: I/we have no positions in any stocks mentioned, and no plans to initiate any positions within the next 72 hours.
I wrote this article myself, and it expresses my own opinions. I am not receiving compensation for it (other than from Seeking Alpha). I have no business relationship with any company whose stock is mentioned in this article.