In September 2016, privately held tech 'unicorn' Apttus (Private:APTUS) raised $88 million in late stage venture capital investment and its CEO has indicated a desire to IPO in 2017.
A 'unicorn' is a tech startup that has been valued at or more than $1 billion by private investors.
Founded in 2006 by CEO Kirk Krappe, Apttus has developed a suite of enterprise contract management solutions to streamline the sales and quoting process.
Here's a brief overview of the company's approach:
(Source: Apttus)
San Mateo, California-based Apttus, which is backed by investors such as K1 Investment Management, Salesforce (NYSE:CRM), Kuwait Investment Authority, Gulf Islamic Investments, Kia Motors and ICONIQ Capital, has a raised at least $274 million in private investment.
I recently spoke with Chief Revenue Officer Kamal Ahluwalia about the company's history and future potential.
(The following has been edited for brevity.)
DJ: Apttus operates in the contract management space which is pretty large and dynamic - how would you describe the major technology trends currently impacting the space?
KA: When Apttus was founded in 2006, we were only the 2nd or 3rd company in the space. At the time, most were focused on buy side of contract management, companies such as Ariba.
From its inception, Apttus focused on the sell side, which had significantly more complexity.
As SaaS has become more prevalent and desirable for many enterprises, contracts have become the foundation for business relationships and it is imperative that companies understand and communicate the terms of those contracts.
So, Apttus covers all routes to market and plays a more strategic role for its customers.
Where is your sweet spot in terms of customer size, industry or other characteristics?
Middle market and large enterprises are our sweet spot. Of our more than 500 customers, we naturally have a lot of high tech clients.
What our customers value highly is speed to implementation and total cost of ownership.
Customers of any size want to know, 'what can you solve within 8-12 weeks?' So, the challenge for us is to accelerate time to measurable value.
How has the reception been for your 'Max' virtual agent?
It's been out only for a few months, and with a few customers. The results have been 'eye opening' in the sense that 'Max' has served to simplify and speed adoption and use of our system, which is extremely important due to the changing expectations of Millennials.
How would you describe your revenue growth in 2016 and expectations in 2017?
We are targeting consistent 50% YoY growth, while operating a very predictable business.
To achieve that, we need a strong ecosystem to support our growth trajectory, and we have worked hard to develop business partnerships.
We've also invested in building differentiated vertical solutions - healthcare, financial services, etc., allowing us to be more specific in solving the needs of specific client types.
We view the overall market opportunity as reaching $41 billion in next few years, per Gartner: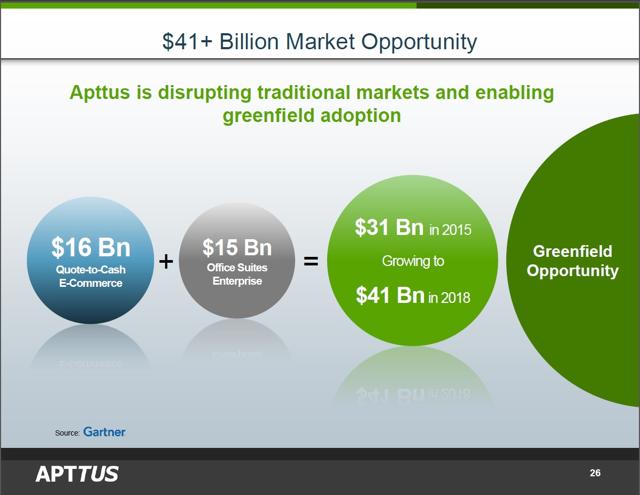 The contract management space is growing 25% YoY and almost all of enterprise investment is in cloud-based solutions. Apttus is perceived as either a leader or a strong performer in our major categories and we have no concerns about external factors having an impact.
We also have noted the promulgation of FASB ASC 606, where enterprises will need to disclose a range of metrics and obligations pertaining to contracts with customers. Apttus' solution is well-suited to assisting enterprises in compliance with this requirement.
Competition - the legacy incumbents can't be standing still - how are they responding?
Of the top 10 software companies in the world, nine run Apttus.
None have a full CPQ/QTC solution. The two other companies in all reports are SAP (NYSE:SAP) and IBM (NYSE:IBM). (Apttus is there, too.)
Not having a full, end-to-end solution impairs their ability to lower TCO for the clients. Apttus has a complete solution for both Configure-Price-Quote and Quote-To-Cash functionalities.
Commentary
Apttus' founder and CEO Kirk Krappe has said publicly in 2016 that he intends to IPO, preferably in the first part of 2017.
The company is part of a cohort of highly-valued, rapidly growing startups that have emerged in recent years, and I previously wrote about Apttus in my article, Apttus Is A Newly Minted Unicorn Eyeing A 2017 IPO.
In that piece, I discussed the company's ability to continue its rapid top-line revenue growth, especially as it hits higher revenue run rates and competitors adjust.
This is not limited to Apttus. Once these fast-growing startups hit $100-$150 million in revenues, their growth rates usually begin to drop, albeit from previously torrid levels exceeding 100% YoY to merely high levels, at 50%.
So, the challenge for companies like Apttus wanting to IPO is to convince institutional investors that [a] they can continue their high growth trajectory to some degree and [b] that they can achieve it efficiently without spending huge amounts of capital just to 'buy revenues.'
A second challenge is the highly volatile IPO market 'window', which has been opening and closing in recent years like an unsecured window on a blustery day.
In 2016, the twin external shocks of Brexit and the election of Donald Trump served to markedly dampen investor enthusiasm for new general technology issues.
In 2017, one can easily foresee a drop in enthusiasm as we approach the French election, with its implied EU referendum in the balance, or a faster interest rate rise environment by the U.S Federal Reserve, as both contributing to potential market volatility.
Apttus appears to be executing well with a full set of offerings in a promising and growing market.
But management would be wise to have a Plan B, in case competition for IPO dollars remains intense or IPO market 'windows' shut rapidly for reasons beyond their control.
I write about IPOs, follow-ons, secondaries, and M&A. If you want to receive future articles automatically, click the Follow button at the top of the article.
Disclosure: I/we have no positions in any stocks mentioned, and no plans to initiate any positions within the next 72 hours.
I wrote this article myself, and it expresses my own opinions. I am not receiving compensation for it (other than from Seeking Alpha). I have no business relationship with any company whose stock is mentioned in this article.