Business development company Prospect Capital Corp. (NASDAQ:PSEC) has surged to new 52 weeks high lately on the back of growing investor optimism about the high yield sector. As a result, for the first time in years Prospect Capital's shares are changing hands for a price close to the company's Net Asset Value. Since Prospect Capital is overbought, though, the long term reward-to-risk combination is no longer attractive here, and investors may want to think about dumping the business development company as long as it is hot.
Prospect Capital was one of the most disliked BDCs almost exactly one year ago when investors lost it over the energy price crisis and factored in fictitious losses from their energy loan exposure into BDC valuations. Prospect Capital's shares were selling for about half Net Asset Value a year ago when high risk BDC were widely out of favor.
Fast forward one year and we have moved to the opposite end of the fear spectrum: Investors love high yield income vehicles again, including high risk business development companies that few investors wanted to touch just a year ago. In other words: Investors are now way too optimistic about Prospect Capital and other BDCs, bidding their share prices up way too far in the process. This is especially true in light of declining dividend coverage ratios in the case of Prospect Capital. Today, Prospect Capital's shares are selling for $9.44, or ~0.98x Net Asset Value.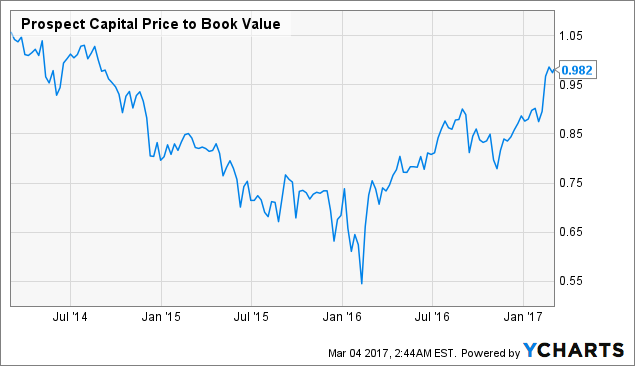 PSEC Price to Book Value data by YCharts
For the last several years high risk income vehicles, with few exceptions, have sold for wide discounts to their respective Net Asset Values. However, this has profoundly changed in the last couple of months when investors started to get the Trump blues. A lot of income vehicles now go for premiums to Net Asset Value, and there is a good chance that even Prospect Capital surpasses the 1.0 P/NAV ratio benchmark, at least in the short haul.
It must be noted, however, that high yield is grossly overbought, and that includes Prospect Capital, too. Shares have recently hit a new 52 week high at $9.58, so far holding their ground well. While rising share prices are a good thing for income investors (because they potentially get some nice capital gains on top of their dividend), there is also a significant risk of a correction, in which case all those (unrealized) capital gains will disappear into thin air. Given the run Prospect Capital's shares have had, there is a very high risk of a major correction brewing, and I think income investors dismiss this risk way too easily right now (another red flag!).
Dump It While Its Hot

I know it is tempting to hold onto an investment if the price for it has risen fast and hard. After all, it could rise even more, right?
But the thing is that the price appreciation has been fueled largely by sentiment, and the rate of price appreciation is unsustainable. In fact, Prospect Capital's surge is entirely driven by speculation. I have made the case before that Prospect Capital's dividend coverage has actually deteriorated lately, giving investors no objective excuse to chase Prospect Capital's share price this high.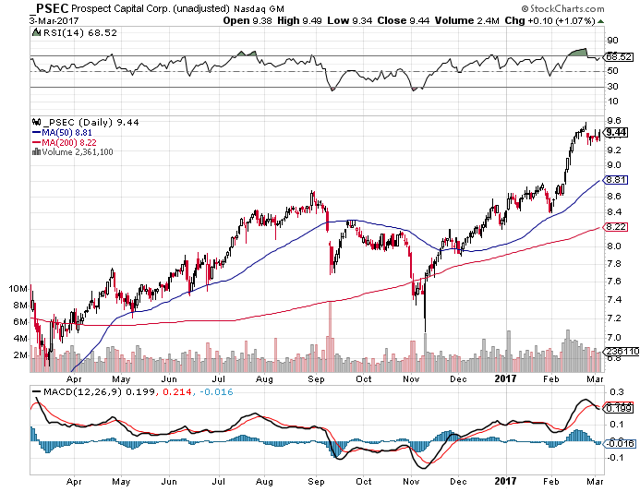 Source: Achilles Research
Your Takeaway
Investors who have been in Prospect Capital for a longer period of time with a much higher cost basis may want to take the opportunity and sell shares in light of the sentiment-driven surge in price, which I think is unsustainable. Not much has changed with respect to Prospect Capital in the last several months, except sentiment. Smart investors may want to take advantage of the share rally, and dump Prospect Capital before the inevitable correction washes over income investors. Sell.
If you like to read more of my articles, and like to be kept up to date with the companies I cover, I kindly ask you that you scroll to the top of this page and click 'follow'. I am largely investing in dividend paying stocks, but also venture out occasionally and cover special situations that offer appealing reward-to-risk ratios and have potential for significant capital appreciation. Above all, my immediate investment goal is to achieve financial independence.
Disclosure: I/we have no positions in any stocks mentioned, and no plans to initiate any positions within the next 72 hours.
I wrote this article myself, and it expresses my own opinions. I am not receiving compensation for it (other than from Seeking Alpha). I have no business relationship with any company whose stock is mentioned in this article.