Valeant Pharmaceuticals (NYSE:VRX) is by no means a healthy company. Investing in them is by no means for the faint of heart. Since hitting highs of $259.98 on August 4th, 2015, VRX has been a deathtrap for investors, losing 95% of its market value. There are many reasons for that decline, but I am not going to go directly into all of them. This article is about the future for VRX, and there will be one. Valeant will need to sell non-core assets to be able to pay down big debt maturities in 2018, but what really matters is that they don't break any of their debt covenants until this day comes. They also have two possible growth drivers that will start to become a factor in 2017, and that will allow them to start turning the tide on the bear story that has engrossed them since 2015. Valeant is deep in the tunnel, but a light is starting to show at the end of that tunnel.
2016 Earnings Report
Valeant's most recent earnings report was nothing to get investors excited. In fact, it was pretty terrible, but that was not all that surprising. Revenue declined from $10.45 billion in 2015 to $9.674 billion for 2016, a 7.4% decline. However, the more important value was their EBITDA value, which came in at $4.305 billion for 2016 vs. $5.369 billion for 2015, another decrease of 19.8%. To be honest, the guidance doesn't make it any better. On the low end, they predicted $8.9 billion in revenue and $3.55 billion in EBITDA for 2017. This would equate to another year of loss for Valeant. I think this guidance might actually be a good sign which is foreshadowing the "New Valeant" that Joe Papa is trying to create. I believe that Papa is low balling with the loss of exclusivity (LOE) product estimates that he is making. Valeant is assuming that almost all, 75% or $715M, of EBITDA derived from LOE products will be lost in one year.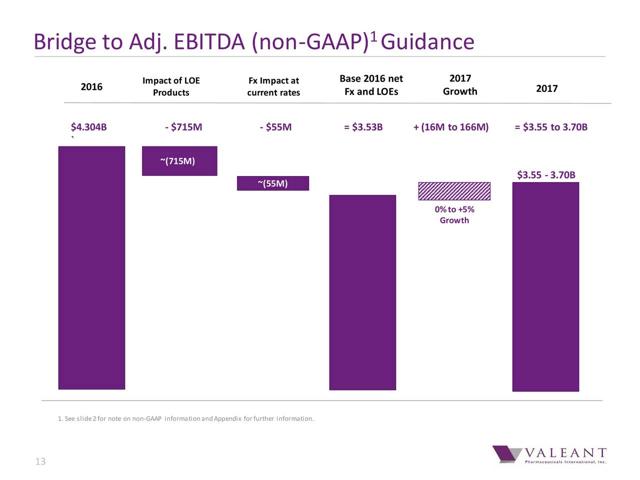 Source: Valeant Earnings Report Slides
I agree that there will be a decrease from these products, but it won't be this extensive. I think this cautiousness will end up being beneficial because Papa and Valeant are assuming 5% growth to get back to their high-end EBITDA estimate of $3.70B. This may be unrealistic, especially with their most recent track record. I believe that Papa is giving his company a margin of protection, which will benefit them in years to come.
Debt Covenant Coverage Ratios: Tight but Still Space for Valeant
Valeant has had to make changes to their debt covenants a few times. This is because in the past they have broken their covenants by releasing reports on later dates than were previously agreed to. The most recent amendment they need to make was on August 23, 2016 and it put a very important hindrance on Valeant. This amendment was described in their most recent 10k as, "the Company entered into an amendment to its Credit Agreement (the "August 2016 amendment"). The August 2016 amendment reduces the minimum interest coverage maintenance covenant under the Credit Agreement to 2.00 to 1.00."
This ratio mentioned is their adjusted EBITDA divided by interest expense incurred for that quarter. If at the end of any quarter the company falls below this threshold, part of Valeant's debt will go into default. In this default, 25% of their senior debt will have the option to have their bond repaid at an earlier date. This would be disastrous. Therefore, this ratio is the most important ratio that a possible Valeant investor needs to look at. Last year, Valeant paid $1.836 billion in interest expense on their long-term debt. If Valeant's $2.1 billion divestitures are closed, VRX will have $1.7 billion to pay down 2018 debt maturities, which will leave them $28.469 billion in total debt. Not all of this debt retirement will happen instantly, so interest will still be paid on some of that retired debt. I estimate interest expense will be ~$1.75 billion for 2017. If Valeant is able to hit their low-end adjusted EBITDA numbers ($3.55 billion), which I think will happen, their EBITDA/interest expense coverage ratio will be 2.03. Although this is a very tight margin, Valeant still has breathing room to allow some of their newer products grow to fruition and they won't have to turn to a fire sale to pay down their debt.
Asset Sales and Growth Opportunities
Valeant was able to make an agreement to sell CeraVe, AcneFree and its AMBI skin care brands for $1.3 billion to L'Oreal. They need to at least bring another $2 billion in asset sales within 2017 to keep the boat floating, while their new drug Siliq can mature and produce revenue in the years to come. Their dermatology sale is receiving about a 7.7 times multiple based off of sales, however, I believe that this multiple will not be attainable for some of their other non-core assets. I would assume that they could receive 5x multiples on sales of non-core assets. However, that estimate is hinging on the fact that they don't have to make these sales in a fire-sale environment, if they are able to maintain their interest coverage ratio they will at least have a leg to stand on in negotiations.
With a 5x multiple they will need to strip $400 million of revenue from their income statement, without touching their crown jewel products (Salix, etc.). I am not going to guess what the products are because I am not in the brain of Valeant, but I believe the $400 million is very attainable because that is only 4% of 2016 total revenue. However, if they are unable to find a purchaser, who is willing to pay this price, I believe that they will still be able to access the debt market to refinance their debt maturities that are expiring soon, and get a rate that is not exorbitant. They won't have to dilute shareholders!
Valeant may be struggling, but they still have two catalysts that could produce some growth in the future. Those two catalysts are Siliq and IDP-118. Siliq is due to be launched in Q3 of 2017, and is targeted towards patients with severe psoriasis. This marketplace is estimated ~$7B in 2018, but don't be mistaken, there are other competitors and Siliq has severe headwinds (suicidal thoughts label). Obviously, both of these will be a hindrance to growth for this product and very little revenue will be seen in 2017 for this product just because it's going to be new to the market. However, I will estimate that this product will produce $350M, which will lifeblood for Valeant and help to stabilize earnings. Another future possibility that was mentioned in Valeant's 2016 earnings presentation is IDP-188, which could be the first corticosteroid-retinoid combination for psoriasis. As mentioned above, the market for psoriasis will be $8 billion in 2018. If their safety tests come back positive in 2017, it will be a huge boost for Valeant's share price because this could be another catalyst that puts Valeant back into positive growth that they haven't seen in three years.
Conclusion
Valeant Pharmaceuticals is being crushed by the huge debt load on their balance sheet. It may look awful now, but if they can hit their low-balled EBITDA estimates, they still have some breathing room to let their growth catalysts develop. They are not healthy by any means, but there will be a future for Valeant. There will be fluctuations, and VRX won't skyrocket tomorrow. Although, just keep an eye on the EBITDA/Interest ratio, and if that stays above 2:1, Valeant will see a recovery in their stock price.
Disclosure: I am/we are long VRX.
I wrote this article myself, and it expresses my own opinions. I am not receiving compensation for it (other than from Seeking Alpha). I have no business relationship with any company whose stock is mentioned in this article.