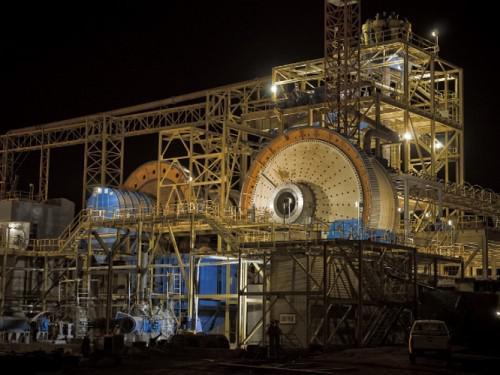 Image: Burkina Faso - Essakane gold mine
IAMGOLD (NYSE: IAG)
IAMGOLD is a gold producer based in Canada with five operating gold mines spread across three different continents. The company also has four development projects (Westwood in Quebec, a Cote Gold project in Ontario, rare earth elements in Quebec, and Camp Caiman in French Guiana).
This article is an update to the preceding article published on November 9, 2016, about the Q3'16 results.
IAMGOLD financial snapshot:
IAMGOLD released presentation on February 23, 2016. [Click here]
Investment Thesis:
IAMGOLD is a Canadian gold miner with a particularly attractive balance sheet. If we look at the 4Q'16 results we realize quickly the strength of this company. Basically, what differentiates IAG from many other gold miners is that the company has an excellent pipeline of new projects and, above all, has no net debt. I am very sensitive to the latter because it is always the debt that weakened the whole financial structure to the point of collapse.
IAG in three simple graphs: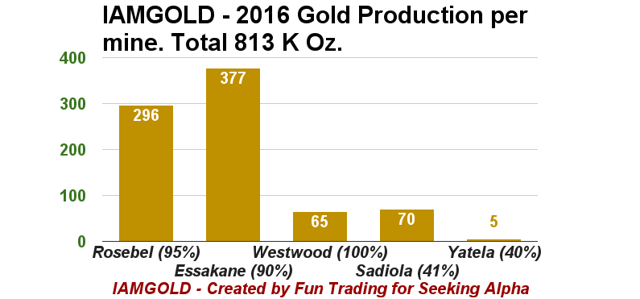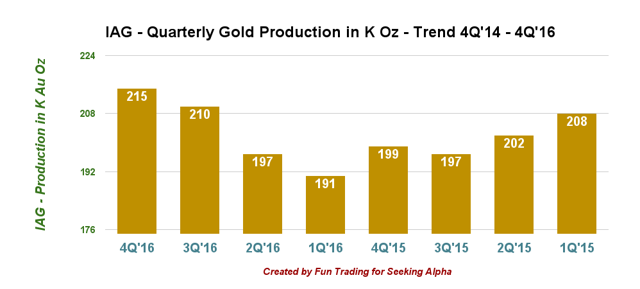 Today's news is another reminder of this situation.
Commentary:
On March 3, 2017, The company released the following:
[I]t has commenced an offering of $500 million aggregate principal amount of senior notes due 2025 (the "Notes"). IAMGOLD intends to use the net proceeds from the offering of the Notes, together with cash on hand, to fund the redemption of its outstanding 6.75% Senior Notes due 2020 (the "Existing Notes").

Pursuant to the terms of the indenture governing the Existing Notes, IAMGOLD will issue a conditional notice of redemption to redeem all of the outstanding Existing Notes, which redemption will be conditional upon the successful completion of the offering of the Notes.
What is the long term debt of the company?
As of December 31, 2016, the company indicated $485.1 million as long-term debt (after being reduced by $146 million in 2016), and $762.7 million in cash and cash equivalent (including $111 million in restricted cash). The company has an available of $247 million in credit facility as well.
Which means that if the offering aforementioned is completed successfully, it will be enough to fund the redemption of the 6.75% notes due 2020 and replace it by a senior notes due 2025.
This is another action to manage the business and to further strengthen IAG capital structure as Ms Carol Balducci, CFO, said in the 4Q16 conference call.
We are in excellent financial shape. Cash, cash equivalents and restricted cash were $763 million at the end of 2016, exceeding long-term debt by $274 million. We have a manageable level of debt and strong credit metrics.

In line with our credit facility, total liquidity is $900 million excluding restricted cash of $111 million. Note that the restricted cash is related to contingent liabilities having to do with asset retirement obligations. During 2017, we expect to replace a portion of that maturity bonds or letters of credit.
As a reminder, On August 8, 2016, the Company commenced a tender offer to purchase for cash up to US$150 million of the principal amount of its 6.75% senior notes due 2020.
On September 6, 2016, the Company announced the final results of the tender offer. As of the expiration date of the tender offer, US$145,863,000 aggregate principal amount of the senior notes, or approximately 23.0% of the senior notes outstanding, were validly tendered and not withdrawn pursuant to the tender offer, all of which tendered senior notes were purchased and cancelled by the Company.
Conclusion:
This is a positive financial decision that pushes the long-term debt maturity by another 5 years, while allowing the company to conduct comfortably its 25% growth production by 2020.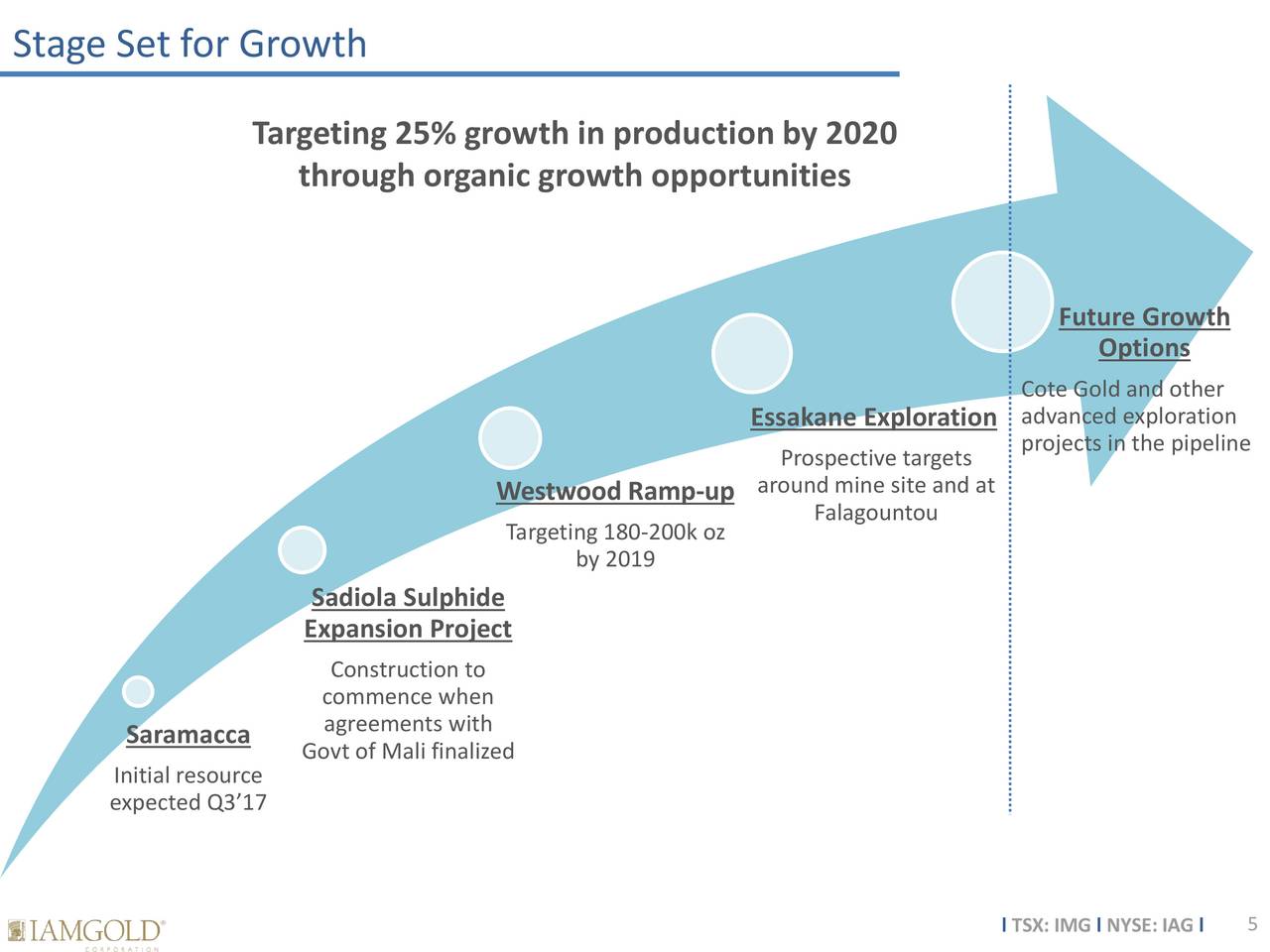 Technically, IAG can be described in a descending triangle pattern as we speak.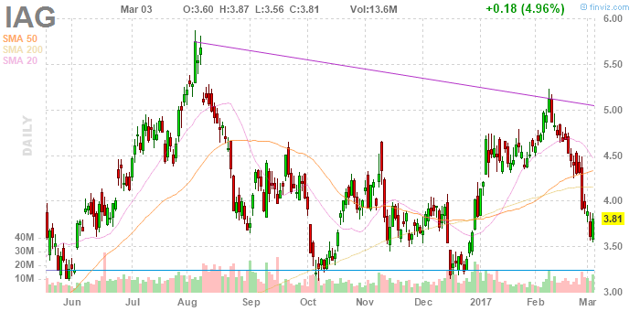 Unfortunately, The descending triangle is a bearish formation that usually works during a downtrend as a continuation pattern.
The pattern is determined by a horizontal flat support (blue line $3.25), until a break out on a downside (~64%) occurs. This potential bearish outlook may be explained by the dollar strength and of course the future action by the FED.
I recommend to use this period of consolidation potential as an accumulation strategy due to the future potential growth that presents the company. Conversely, any upside between $4.50-$4.75 should be used to take some profit off the table.
Important note: Do not forget to follow me on IAG or other gold miners. Thank you for your support.
Disclosure: I am/we are long IAG.
I wrote this article myself, and it expresses my own opinions. I am not receiving compensation for it (other than from Seeking Alpha). I have no business relationship with any company whose stock is mentioned in this article.
Additional disclosure: I have initiated a small position and I intend to accumulate on any weakness.