Price Action Over the Prior Week
With the GDX breaking noted support, it opened the door to a bigger pullback, which is not what I ideally wanted to see. Yet, since price is the ultimate truth in the market, we must react to what the market tells us rather than maintain our prior expectations, which would then cause us to inappropriately view the market as "wrong."
Anecdotal and Other Sentiment Indications
We all recognize that the metals complex is not easy to trade. For example, many who maintained a rigid bias about the market from 2011-2016 suffered severe drawdowns in their accounts, especially with silver dropping 75% from its 2011 highs.
Ultimately, the two things you need to possess in order to be able to effectively trade or invest within the metals complex is a cast-iron stomach and a non-linear plan of action.
You see, too many approach this market expecting the action to be black or white, or worse, expecting the action to adhere to the laws of Newtonian physics or some fundamental belief. We have seen many expecting the metals to rally because of QE, China, India, Russia, and a myriad of other supposedly bullish reasons. Yet, the market went in the completely opposite direction. We have seen many expecting the metals to drop because of things like interest rates rising. Yet, the market went in the completely opposite direction. So, if one held fast to their fundamental linear perspective, then one clearly suffered losses or draw downs.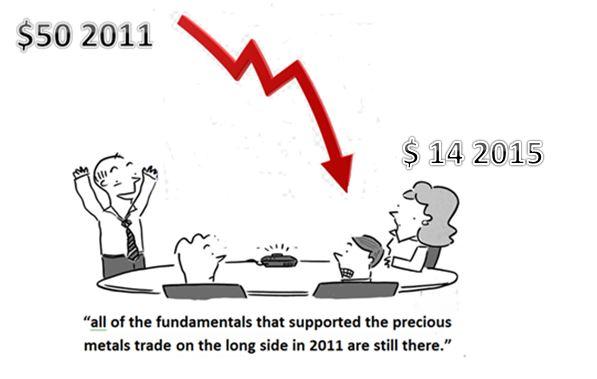 For this reason, I continually suggest that one utilize a non-linear method of analysis in financial markets, which are non-linear systems. As I have said many times before, applying "logical" linear analysis to a non-linear emotional system can be similar to trying to reason with your spouse when they are being emotional. It just never works out well.
Now, I want to remind you that I come here week after week and often provide you very specific levels for you to use as a road map in your own trading endeavors. While I do not design these write-ups to be a day to day guide as to how the metals may move, I often provide you parameters to watch, which are meant as guideposts, as to how the market may move. If you want day to day, or even minute to minute, guidance, I suggest you join our trading room at Elliottwavetrader.net. In fact, I put out an update early in the morning this past Thursday, warning our members of the potential set-up for silver to drop. I then sent out another update hours later warning of an impending drop in silver minutes before it happened.
But, this past week, we were presented with a perfect example of how to use my "guideposts" here at Seeking Alpha. Last weekend's article noted that the 23.30 level was support in the GDX, which I wanted to hold. But, if broken, it will point us towards the 21.50-22 region. The market broke 23.30, and the low struck this past week was 21.53, which was struck pre-market on Friday.
So, for those that want to view my analysis as "wrong," and choose to post such a comment, I would suggest you not waste your or our time. Clearly, my preferred path was not followed by the market. Yet, I still believe the guidance I provided was quite appropriate to prepare you for the action we experienced this past week.
As most of you probably recognize by now, I am trying to provide you a weekly road-map as to how I see the metals market. And, if my primary short term expectation does not play out, I provide you with levels so that you know when such primary expectation has been invalidated, and then suggest how I see it going in the alternative perspective.
This past week was the perfect example. And, I suggest you approach markets from such a non-linear perspective, rather than maintaining a very rigid perspective of how a market "must" work. That is one of the differences between successful traders and the 90% that blow up their account.
For years, I would hear how this is simply suggesting that the market may go up or down. But, if one reads carefully, you will understand that not only am I providing you my primary expectation, I then tell you when that expectation is wrong, and how, when and where to look in the opposite direction when the primary expectation is wrong. But, it does require you to change how you normally view markets, as too many view the market quite rigidly. And, if you approach the market in this way, you will find that the guidance you receive from such non-linear analysis better prepares you for the market action than most articles which provide you a bias, usually based upon a linear fundamental perspective, without any objective standard as to when that perspective is wrong.
As an example, most of you likely would have expected the dollar to have risen on Friday based upon Janet Yellen publicly stating that it is likely the Fed will raise rates in a few weeks. I mean, raising rates is fundamentally supposed to have a positive effect upon the US Dollar, right? Yet, the dollar dropped, and dropped strongly. But, remember how the dollar was supposed to crash with all the QE thrown at it, yet it rallied 43% from its 2011 lows in the face of all the QE thrown at it. That is a massive move in a currency under even regular circumstances, but just unbelievable in the face of all the QE.
How has a "logical" linear perspective fared in the currency market? Yet, how many using such methods continually suggested the dollar was going to crash during the entire rise?
Again, I implore you all to begin to view markets from a non-linear perspective, as I will assure you that it will increase your chances at being successful in the market, as compared to maintaining some rigid perspective adopted by the masses.
Over the longer term, I want you to keep in mind when you read my analysis that I will always take the more bullish expectation as my primary focus in the metals complex when it is in a long term bullish posture. The reason I do so is because experience has taught me this market often leaves people behind with shallow retracements. But, it also means that I may miss some of the downside we experience on pullbacks.
Yet, we are often forewarned when the more immediate bullish posture will not take hold, and that a bigger pullback is setting up. For example, even though I was looking for the more immediate bullish potential in the market a few weeks ago, the structure started providing signals that it may not develop. So, I noted in my trading room at Elliottwavetrader.net that I was hedging my portfolio near the highs a few weeks ago, with stops over the .764 extension in GDX, and provided levels at which the bigger downside would be seen (break of 23.30 points towards 21.50/22). This is how I will always approach a longer-term bullish metals market.
Another example was back in August, where we missed the initial decline off the 31.50 high, but then caught the decline from 28.50-20, and then went bullish the market when most expected a crash. Again, we may not catch all of the downside move, but we usually do catch all of the upside move, as we did from the Dec15/Jan16 lows in the market, and again at the Dec16 lows in the market. Is this not how one wants to trade within a bullish market?
So, if perfection is what you seek from anyone you follow for analysis in order to garner every single point, both up and down, in the market, you may as well find something else to do because perfection in a non-linear environment does not exist. However, if you understand my focus, and how I approach the market, then you can adjust to fit your own personal preferences and perspectives.
Price Pattern Sentiment Indications and Upcoming Expectations
When I review the various miner charts, I will say that the GDXJ suggests that the complex can see a lower low in the coming week, with silver providing a similar potential. However, the GDX has developed in such a manner in which we can consider the low on this drop to have completed. So, unfortunately, I do not have clarity as to whether a lower low will be seen in the complex in the coming week before the next rally takes hold, since the shorter-term patterns disagree. But, if the GDXJ is able to "impulsively" (an Elliott Wave term of art referring to the structure of a market move) rally over 38.90, then it would suggest the next major rally phase has potentially begun. In GDX, that level is 23.30, our prior support.
Now, due to the strength of the drop in silver, as well as some of the miner charts I follow, it has opened the door to the potential that the market may consolidate a bit longer than I had initially expected. This means that as long as we remain below the recent highs struck in the market a few weeks ago, we may develop more of a consolidation before the next break out phase.
I also want to tell you that Dr. Cari Bourette, of MarketMood.net, noted that she sees a major change in sentiment for the metals complex in the coming week. She stated that, based upon her proprietary indicators, "gold in the coming week has the largest positive change in sentiment in over a year!" So, the question is if this next major sentiment change will finally be the beginning of the smaller degree 3rd wave rally we have been expecting, or if it will just provide us with a corrective rally, keeping us in this consolidation for a few more weeks. The structure will likely provide the answers over the coming two weeks.
For now, I maintain a larger degree bullish bias, even though we may see the dreaded one more lower low in the coming week. But, the larger patterns off the Dec15/Jan16 lows are set up quite bullishly, and I do not want us to lose focus of the forest because we are focusing on a single leaf.
Housekeeping Matter
It seems that Seeking Alpha has changed the way they tag articles. So, while my articles used to be sent out as an email to those that follow the metals complex, they are now only being sent out to those that have chosen to "follow" me. So, if you would like notification as to when my articles are published, please hit the button at the top to "follow" me, or join me in my Trading Room at Elliottwavetrader.net. Thank you.