A year ago I wrote that United Technologies (NYSE:UTX) was wise to reject Honeywell's (NYSE:HON), but I last wrote about United Technologies itself in SA in October 2105. I then argued that 2016 would be a year of housekeeping and internal investment in efficiency that might ─ but only just might ─ begin to bear visible fruit at the end of 2016. I expected the company to be able to use a relatively good worldwide construction demand situation to repair operating problems in Otis and in its Climate, Controls and Security divisions. Meanwhile Pratt & Whitney and Aerospace would continue to invest heavily to meet the looming demands from the vast commercial aircraft order backlog, without yet seeing a substantial increase in revenue and limited benefit to margins.
If you look at United Technologies' GAAP figures for 2016, it appears that just about the opposite happened. However, they require some careful study.

I am generally unhappy with the idea of non-GAAP measures, but sometimes GAAP conceals as much as it reveals. In this case, it conceals a great deal of non-recurring expenditure on restructuring: costs booked at the operating level that are intended to fund the operating improvements that, as I indicated, I think are sorely needed. Pratt & Whitney and Aerospace took these charges in 2015, which flattered their 2016 margin performance. Otis and Climate, etc. took the charges in 2016, which had the reverse effect. Even so, the revenue gains at Pratt & Whitney and Aerospace came as a surprise to me, while the failure of Otis or Climate, etc. to respond to a fairly benign commercial construction environment was a disappointment.
The shares have posted a fairly mediocre performance. Granted, they behaved well relative to the market after United Technologies' second and especially its third quarter report (although the latter was released just a week before the post-election rally began, which may have exaggerated the market's apparent approval). But the good news stimulated only temporary outperformance, and did not suffice to help the shares outperform cumulatively over the last fifteen months. This despite the continuation of a fairly generous dividend policy and the reduction of shares outstanding at year-end 2015 by 6.5% over the course of 2016.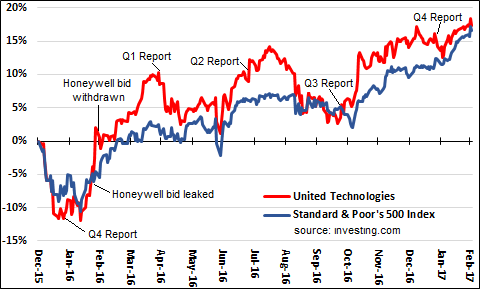 Conditions for attempting the reorganization of United Technologies construction-related businesses were about as favorable as they are likely to get in 2016. In the U.S. commercial construction activity (the primary market for its products and services) finally exceeding levels last seen before the Crash. The American Institute of Architects' consensus forecast is for an increase of 5.6% in 2017 and 4.9% in 2018. Services ─ which are very important to these businesses and one of the areas where the company most needs to improve its performance ─ experienced some increase in revenue during 2016, which is encouraging.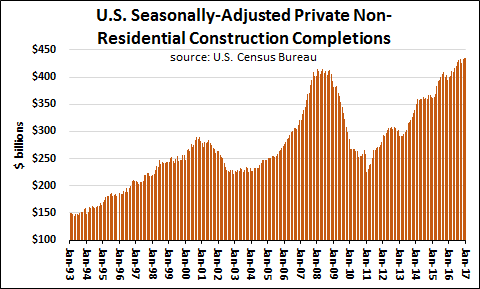 Conditions outside the U.S. ─ and the majority of United Technologies' commercial construction-related activity is outside the U.S. ─ were soft, but they are unlikely to improve. The Euroconstruct estimates for Europe are for increases in the value of non-residential private construction in the region of 1.5% to 1.8% through 2019. Growth in China's construction output is expected (at least by one source) to slow to 2.5% over the next several years, and demand from the Middle East is actually declining. Slower commercial construction demand ─ and weak order flow for both divisions in 2016 ─ will not make the task of restructuring United Technologies' commercial construction-related businesses any easier.
United Technologies' smaller housing-related businesses are more focused on the U.S. than its commercial construction-related ones, and have little or no after-sale service attached to them. These continue to face a difficult market environment, with housing starts still nearly 44% below peak levels, and the value of construction nearly 31% below. It is small compensation, but those figures indicate that builders are focusing on higher-priced housing, which suggests greater use of United Technologies products (security as well as HVAC) per unit being built.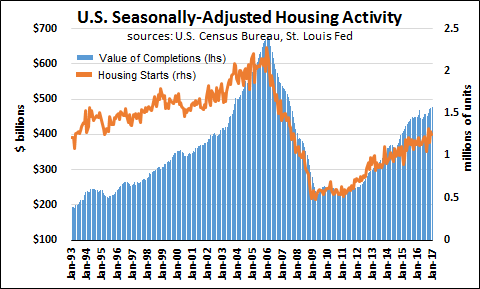 Extraordinary demand for commercial jets is putting considerable strain on airframe manufacturers as well as their suppliers, including Aerospace and, complicated by continued problems with its new GTF engine, even more so on Pratt & Whitney. Demand is expected to increase by nearly a third over the next eighteen years, explaining the need for massive investment in capacity expansion as well as in productivity.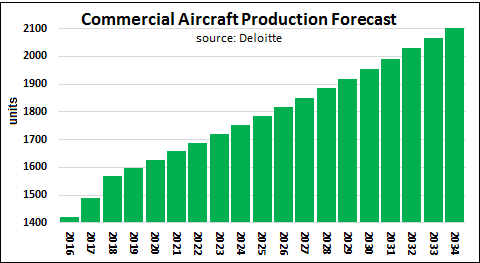 Although Pratt & Whitney has experienced continued hiccups with its new engine, and has been unable to deliver as rapidly as it had scheduled, after its initial teething problems it seems to be gaining good acceptance. These difficulties are probably less intractable than the logistic and work-planning challenges presented by the enormous order backlog. To exploit this opportunity ─ and to avoid late delivery penalties ─ Pratt & Whitney must find ways to work smarter than it has in the past. Its task is complicated by the concurrent ramp-up in production of engines for the F-35. This requires a change of culture as much as a change of tools, which takes time. The situation at Aerospace is not dissimilar, although considerably less severe.
Post-Sikorsky, military business accounts for about 15% of revenue. Except for United Technologies' involvement with the F-35, most of this is after-market sales and service for aircraft that are no longer in production or will soon cease production. Such business accounts for about a third of Aerospace revenue and, with OEM business for the F-35, about a quarter of Pratt & Whitney's. My article from October 2015 included a graphic showing U.S. defense expenditure as a percent of GDP, and drew the gloomy conclusions implied by that picture. With a new administration, the picture may well change, and while United Technologies may suffer some from cheese-paring in connection with the F-35 program, it is likely that new OEM opportunities will open up. I had previously implied that United Technologies might be happy to be rid at least of the Aerospace portion of its military activities, but now I am not so sure.
The market did not greet United Technologies' renewed 2017 guidance with much enthusiasm, and news-flow on military and infrastructure spending, as well as corporate tax reform, had not had nearly the effect on its share price that one would expect. Where United Technologies is concerned, investors seem to have become Missourians. This suggests that surprises will tend to be on the upside. Since investors are paid reasonably well to hold the shares, and buybacks are likely to continue (although not at the rate of 2016), there is probably limited downside risk. A patient investor who uses pullbacks to build a position will probably be rewarded on a two- to three-year time horizon.
Disclosure: I/we have no positions in any stocks mentioned, and no plans to initiate any positions within the next 72 hours.
I wrote this article myself, and it expresses my own opinions. I am not receiving compensation for it (other than from Seeking Alpha). I have no business relationship with any company whose stock is mentioned in this article.