During Honeywell's (NYSE:HON) 2017 Investor Conference, the company's management team reaffirmed guidance for both Q1 2017 (adjusted EPS of $1.60-$1.64) and for full-year 2017 ($6.85-$7.10). Some pundits previously expressed concerns over Honeywell's long-term growth story, but I believe that management put these concerns to bed by again confirming that the company is expecting to report mid-single digit earnings growth in the current year, after the company just reported high single digit earnings growth in 2016.
In addition to reaffirming the guidance for impressive earnings growth, the incoming CEO, Mr. Darius Adamczyk, communicated his four key priorities to shareholders and the financial community.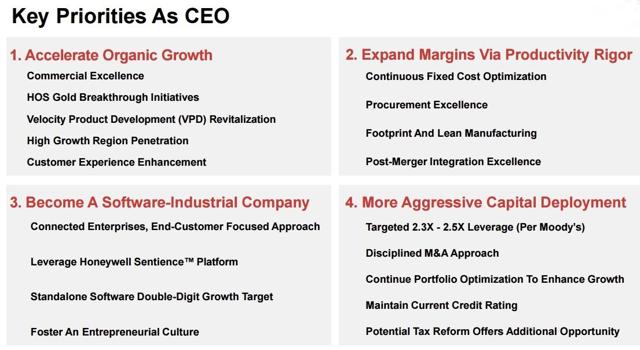 (Source: 2017 Investor Conference Presentation)
Investors should be encouraged about Honeywell's anticipated earnings growth for 2017, but, in my opinion, the most important takeaway from the investor conference is the fact that management has a well-defined long-term plan to create a tremendous amount of shareholder value for many years to come. To this point, the two key priorities that have the potential to create the most shareholder value through 2019, in my opinion, are: (1) Honeywell becoming a software-industrial company and (2) management aggressively deploying capital.
1. Become A Software-Industrial Company
Mr. Adamczyk is currently servicing as the company's Chief Operating Officer and he will take over for Mr. David Cote as CEO on March 31, 2017. Mr. Adamczyk is being touted as the "software guy" so it makes sense that he spent most of his time during the conference highlighting the impact that digital will have on Honeywell and its businesses.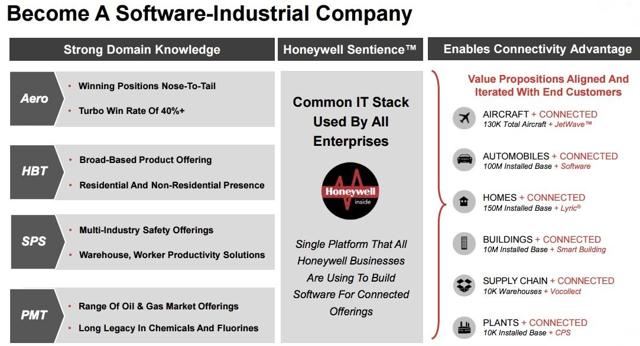 The common theme throughout the presentation was the impact that software will have on most (if not all) of Honeywell's businesses, as the company is already guiding for double-digit growth in stand-alone software sales for the current year. Similar to General Electric's (NYSE:GE) Predix platform, Honeywell is putting a lot of time and effort in establishing itself as the go-to provider for industrial connected offerings by heavily investing in the Sentience platform. Also similar to GE, Honeywell is already widely viewed as a leader in the Industrial Internet of Things, or IIoT, industry.
It is well-documented that I am a long-term bull on GE's digital business (see here for a recent article), but I believe that there is room for more than one winner in this space. For example, Accenture (NYSE:ACN) conservatively estimates that IIoT spending will reach $500b by 2020, which is tremendous growth from the estimated $20b spent in 2012. I believe that the changing industrial-digital space has the potential to be the next big thing, so there is a real market opportunity for Honeywell to significantly grow its business over the next decade.
2. More Aggressive Capital Deployment
This company has been able to outperform its peers over the last five years and the management team expects for more of the same in the years ahead.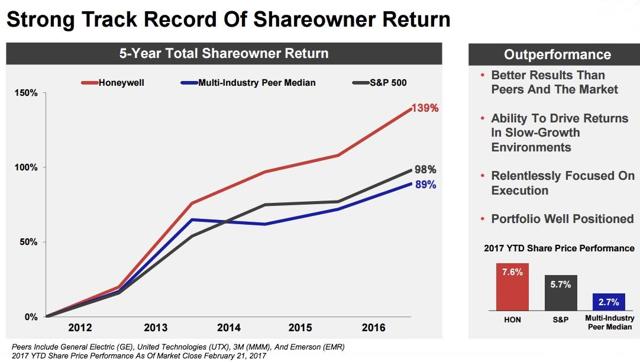 Not only does Honeywell have well-established businesses in key growth industries but management also intends to aggressively deploy capital in order to build on the company's already strong foundation. The company's deployment approach includes domestic and foreign mergers & acquisitions ("M&A") in addition to buybacks and dividend increases.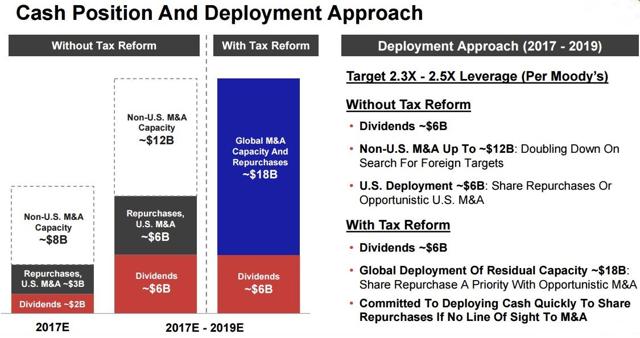 On the conservative side (i.e. without factoring in tax reform), Honeywell anticipates to return $6b to shareholders in the form of dividends and another $6b in the form of share repurchases and/or U.S. based acquisitions. Additionally, the company plans to deploy another $12b of capital towards non-U.S. based acquisitions over the next three years. To put these numbers into context, Honeywell spent ~$1.9b in dividends payments and ~$2b in share repurchases in 2016.
As I discussed in this article, Honeywell will be a big beneficiary to any type of pro-business tax reform. It is still too early to know how President Trump's policies will eventually shake out, but any positive momentum toward enacting tax reform should viewed as a positive development for Honeywell.
Disclosure: All images are from Honeywell's 2017 Investor Conference (linked above), unless specified otherwise.
Bottom Line
The financial community liked what they heard from management during Honeywell's 2017 Investor Conference, as shown by the recent analyst upgrades, but I believe that 2017 may a break out year for this storied company. Mr. David Cote will be missed, especially by long-term HON shareholders, but it appears that Mr. Darius Adamczyk may be the right guy for this company in today's environment. The digital space will be the focus for Honeywell and most other industrial companies over the next few decades so promoting someone with experience in this area is a plus, in my opinion.
Moreover, Honeywell is focused on aggressively returning capital to shareholders while also focusing on small tuck-in acquisitions, which has been a winning combo for this company for many years. You will likely not get rich by holding Honeywell shares in 2017 but I believe that the company's outperformance should continue through at least 2019. There is a lot to like about Honeywell's long-term business prospects so, in my opinion, long-term investors should treat any pullbacks as buying opportunities.
Full Disclosure: I have a full HON position in my R.I.P. Portfolio but I have no plans to sell, or add to, my position in the near future.
If you found this article to be informative and would like to hear more about this company or any other company that I analyze, please consider hitting the "Follow" button above.
Disclaimer: This article is not a recommendation to buy or sell any stock mentioned. These are only my personal opinions. Every investor must do his/her own due diligence before making any investment decision.
Disclosure: I am/we are long HON, GE, ACN.
I wrote this article myself, and it expresses my own opinions. I am not receiving compensation for it (other than from Seeking Alpha). I have no business relationship with any company whose stock is mentioned in this article.