Target (NYSE:TGT) issued a disappointing report this week where they dramatically lowered forward profit guidance so the company could spend heavily on price to better compete going forward. While the company is likely correct in addressing what they refer to as a "seismic shift" in retail going forward, and while the stock is probably very near a long-term bottom, the stock offers little upside at this point simply because there isn't enough clarity on earnings going forward, because Wall Street does not like uncertainty, and because frustrated shareholders will keep a lid on the stock price. The best way to take advantage of this is to collect the dividend and sell upside calls to capture extra yield while we wait for the situation to improve.
"I know the magnitude of this change to our outlook is unexpected, but we must make these changes to position our business for the long term."
This was a quote from Target's CFO Cathy Smith on the year end earnings presentation that Target gave this week. Investors were obviously disappointed, as evidenced by the price reaction in the stock. After all, it was only a month prior that Target was touting their expected record earnings per share for the year. Indeed they did report record earnings, but going forward Target now plans to invest $1 billion into price in order to remain relevant to customers and compete better in the future for a new generation of customer who does not shop at all like their parents did. The next generation of customer Target describes today is one who doesn't enjoy as much the act of shopping or the discovery process of being in a store and finding things they want to buy. More likely they are the type of customer who wants quicker transactions and is more likely to shop online and shop around based on price. There are many ways in which Target has an advantage in serving this customer, but price is not one of them.
Target however, is very strong financially, is still quite profitable, and will no doubt adjust their business model to win long term. For example. Target has significant opportunity to reduce inventory without reducing instock levels. Management spoke on the conference call of having inventory automated so efficiently that when a customer buys an item in a store, the exact item is added onto the next truck headed to that store, and it's done within hours. The end result is that the store gets shipped exactly what it needs on the shelves, leaving almost no backstock. Because of this added efficiency in inventory management, the backstock area is cleared out and the space is freed up and able to be used for online order fulfillment.
This is the type of thing I mean when I say Target has an advantage in serving customers. They are financially strong enough and smart enough to use technology to tighten up inventory and better utilize store backstock space. Going forward, they will be able to ship direct from store and have it arrive in hours, not days. The existing real estate footprint is very valuable in this scenario. In addition, by running the business more efficiently, working capital will be reduced, freeing up cash to return to shareholders or grow the digital platform going forward.
Target is still a solid investment. The truth is, as bad as the news was, the stock price was already reflecting a good portion of this bad news. To illustrate the point, Target announced their 2017 earnings would come in around $4.00 per share, which is 24% lower than the $5.29 analyst were expecting. The fact that the stock price is only 13% lower than it was before this news came out tells us that the market was already pessimistic on Target and had already somewhat priced in the bad news.
The stock is likely going to find strong support very soon. This situation with Target is similiar to October 2015 when Wal-Mart (NYSE:WMT) announced its plan to increase spending on wages. The hit to profits was so significant, the stock, which was already down significantly that year ahead of the bad news, dropped hard, but then bottomed out shortly after, finding very strong support, and has since beginning a rebound. Target is now selling at a price where deep value investors will begin to accumulate the shares, as they are still generating plenty of cash, paying a very nice dividend, buying in some shares, possibly deleveraging the balance sheet, and trading for a value that is lower than their tangible assets could be liquidated for.
While the stock offers a good value, especially in a market that is likely stretched on valuation, due to the nature of what just occurred there are likely an enormous amount of frustrated shareholders out there who would be all too happy to sell should the stock price rise in the near term. These frustrated shareholders will almost certainly keep a lid on the stock price. Because we will have this very obvious push and pull on the stock between deep value and income investors buying vs. frustrated long investors selling, the correct strategy would be to own the stock, collect the dividend, and sell upside calls. The Jan 2018 $65 calls currently have a bid of about $2.05. This equates to an added 3.5% yield that investors can capture while they sit back and enjoy the 4.1% cash dividend which will certainly increase this summer for the 46th consecutive year. As time passes and we get closer to a point where investors begin pricing in future growth again, the stock will likely move back up towards the $65 price range, leaving investors the opportunity to make between 8%-20% depending on how close the stock gets to that $65 price.
In summary, Target calls what is occurring in retail today a "seismic shift". The moves they are making, while painful, are necessary to position the company for the next fifty years. With the stock selling so low already, it is unlikely to fall much further and will likely find strong support soon. Because so many investors have been burned, it is unlikely the stock will be able to move meaningfully higher in the near future. The best strategy to take advantage of this is to sell upside calls to capture extra yield, to enjoy the cash dividends, and to rest assured that they own a solid value in a frothy market.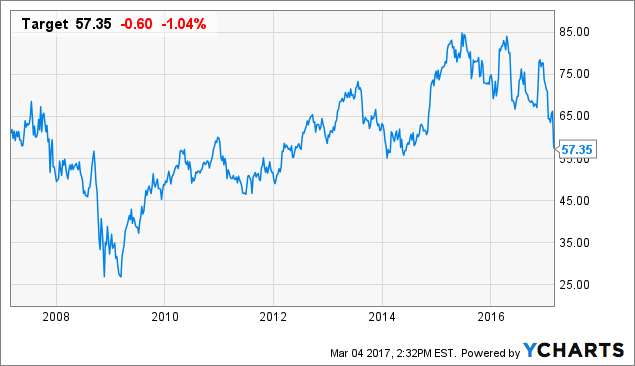 Disclosure: I am/we are long TGT.
I wrote this article myself, and it expresses my own opinions. I am not receiving compensation for it (other than from Seeking Alpha). I have no business relationship with any company whose stock is mentioned in this article.
Additional disclosure: I am short Target Calls