Frontier Communications (NYSE:FTR) recently announced 2016 fourth quarter and full year results. The reaction was not positive: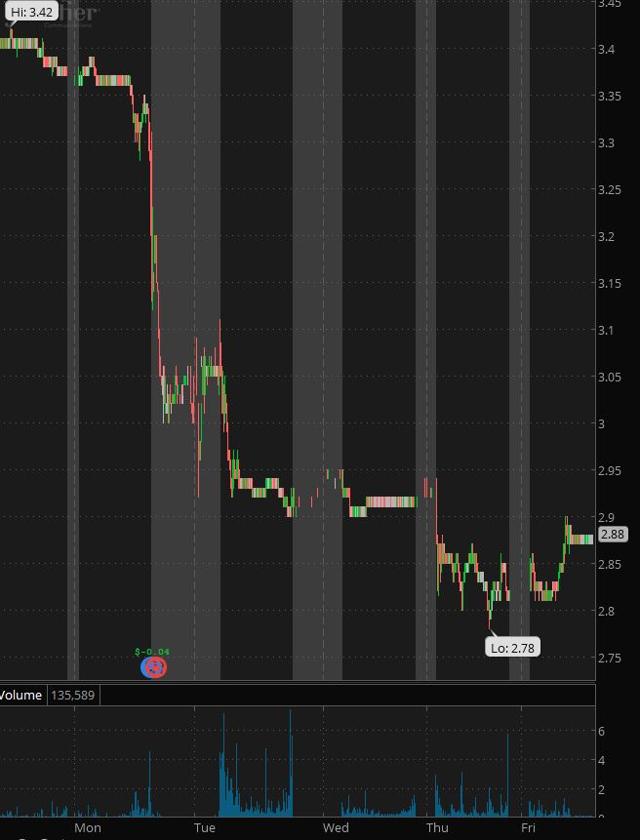 They continue to bleed customers but this is not surprising for anyone who's following the company. The stock is tumbling due to the perception of a dividend cut on the horizon. The press release gave no indication of a cut so how was it telegraphed? If the common dividend is reduced a reverse split would be required to keep the stock from spiraling deeper into the penny stock realm. From the press release:
Frontier also announced that its Board of Directors has approved and will place before Frontier's stockholders at the May 2017 Annual Meeting a charter amendment for a reverse stock split of Frontier Communications common stock. The charter amendment will provide for a reverse stock split ratio between 1-for-10 and 1-for-25, with the Board designating the final ratio within 90 days after the charter amendment is approved by stockholders. Concurrent with the reverse stock split, the conversion ratio of Frontier's Series A 11.125% Mandatory Convertible Preferred Stock will automatically be adjusted proportionately.
Management created more uncertainty by not giving a detailed explanation or much of any explanation for that matter; a red flag. Why do a reverse split? An article on Nasdaq.com lists four possible reasons.
The desire to increase the share price, especially if the shares are penny stocks . Low prices tend to elicit negative emotions in investors and inhibit the attention of the big money on Wall Street or coverage by major research firms.
Companies looking to create spinoffs at attractive prices may use reverse splits…
Major stock exchanges have minimum dollar amounts for the price of the stocks they list. So, to stay listed, a low-priced stock may reverse split to push its price to those minimums.
And one more reason from Thomas Rice of The Bowser Report : a reverse split may just be an attempt to extend the life of a slipping stock.
There is no chance of being delisted unless the stock crashes below a dollar so three is out. I think all would agree two is out. Number one is a possibility except a ratio between ten and twenty-five would be over kill. That leaves four. If a dividend cut is coming which I'll get into in a moment that would explain the lack of an explanation. The only reason to hold the stock is the dividend. If, or should I say when, the dividend is reduced the large reverse split ratios start to make sense. Why? They will need plenty of cushion in the short term because a selloff will ensue. So why do I feel a cut is in the cards?
FTR reports adjusted FCF (free cash flow) not actual FCF, i.e., they leave out cash expenses they consider not part of ongoing operations. They reported adjusted FCF of $921m for 2016. Plenty to support a dividend, right? Yes except for the word "adjusted". Actual FCF is Net cash provided from operating activities minus CapEx. Here's a look at actual FCF history vs the advertised or adjusted FCF: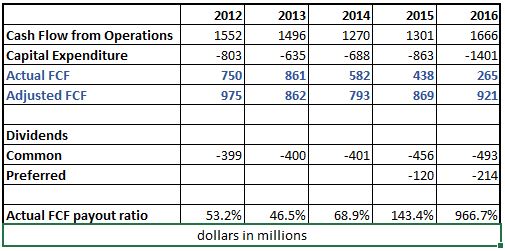 The payout ratio is the common dividend divided by the sum of actual FCF minus the preferred dividend. Not a pretty picture. The disconnect between adjusted and actual FCF is another red flag. Adjusted FCF appears to be improving while actual FCF has deteriorated over the years.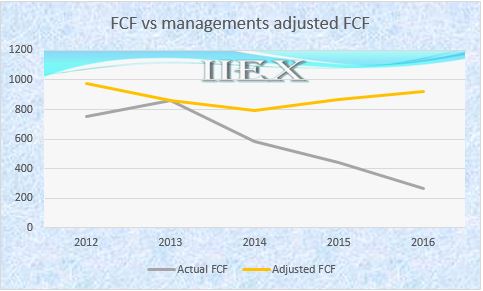 There would need to be a colossal improvement in actual FCF to support the common at a reasonable payout ratio. Not to be all doom and gloom I believe there will be an improvement in 2017 actual FCF just not enough. So how much you ask? Looking at guidance, capex could improve by $225m pushing actual FCF to roughly $500m; far short in terms of a reasonable FCF payout ratio. Their guidance for adjusted FCF has a midpoint of $900m. This is where actual FCF needs to be to support the dividend.
The question is how do you pay a dividend that requires real cash with an adjusted FCF that ignores cash expenses; an example being $100m in integration expense projected for 2017. I think the answer is obvious.
Over the years, I thought they could maintain the current dividend but no longer. The deterioration in FCF along with the addition of a preferred dividend makes the common dividend unsustainable. Bottom line, the preferred dividend is safe, the common not so much.
I own the common as of this writing but plan to exit before the reverse split. I expect any cut will be concurrent with the reverse stock split.
Disclosure: I am/we are long FTR.
I wrote this article myself, and it expresses my own opinions. I am not receiving compensation for it (other than from Seeking Alpha). I have no business relationship with any company whose stock is mentioned in this article.
Additional disclosure: Plan to exit the stock before the reverse split.