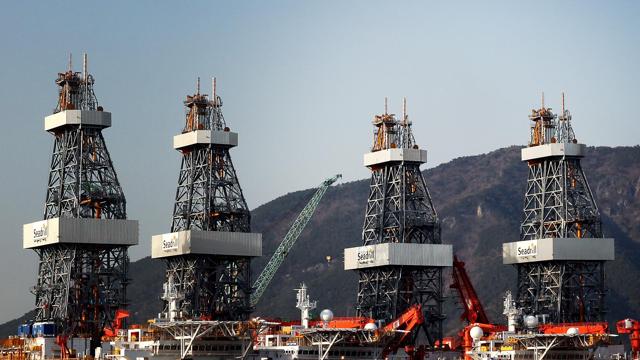 Seadrill (NYSE:SDRL) finally reported quarterly earnings last week. The company reported revenue of $667 million and EPS of $0.24. Seadrill beat on revenue and EPS but the stock sold off by double-digits immediately. Management intimated that the company's ability to operate as a going concern could be in jeopardy if it could not refinance its senior debt obligations. Below is my takeaway on the quarter:
Did Seadrill Invoke The "B Word"?
Seadrill's capital structure is in such disrepair that management referenced the "B word" - bankruptcy - in its earnings press release:
We have been engaged in extensive discussions with our lenders and potential new money investors, including Hemen Holdings Ltd., regarding the terms of a comprehensive restructuring. These discussions have also included an ad hoc committee of bondholders ...

We currently believe that material additional amendments to the terms of the proposed bank amendments will be necessary to raise the required new capital. Feedback from certain stakeholders and potential new money providers also indicate that a comprehensive and consensual agreement will likely require conversion of our bonds to equity ... In the event a consensual restructuring agreement is not concluded or an agreement to an extension is not reached, we are also preparing various contingency plans, including potential schemes of arrangement of chapter 11 proceedings.
In other words, Seadrill could go belly-up if it cannot successfully restructure its debt. In January the company warned the end could come within weeks if it did not receive a $1 billion lifeline to help restructure debt and liabilities worth $14 billion.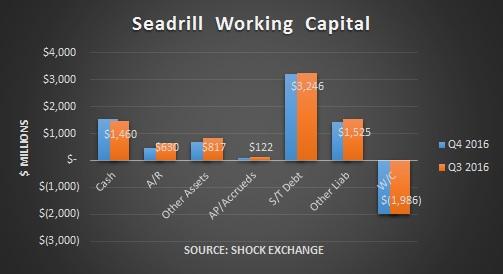 At Q3 2016 Seadrill's working capital was -$1.9 billion; at Q4 it fell to -$2.0 billion. Cash on hand was $1.6 billion while current portion of long-term debt was $3.2 billion. It currently lacks the liquidity to cover its short-term debt obligations.
Unless debt holders restructure the near term principal payments it could go belly-up this year. The problem is that even if the company restructured all of its $3.2 billion in short-term debt, it would have another $6.3 billion in debt obligations and billions in newbuild deliveries it keeps deferring. At some point a stakeholder - bond holder or newbuild contractor - might decide to pull the plug before the entire company collapses.
EBITDA Is In Decline
The market for offshore drilling continues to be plagued by lower dayrates and lower utilization rates. That does not bode well for Seadrill which has to make the case to lenders that the company's business prospects will turn around. Q4 revenue of $667 million was off 10% sequentially and 30% Y/Y. Management has done a yeoman's job of cutting costs amid the industry downturn. Over the past year the company reduced headcount from 6,995 to 5,271 - nearly a 25% reduction. Management now believes it reached the minimum number of employees to efficiently run the company.
However, there remain headwinds. Transocean's (NYSE:RIG) management believes oil prices must stay above $60 before big oil commits more capex to the sector:
While we and the rest of the off-shore drilling industry have done an admirable job of reducing cost through the downturn, the IOCs are unlikely to sanction new projects until we see a sustainable price per barrel in excess of $60. For 2017, we currently expect the IOCs to continue to preserve liquidity while the NOCs independent take advantage of the favorable drawing economics currently available in the market.
Moreover, Seadrill might not be able to wait another year before capex returns to the sector. Despite cost cuts its EBITDA margins broke support this quarter; margins fell to 52%, down from 59% in Q3 and flat versus the year earlier period. EBITDA of $348 million was down 20% sequentially and 30% Y/Y. Debt/run-rate EBITDA is not at 7.1x, up from 5.9x last quarter. These results could be hard to convince bondholders to keep the company alive.
Takeaway
With double-digit declines in revenue and EBITDA, it could be difficult for Seadrill to convince bondholders to offer it a lifeline. It could be time to pull the plug on SDRL. Avoid the stock.
Disclosure: I/we have no positions in any stocks mentioned, and no plans to initiate any positions within the next 72 hours.
I wrote this article myself, and it expresses my own opinions. I am not receiving compensation for it. I have no business relationship with any company whose stock is mentioned in this article.