Doubt is not a pleasant condition, but certainty is absurd. - Voltaire

It ain't what you don't know that gets you into trouble. It's what you know for sure that just ain't so. - Mark Twain
I generally don't like to measure performance by quarter as it leads to short-termism, but this quarter has been a good one. Facebook (NASDAQ:FB), Wildan (NASDAQ:WLDN), Dell (NYSE:DVMT), Charter (NASDAQ:CHTR), and Uniti (NASDAQ:UNIT) have all had strong 3-month rallies of >15%, but I've still had too much cash sitting on the sidelines, between 5-15%. So, I've decided to ignore the macro for the most part, and focus on deeply undervalued names. This portfolio is meant to compose of my most compelling investments. It's not supposed to have a macro view and I can always pull more cash from savings into the account if a real market crisis/opportunity emerges. This doesn't mean I won't hold cash, but from here on out, I plan to keep it within the 3-5% range. While valuations *could* be high right now, I find little certainty in macro opinions.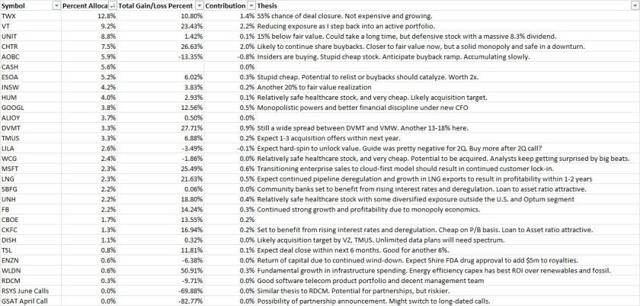 Slowly rotating from passive to active has been a challenge. Owning part of a going concern entails hours of research, but I'm getting more comfortable with the names I own. As I started researching new stocks initially, I spread my bets with several small positions in names like Level 3 (NASDAQ:LVLT), Trina Solar (NYSE:TSL), Rite Aid (NYSE:RAD), Radcom (NASDAQ:RDCM), Globalstar (NYSEMKT:GSAT), Dish (NASDAQ:DISH), Energy Services (OTCQB:ESOA), T-Mobile (NASDAQ:TMUS), Dell, and RadiSys (NASDAQ:RSYS). Some panned out (LVLT, ESOA, DVMT) and some have not (RAD, GSAT, Vonage (NYSE:VG)). Thankfully, by keeping my riskiest allocations small, and selling after being down 10-20%, I've generally been able to limit losses while sizing up the names I am more comfortable with like American Outdoor (NASDAQ:AOBC), Humana (NYSE:HUM), UNIT, DISH, and TMUS. My one big mistake recently was Rite Aid, a reminder that valuation is everything.
This activity has entailed a lot more trading than I can sustain over the long term, and I've been focused on buying fewer small positions and getting more buy and hold value names into the portfolio.
As such, I recently added SB Financial (NASDAQ:SBFG) and Clarkston Financial (OTCPK:CKFC), two community banks with low loan-to-asset ratios and price-to-tangible book values which should help them benefit in the event that interest rates rise. My hope is that I won't really have to touch them for the next year.
I also added a shipping spin-off, International Seaways (NASDAQ:INSW) which appears to be at least 20% undervalued on a NAV basis (thesis here), and the ADR tracker for Actelion (OTCPK:ALIOY) in the hopes of receiving shares in a biotech R&D spin-off for free (good summary here). Shipping, in general, I find to be a pretty "meh" industry. Biotech and pharma I do not fully understand, but I am seeing a lot of names pop up in my screens, and it seems like there are a lot of babies being thrown out with the bath water.
My goal is to run a portfolio of no more than 20-25 names at a time, which should enable me to stay focused and to avoid tracking the market.
Editor's Note: This article discusses one or more securities that do not trade on a major U.S. exchange. Please be aware of the risks associated with these stocks.