Tesla (NASDAQ:TSLA) guarantees owners of the Model S and X free-for-life use of the Supercharger network. While the perk has disappeared for cars ordered after January 15, it covers the 183,000 or so cars delivered until the end of 2016. With additional deliveries this quarter (or even next quarter, overseas), the total will reach about 200,000 cars.
Surprisingly for a promise that will cost hundreds of millions of dollars, or perhaps over a billion, the company has never disclosed how much this service costs. Initially, from 2013Q2 to 20143, the company simply disclosed a figure of how much revenue it deferred for future Supercharger costs. The SEC ruled this disclosure insufficient and contacted the company in December 2014:
Please tell us and disclose, as appropriate, the following in regard to each of your supercharger network and related connectivity thereto:

-The nature of costs incurred

-where in the financial statements all associated costs, whether capitalized or expensed as incurred, are recorded

-the accounting policy for associated capitalized, operation and maintenance costs

-the balance of costs capitalized at each annual and interim period balance sheet date presented, the period over which the amounts are recognized as expense and the basis for this period

-the basis for determining the amount of sales revenue allocated and deferred, the period over which deferred revenue is recognized and the basis for this period.
In its response to the SEC the company revealed for the first time that in fact the revenue deferred assumed eight years as the life of the car, and that, for 2013, it only covered 40% of Supercharging costs. The first fact was disclosed in later 10-Qs and 10-Ks, but the second wasn't. I later concluded that, in 2015 and 2016, the percentage covered by this deferred revenue was almost certainly less than 40%. In other words, the bulk of future Supercharging costs are not covered by the figure Tesla states has been deferred.
It also disclosed for the first time the net value of the Supercharger network (i.e. gross value minus depreciation), as well as the depreciation period used. This allowed one to estimate depreciation expense. Again, the former data point was included in the quarterly and yearly reports that followed, but the latter was not.
So it's not controversial to say the company hasn't been very forthcoming with data on Supercharging cost. But at least they allowed one to estimate costs, after some Excelling. Until now.
Their latest 10-K says:
As of December 31, 2016, and 2015 we had deferred $291.2 million and $138.2 million related to the purchase of vehicle maintenance and service plans, access to our Supercharger network, internet connectivity, autopilot and over-the-air software updates.
So there is that: Tesla discloses the total revenue deferred for four different things, but doesn't break it down. Not knowing how much is deferred for Supercharging, it's impossible to estimate costs.
The issue is complicated by the fact that, this quarter, Tesla started to deliver cars with Autopilot 2.0. The option, officially called "Enhanced Autopilot," costs $5,000, plus $3,000 for "Full Self Driving." That's $8,000 of revenue per car that cannot be recognized by Tesla until it starts to actually download Autopilot 2.0 to cars on the road. Therefore AP2.0 added tens of millions to the total of revenue deferred in 16Q4.
So did Supercharger deferred revenues increase by $5 million, $10 million, $50 million? There's no way to know.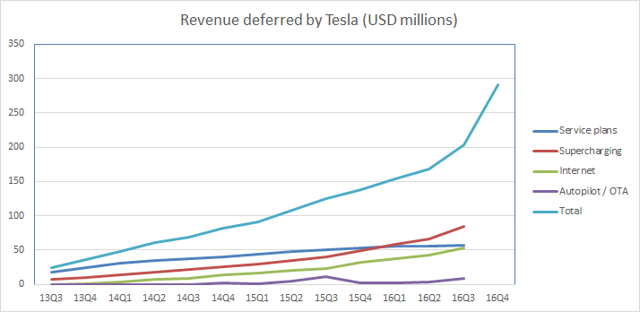 To be fair, this had happened once before. In 15Q4 the company said:
As of December 31, 2015 and 2014, we had deferred $53.6 million and $39.7 million related to our maintenance and service plans.
They didn't disclose other items that involve deferred revenue - they simply included those figures in subsequent quarters. So the same might happen this time around. But the fact that Tesla failed to disclose stuff before doesn't mean it's right for them to do it again.
And yes, technically speaking the SEC did not ask Tesla do disclose the amount deferred for Supercharging, so the company would not be violating the letter of the letter. But the SEC didn't mention the amount deferred because that item was already disclosed by the company back then. The point is that, without knowing the amount deferred, calculating costs is all but impossible. Surely the very point of the SEC's letter was to let investors know how much the company is spending on this feature, and surely removing this data point goes against the spirit of the letter.
Before dismissing this whole thing as a non-event, read the next two points.
An update on Supercharger station cost
Elon Musk and Tesla claimed on several occasions Superchargers cost about $150,000 per station. This discussion seems void now, as one of Tesla's own execs gave instead a cost of $280,000. Anyway, time to re-run the numbers.
By the end of 2016 there were 790 stations, per the company, or 797, per Supercharge.info. By looking at how many are opened by quarter, I estimate the average station was 19.6 months old by then:

With a depreciation period of about 10 years (12 years for stations, five years at most for expansions or improvements to existing stations), that means the average station had depreciated almost by about 16%. In other words, to calculate the gross value (which is to say the cost to build), you have to divide net value by 1 - 0.16. Dividing $207.2 million by 0.84 gives a cost $246.7 million, or $312,000 per station.
An update on cost per kWh of Supercharging
If you look at several of my articles, going back to the first I published on Seeking Alpha, and read the comments, a common counter-argument seems to run along these lines:
Tesla can get electricity super-cheap. They have solar panels, batteries, grid balancing. Refineries get it for like 5 cents per kWh. If you do the numbers like that you'll see they're reserving enough money.
To which I usually respond that depreciation alone implies a cost above 10 cents per kWh, and then you have leases, repairs / maintenance, customer service, plus the actual electricity. Which makes cost "estimates" of 5 cents, 7 cents, etc., completely absurd.
Well, now we hear it from the horse's mouth:
While prices may fluctuate over time and vary regionally based on the cost of electricity, our Supercharger Network will never be a profit center.
So, whatever Tesla charges for Supercharging is less than it spends on the service. And how much does it charge? See for yourself.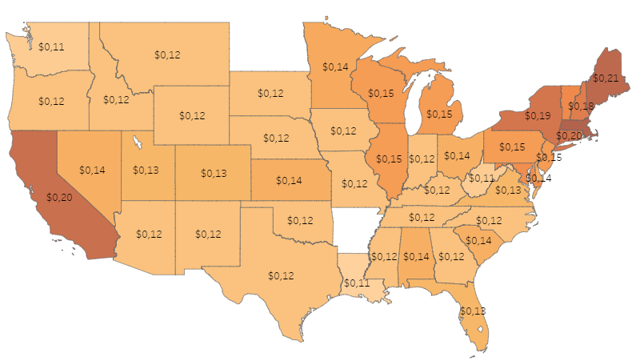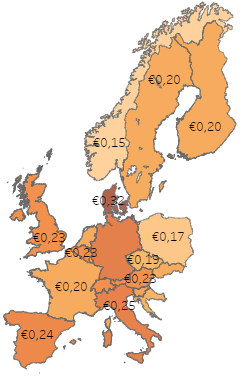 Well there you have it: average price is about 17 cents (in U.S. dollars) in the US or 20 euro cents in Europe, which is equivalent to 21 "U.S. dollar" cents; admittedly the latter probably includes VAT, so actual revenue for Tesla in Europe must be also about 17 cents per kWh. Remember that about 45% of all Teslas in the US have been sold in California.
Even if 40% of all Supercharging is free (the 400kWh per year included with new cars), and Tesla's "no profit" statement includes those, 17 cents implies a minimum cost for the company of 17 x (1 - 0.4) = 10.2 cents.
To remark, this doesn't mean that's the cost. It means that's the minimum cost.
Disclosure: I/we have no positions in any stocks mentioned, and no plans to initiate any positions within the next 72 hours.
I wrote this article myself, and it expresses my own opinions. I am not receiving compensation for it (other than from Seeking Alpha). I have no business relationship with any company whose stock is mentioned in this article.