Before I continue, let me say that Intelsat (NYSE:I) has been on a conviction short list of many brokerage houses for a while.
JPMorgan's year-ahead report lists the stock's target price as zero, but the analyst on Intelsat stock, in his most recent report, declines to give a price target. No analyst in FactSet's database rates shares a Buy or equivalent. Last quarter the company reported a revenue decline, and management during a call with analysts acknowledged "pressure on our pricing" but also pointed to "stabilization" in recent quarters.
Over the past year or so, out of the blue, and on no news, I suddenly see a short-sale restriction flag for Intelsat shares on my IB terminal. Each time this has happened, the stock has rallied. It's as if the market was waiting for short sellers in the corner.
And as you will see from the data I will provide below, for the most part, those who have shorted the stock over the past year at these levels have lost.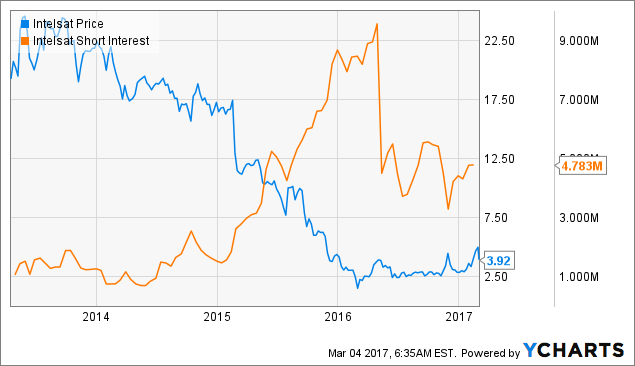 The above chart is the long-term picture of Intelsat vs. short interest. As you can see, from about 2015 there were about 1 million shares short. By the middle of 2016, that number went up to about 9 million. Since then, however, a big portion of that has been covered.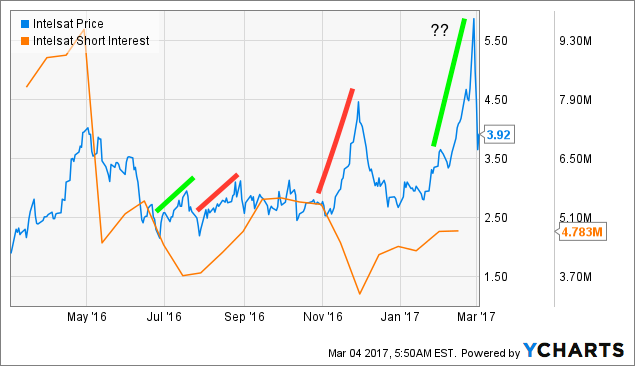 The chart above depicts short interest over the past 12 months.
The green line represents a rally in the stock, accompanied by short covering. In other words, as the stock rallied, short interest dwindled.
The red line represents a short-term rally in the stock, but in this case, short interest in Intelsat shares increased.
If we look more closely, at about July 2016, short interest were about 3.7 million shares. Then from September, the number reached about 5.3 million. However, the stock did not go down but was moving sideways for 2 months.
Then in November, the stock rallied about 50%, and at the same time, short interest fell to about 3.5 million shares. In other words, all those that shorted the stock from July probably covered at a great loss.
Then by January, short interest had moved up to about 4.8 million shares. This time the stock doubled in a very short period of time (to over $5 a share), so all those who sold short from November onwards lost their shirt.
I do not have recent data; however, it's probably safe to believe short interest will shrink once more with the recent rally.
Right after the recent rally, however (meaning several days ago), on the first day the stock corrected, I got a short restriction flag on my IB terminal once again. And just like before, on the 2-3rd day of the restriction, the stock rallied, climbing as much as 10% on Friday.
I'm assuming automated trading algos opened fresh short positions on the first tick down. I'm also betting that once again they will probably be forced to cover, sparking another rally in the stock soon.
Why the stock will rally once again
One reason is, I think short covering will push shares higher once again as I said in the previous paragraph.
Second, while I was disappointed with the recent merger announcement, the truth is that when this deal is completed, the debt profile of the company will change completely. This will allow for a less risk-tolerant type of investor to buy shares.
On a previous article on Intelsat, a reader commented saying that:
First, the 4 billions $ new shares balance the 4 billions debt reduction so the share value is even for current share holders at this point. But you forget to include the 1.7 value of OneWeb and that's almost 1.85$ per share. (1700/920).

Debt reduction will boost cash flow by min 300M per year. So with 100M capex reduction planned in 2017 they likely will turn a operating profit of 400M versus a 12M operating loss this year. It's 0.44$ per diluted share. So we get 8$/share with a 18P/E in 2017.

In 2018, we get full epic launches revenues + 200M extra capex reduction +extra interests reductions with debt reimbursement translating into 700M profits, 0.75 per share= 13$ @P/E 18. In 2019, launch of OneWeb = extra revenues and extra profits.

4 billions potential new internet users with oneweb translating into 1 billion new users? paying 1$/year = 1 billion maybe 2,3,4 I don't know... But the business case looks sound, less risky than before and in any case very accretive to current and future share holders.
I do not disagree with a single word from the above comment. In fact, I will have another article on Intelsat in the future, where I will put together some numbers and evaluate the company from scratch, especially given the synergies with OneWeb.
Another reason is, institutional ownership: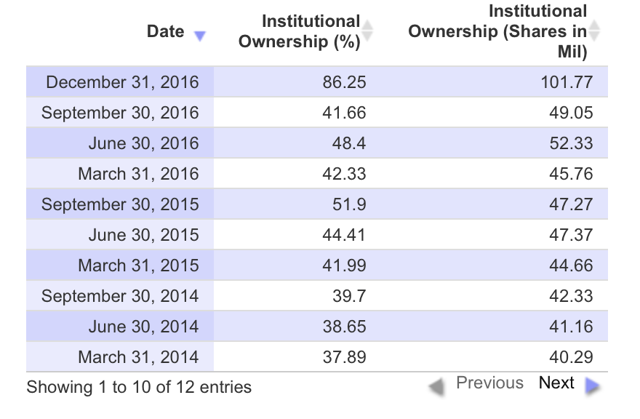 As you can see from the table above, institutional ownership more than doubled between September and December of 2016. I think we all agree that this is a very positive development.
Also, new shareholders will be buying shares at $5 according to the proposed agreement. While this is no guarantee the stock will trade above $5 a share forever, it does act like a floor under the stock at current levels.
Finally, if the stock stabilizes above $5 a share, that might attract even more institutional investors and traders because some institutional players do not touch a stock below $5 a share.
Bottom line
Short sellers have lost money all throughout 2016, and I think they will probably lose again.
While I sold the stock above $5 a short while ago, I didn't expect the stock to take such a plunge right after the merger was announced. This means that the market is giving another chance to buy the stock at a very deep discount compared to where SoftBank (OTCPK:SFTBY) and OneWeb will be buying.
Also, the more I read the merger proposal, the more I like it. I think there is room for the stock to move considerably higher than $5 a share, even in the short term.
So, as of Friday, I am once again long Intelsat.
Disclosure: I am/we are long I.
I wrote this article myself, and it expresses my own opinions. I am not receiving compensation for it (other than from Seeking Alpha). I have no business relationship with any company whose stock is mentioned in this article.