Company Overview
Texas Instruments Incorporated (NYSE:TXN) manufactures and distributes semiconductors globally across 30 countries. Its operations mainly focus on Analog and Embedded Processing as these segments have longer product life cycles, intrinsic diversity, and need less capital-intensive manufacturing. As a result, these business segments provide a combination of stability, profitability, and cash generation. Operating results FY17 were $13.6 billion in revenue and $3.6 billion in net income. To this end, TXN seeks to maximize long-term free cash flows by keeping capital expenditure low through its stable and lucrative business model. The company has performed exceptionally well, providing 42.7% returns in the last 12 months.
(Source: Yahoo Finance)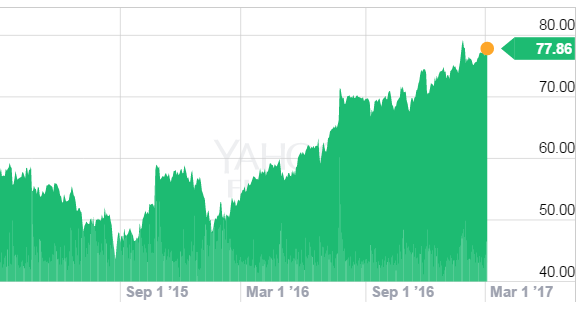 Industry overview
Intel (NASDAQ:INTC) and Samsung (OTC:SSNLF) are the two major competitors in the semiconductor industry, accompanied by players such as Texas Instruments, AMD (NASDAQ:AMD), Qualcomm (NASDAQ: QCOM), and Nvidia (NASDAQ: NVDA) occupying smaller shares of the market. Although companies such as Texas Instruments and Nvidia occupy a smaller portion of the aggregate semiconductor market, they make up major portions of the niche markets that they operate in, such as analog semiconductors and graphics processing units.
(Source: IBIS World)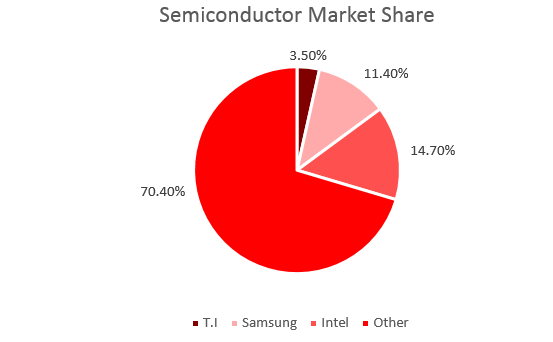 In recent years, M&A activity has been a key driver of growth for many companies in the semiconductor business. Small and mid-sized companies continue to merge together to achieve economies of scale, while large manufacturers such as Texas Instruments look to diversify their product lines. We predict more consolidation to continue within the industry that will allow large competitors to grow at a rapid pace.
Profitable Segments Focus
In recent years, TXN has shifted its focus from wireless chip manufacturing to almost solely focusing on analog and embedded chips. It is not the largest analog chipmaker and leading supplier of embedded chips. Not only do analog chips not cost nearly as much as other chips to produce, they also require less sophisticated manufacturing processes. This means that without significant price increase, they can continue to drive the impressive margin expansion that they have shown in recent years.
This focused business model is the foundation of the company's capital management strategy: free cash flow growth is important for long-term shareholder value maximization. This focused model has been further supported by its acquisition of National Semiconductor and discounted purchases of leading manufacturing equipment from smaller chip makers that were unable to survive in the market.
Finally, TXN analog chips all feature proprietary designs for specific electronic devices. This, combined with high switching costs of analog chips, makes it difficult for customers to swap out their chips for competitors, such as Intel or Qualcomm. This results in strong stable cash flows and puts less pressure on R&D and capital expenditure for Texas Instruments. In the end, its analog segment has undoubtedly poised it well to drive profitability beyond what the market has priced in.
(Source: Company Financials)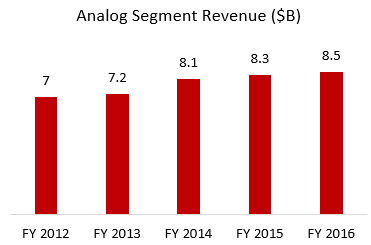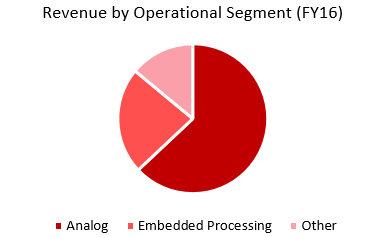 The Internet of Things: A Growth Opportunity for Texas Instruments
The number of connected things, from computers to cars to fridges, is projected to grow at a CAGR of 23.1% between 2014 to 2020, reaching 50.1 billion connected "things" in 2020. This trend could provide to be a significant growth opportunity for TXN as it can capitalize from IoT already being developed in the business. Currently, the company focuses on six key IoT markets: Smart homes, cities, manufacturing, wearable, health care, and automotive.
Although there is a lot of competition in the IoT field, we believe TXN is well positioned to become a major player in this space, competing with companies such as Cisco (NASDAQ: CSCO) or IBM (NYSE:IBM). An important characteristic of TXN's products is that customers often invest in their own R&D to write software that operates on TXN chips. This investment tends to increase the length and loyalty of customer relationships as many prefer to re-use software from one product generation to the next. This "sticky" customer base is a great way for TXN to continue to grow its market share in the IoT space while also leveraging its existing clients' growth in IoT to sell more products.
If TXN can continue to adapt its current business model to its IoT products by trapping customer R&D spending and software into the web of its product ecosystem, TXN can carve out a lasting niche in a crowded space. There are also further opportunities for the company to leverage and expand its existing industry expertise into future IoT-related businesses.
Shareholder Focused Capital Management
TXN has consistently grown free cash flow and gained market share in its most profitable segments. This has made it a company that can grow, generate cash, and return that cash directly to shareholders in an effective manner. The company has impressively returned 100%+ of cash flows to shareholders via buybacks and dividends. In fact, RBC (NYSE:RY) analysts have predicted that given the modest capex requirement coupled with margin expansion, TXN should be able to sustain double-digit free cash flow growth despite muted sales growth. The company targets a 20-30% FCF/sales ratio, and RBC sees no reason why the company cannot achieve FCF/sales ratios of above 30% in the long term. In the end, TXN in a leader in shareholder cash returns and is widening its margins every year, making it a core large-cap holding for investors seeking long-term, consistent returns with more opportunity for growth.
(Source: Company Financials)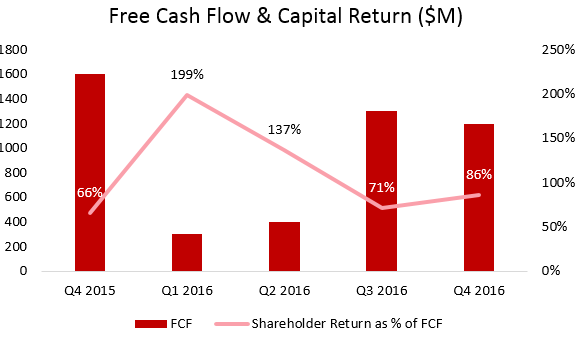 Risks
There are multiple risks regarding this investment, including a slowing new car sales rate, increased competition in Asian markets, and the company's dependence on Apple (NASDAQ:AAPL). Semiconductors are being widely used in the automotive industry and make up a large proportion of TI's revenues. We see the potential declines in new car sales as a major risk for future earnings. Additionally, the Chinese government has recently made a large investment, upwards of $20 billion, in their semiconductor businesses. Further investments, both from private and public sources, may provide Chinese companies the scale to compete internationally with Texas Instruments. Finally, approximately 10% of 2016 revenue was tied to Apple products. With Apple's recent decline in sales, we believe that Texas Instruments may experiences slowed revenue growth in years to come.
Takeaway
We believe that Texas Instruments is a buy for value investors. With healthy margins, opportunities for growth in the Internet of Things segment, and a proven track record of shareholder focused capital management, this company will continue strong growth for years to come.
Disclosure: I/we have no positions in any stocks mentioned, and no plans to initiate any positions within the next 72 hours.
I wrote this article myself, and it expresses my own opinions. I am not receiving compensation for it (other than from Seeking Alpha). I have no business relationship with any company whose stock is mentioned in this article.