As its latest earnings results have proved, Seagate (NASDAQ:STX) has rectified past execution issues over the last year that should enable it to weather revenue declines in its core PC market. But without a significant pick-up in PCs and lack of a meaningful SSD offering, Seagate will continue to face challenges to its revenue, earnings and cash flow generation. In the longer term, Seagate's financial position remains tied to the fate of HDD and should, thus, continue its decline in line with the HDD TAM.
Despite the bearish sentiment around the HDD space (which Seagate predominantly operates in), the company has posted an impressive rebound in operating results in part due to better market trends, but also its own aggressive cost management actions. I'd remain focused on the sustainability of the company's momentum given the historical volatility in its performance. Longer term secular challenges facing HDDs and execution risk remain, but thus far, Seagate looks to be making the best of things. Seagate could also ramp up shareholder returns over the coming quarters if cash flow remains solid (barring further strategic M&A).
Valuations, however, are not attractive. Investors are currently willing to pay 9-11x PE for declining EPS as earnings may be relatively stable post 2017 for Seagate. But the confluence of weak end market demand and Seagate's high sensitivity to small changes in demand for high-capacity enterprise HDDs will pose downside risks to such valuations.
Strong Earnings
Seagate reported very strong 2Q results, beating consensus on both revenue and margins for the reported quarter as well as guidance. Will the strong earnings report silence the HDD bears though? Unlikely in my view. But in the meantime, they'll have plenty of food for thought.
Seagate's revenue for the quarter of $2.9B beat consensus by 2%, driven by both units and average selling prices (ASPs). Strong demand for higher-capacity products in the consumer, surveillance and NAS markets was cited as a key driver. Overall, top line was positively impacted by product mix and pricing, while previously announced restructuring benefits flowed through to costs. Gross margin of 31.8% was up 6.2% YoY (+2.2% QoQ), with half the benefit coming from manufacturing footprint reduction and other half from a better optimized product portfolio.
Seagate guided for 3Q revenue of ~$2.7B, 3% ahead of consensus as the company pivots towards higher capacity segments. Revenues are expected to grow in 2017 (vs. the 1% decline expected by consensus) as a result of shifting mix toward higher margin products and better cost efficiency. Assuming "market conditions remain intact", STX believes it can grow 2017 revenue and post adjusted EPS of at least $4.50, which compares with consensus of $3.86 prior to the call.
A noteworthy comment on the results - inventory grew to a high of 46 days (vs. 40-day three-year average). For now, it would seem that the increased inventory levels are down to building a buffer due to one-offs/seasonal factors, e.g. factory consolidation and ahead of the Chinese New Year. If these levels persist in March, though, expect some alarms to be raised.
Good Execution
Management's success in incorporating its cost rationalization plans is reflected in the strong quarter and drove favourable mix shifts in the business. Is there further room to cut going forward? Maybe - while $500M of restructuring costs have been recognized, not all the savings have come through. This should provide Seagate management a lever to maintain gross margins at the high-end of the 27-32% range near term. But I have my doubts about long-term sustainability of these margin levels. In its 2Q call, Seagate cited utilizations around 80%-100% or operations close to full capacity. While the company could very well stay at these levels for the near term, gross margins (currently ~32%) are probably maximized at this point. Opex should continue to trend down, though, as the benefits of cost cuts and restructuring haven't been fully realized.
It's hard to fault Seagate much on this front considering it has rectified past execution issues and embarked on a more streamlined fixed cost structure. Either way, this will help the company weather further revenue declines in its core PC market.
Things have undoubtedly been helped in recent years by the consolidation within the industry, which has resulted in a much more stable pricing dynamic.

The high degree of consolidation today is notable, as we are now down to two companies that control over 85% of the industry (players outside the top two, e.g. Toshiba, are limited in their ability to expand production capabilities). Both companies tend to have incentives aligned with gross margins and pricing stability.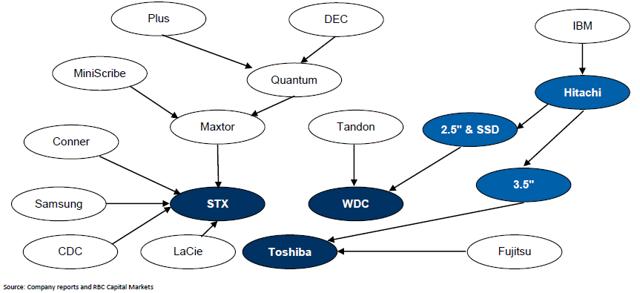 But Capital Allocation Policy May Be Unsustainable
Management hasn't just succeeded on execution though, they've made Seagate a very investor friendly stock. Dividend and cash flow projections may become constrained should Seagate choose to pursue strategic acquisitions a la Western Digital (WDC). This will hurt Seagate as one of the more attractive aspects of the HDD industry has been the high FCF generation. Both WDC and Seagate have consistently used the strong cash flow to return cash back to shareholders via buybacks and dividends.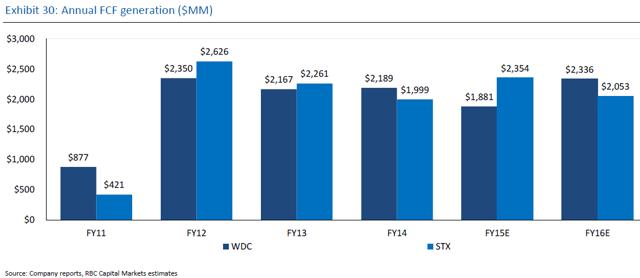 Historically, Seagate has been more aggressive in returning capital back to shareholders. From 2010 to 2014, it used >100% of its FCF for buybacks and dividends, with minimal focus on M&A until late 2014 when it acquired Xyratex and LSI's PCIe assets. Meanwhile, WDC has taken a more balanced approach and been committed to returning 50% of FCF to shareholders via buybacks and dividends. Thus far, WDC has been more active in M&A, acquiring Virident, sTec and Skyera. It has used $5B over the last three years to acquire various SSD and HDD assets.
Seagate in its latest quarter repurchased $147M worth of shares, or 4.1M shares at an average cost of $36. It has also paid $188M in dividends and reiterated long-term target range to pay out 30% to 50% of free cash flow. As the secular deterioration of the HDD business is likely to persist, at some point STX could consider paring back on payouts to use cash for strategic investments a la WDC which should constrain dividends going forward.
Secular Trends Still Unfavorable… But Not As Much
Structural weakness in the end markets remains, despite solid management execution. To Seagate's credit, it has managed to pivot away from PC exposure toward more stable enterprise trends. But it's hard to get away from the fact that pricing conditions have deteriorated in the enterprise HDD market where Seagate predominantly operates (despite the growing solid state drive and storage systems portfolio).
Flash adoption has also weighed on investor concern as this trend has accelerated in both PCs and enterprise storage. The fear is that negative impact to HDD TAM from a secular PC decline as well as proliferation of Flash SSDs in the high performance/mission critical market will continue. The chart below shows the narrowing ASP differential between SSD and HDDs.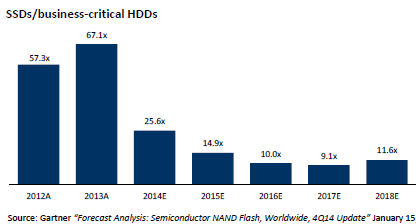 Could NAND be a long-term wholesale replacement for HDDs? Unlikely, but the HDD space is in decline nonetheless. Given the rather high capex requirements for NAND, the incremental capex SSD suppliers would need to add to create the amount of exabytes currently produced by the HDD industry would render the transition unfeasible. NAND capacity is inherently more expensive to add, given the technology, with NAND suppliers spending roughly one-third of sales on new capex each year, versus the HDD industry at just 5%. Estimates place the cost to add an increment petabyte (PB) of NAND versus the cost to add an increment PB of HDD capacity at roughly 24x.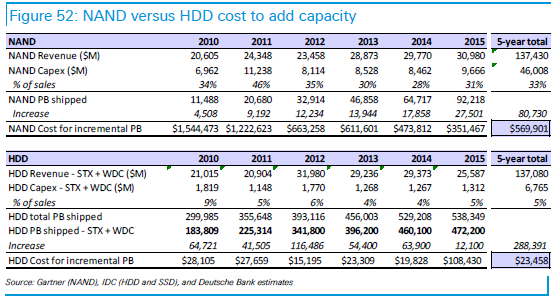 NAND should continue to win in applications that demand performance and small form factors at a cost. Meanwhile, HDDs should continue to hold their share in capacity applications. Furthermore, NAND ROI has been degrading over the last few years, making it unlikely for NAND companies to invest in capex aggressively.
Both technologies seem more complementary rather than substitutes over the longer term, with HDDs as the preferred storage medium for capacity, while NAND and SSDs will win when speed and footprint are highly valued. The HDD market has seen significant changes over the past few years as some traditional markets have moved to embrace NAND, while new markets have emerged which value capacity at a low cost.
Don't Chase Valuations
While I don't think the structural decline in its end markets is all doom and gloom, valuation is full with the stock trading at 22x 2016 EPS and ~10x NTM PE. Now, HDD stocks are highly correlated, historically trading in a P/E range of 4x-20x, with a median forward P/E of 10x.

(Source: Keybanc)
This would put Seagate's valuation at unattractive levels, especially considering the headwinds facing the stock. The peer group is currently trading at 10.1x consensus C2017 EPS (post Q2 earnings).

In my view, Seagate should trade at a discount to its main competitor WDC given Seagate's inferior HDD market position, cost discipline, and growth prospects. Investors are, however, currently willing to pay 9-11x PE for declining EPS as earnings may be relatively stable post 2017 for Seagate.
However, although Seagate is committed to cutting costs as it aims to lower its fixed cost base in order to maintain gross and operating margins and stabilize operating cash flow, the confluence of weak end market demand and Seagate's high sensitivity to small changes in demand for high-capacity enterprise HDDs, along with 1H17 seasonality, pose additional near-term risks.
Best to wait on the sidelines for now.