The Fed has shifted aggressively in recent days to announce a rate hike on March 15. Part of the reasoning cited for potentially raising interest rates this month is the strengthening job market and inflation rising toward the Fed's target. While higher interest rates from the Federal Reserve is long overdue, it stands to wonder at this stage of the economic and market cycle whether a shift to a more aggressive tightening schedule may squash the pro-growth momentum for the U.S. economy before it ever gets started.
Inflation Fire Fight
Inflation is indeed on the rise for the U.S. economy. For example, the latest release of Personal Consumption Expenditures (PCE) by the Bureau of Economic Analysis for the month of January showed that the headline PCE increased by 1.89% on a year-over-year basis. This is up from less than 1% just last summer and near flat roughly 18 months ago. Moreover, this 1.89% reading is quickly closing in on the Fed's 2% target rate. Put simply, inflationary pressures are on the rise, so it's time to raise interest rates in March to get out in front of the rising inflationary tide. Q.E.D.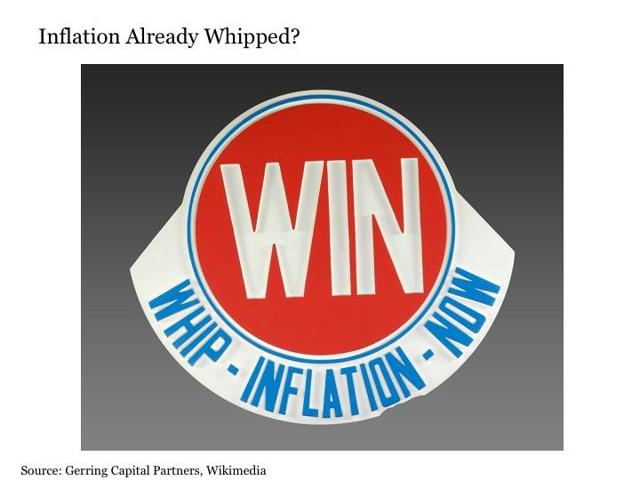 Inflation Already Whipped?
Don't get me wrong. I'm thrilled that the Fed is setting up to hike rates in March. During the post-crisis period, it has created a capital markets monster with a stock market that is riding a relentless sugar buzz to new all-time highs. I only wish the March interest rate hike we were talking about was the one it could have done five or six years ago. But that ship has long since sailed.
And when it comes to rising inflation pressures, one cannot help but wonder if any such concerns are overstated at the present time.
For example, when looking at the Core PCE that excludes food and energy, we see that current inflationary pressures look relatively benign. Sure, they have crept higher over the past year, but only rising back to mid-2014 levels and still below the 2%+ rate we were seeing back at the start of 2012.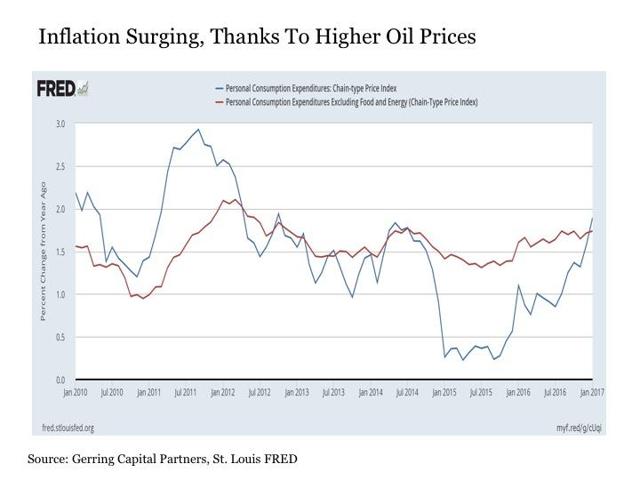 OK, but isn't the inflation story with the Fed more about expectations? And we all know that the pro-growth policies set to be simultaneously signed into law all at once on January 20, including corporate tax reform, ACA repeal, bank regulatory reform, and a $1 trillion infrastructure program with shovel-ready project crews, are going to lead to an economic growth acceleration to the 3-4% range and be accompanied by meaningfully higher inflationary pressures in 2017. Hold on, what? It's March 3 already and none of these things have actually happened yet? Go figure.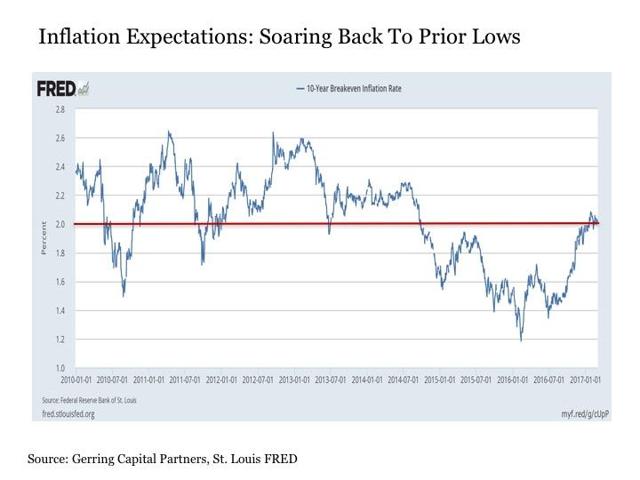 In fact, it seems the market is slowly pricing in the reality that the inflationary pressures-inducing pro-growth programs may come later rather than sooner. The 10-year breakeven inflation rate, which is a measure of expected inflation, moved higher from 1.73% on Election Day to a high of 2.08% on January 27. While certainly a big move from the lows of 1.18% at around this time last year, it still only brought inflation expectations back to levels that would have been considered the lows prior to late 2014. And since January 27, this 10-year breakeven inflation rate has stalled and is starting to grind back lower, having fallen back below 2% in early February and resting at 2.01% as of this Thursday.
Tempered Economic Expectations
It seems expectations around future economic growth may also not be what they are all cracked up to be according to the financial media. So much talk is heard about the steepening yield curve, but the reality is that story went stale months ago now.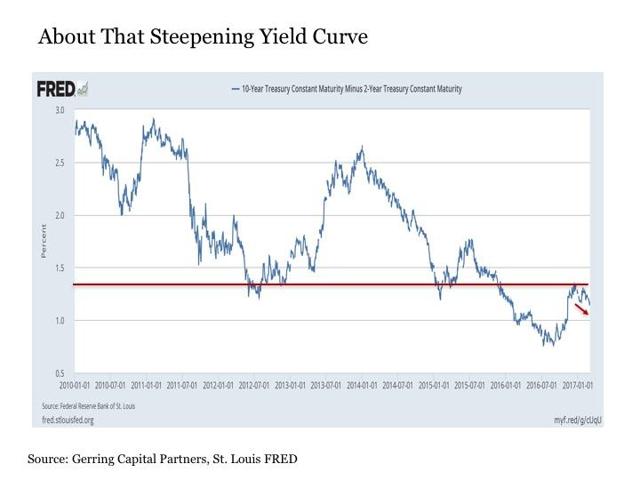 For example, the yield curve did steepen in recent months, but only to levels that would have been considered flat on the 10-year to 2-year Treasury spread as recently as late 2015. Moreover, this spread that would otherwise be signaling economic growth if it were continuing to steepen in a meaningful way has since turned back to flattening. For after peaking at a 10/2 spread of 1.34% back in early December, it has been steadily narrowing in the three months since, and is down to 1.17% as of the end of this week.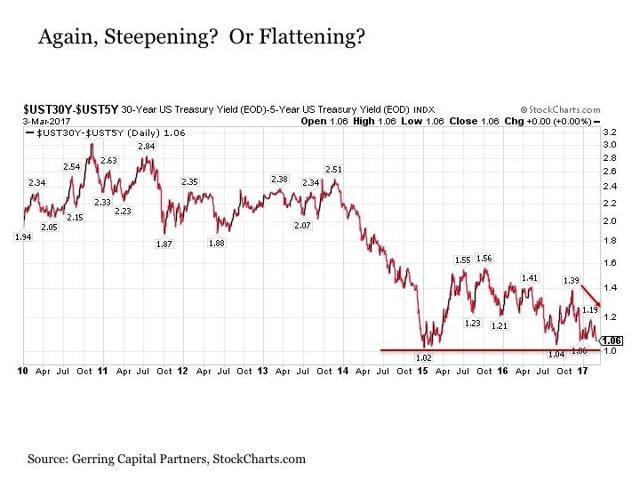 The 30-year to 5-year Treasury spread is expressing an even more pronounced story of anything other than something resembling enthusiasm about economic growth and burgeoning inflation pressures. Not only did the steepening of this segment of the curve end the day after the election at a spread that did not even exceed levels from earlier in 2016, but it has since reversed decisively and has flattened back to 1.06% as of the end of this week, which is just 4 basis points above the 1.02% lows - the flattest this segment of the yield curve has been since prior to the financial crisis, when the yield curve was inverted.
The Bottom Line
While I applaud its long-overdue assertiveness, the Fed may already be far too late in starting to hike interest rates this month. Not only is the stock market now careening seemingly out of control to the upside, but readings on inflation, while better recently, remain soft by historical standards. And despite all of the pro-growth policy hopes and dreams, the yield curve is increasingly signaling an economy tilting back toward concerns about a slowdown, not an acceleration in growth.
With all of this in mind, I continue to favor long-term Treasuries (NYSEARCA:TLT) and yield-sensitive equities such as high-quality dividend-paying stocks (NYSEARCA:SDY), utilities (NYSEARCA:XLU) and REITs (NYSEARCA:VNQ) despite the Fed's sudden priority to tighten monetary policy. And gold's (NYSEARCA:GLD) tough week last week may ultimately represent a good buying opportunity. For if the Fed slows the economy before the pro-growth legislation ever gets off the ground, it will be these more defensive segments that will likely outperform despite a higher interest rate from the Fed.
Disclosure: This article is for information purposes only. There are risks involved with investing including loss of principal. Gerring Capital Partners makes no explicit or implicit guarantee with respect to performance or the outcome of any investment or projections made. There is no guarantee that the goals of the strategies discussed by Gerring Capital Partners will be met.
Disclosure: I am/we are long TLT,PHYS.
I wrote this article myself, and it expresses my own opinions. I am not receiving compensation for it (other than from Seeking Alpha). I have no business relationship with any company whose stock is mentioned in this article.
Additional disclosure: I am long selected individual stocks as part of a broadly diversified asset allocation strategy.