Let's see.
There was a late summer patio convo with two Eastern European girls whose rapid fire, drunken Albanian I likened to an esoteric discussion of CLO LIBOR floors.
And then there was a sickly litter of Labradors that represented the illiquid "litter" of corporate bonds that sit beneath your favorite fixed income ETFs.
Finally, there was "Sharon", my 70-something neighbor here on the island whose early morning stroll on the beach and simultaneous Bluetooth chat about record high stock prices seemed particularly apt as a metaphor for the flood of retail money that usually shows up at the tail end of a rally, proving that they do indeed "ring a bell at the top."
That trio of stories comprises the Heisenberg vignette pantheon.
"Sharon" managed to capture quite a bit of attention from readers. Indeed, it seems as though more than a few folks recognize a bit of "Sharon" in themselves. In fact, one commenter went so far as to call her a "genius" - a reference to Wednesday's Fedspeak/Trump-inspired push to still loftier levels in equities.
I just want to make a few follow up points here, answer one question and wrap it up, so hopefully this will be a relatively short affair.
You'll recall that Wednesday saw the biggest daily inflow ($8.2 billion) into the largest broad market equity ETF (NYSEARCA:SPY) in two years. Sharon, I quipped, was buying.
Well, given the above, I thought it was worth highlighting a new piece out Saturday from WSJ. As it turns out, $127 billion has poured into ETFs this year, marking "the most aggressive start since the industry was founded" nearly a quarter century ago. Here are a few passages from the Journal (my highlights):
Ordinary investors are buying low-cost exchange-traded funds at a record-breaking pace, adding fuel to the U.S. stock rally.

Investors have poured $124 billion into ETFs in 2017, the most aggressive start since the industry was founded 24 years ago. Individual investors accounted for as much as 85% of the inflows at BlackRock Inc.'s iShares ETFs in the first two months of the year, far higher than the usual 50% to 60%, said Martin Small, head of U.S. iShares.

The rush into ETFs signals that the rally entering its ninth year is finally grabbing the imagination of individual investors, after having been the province in large part of big institutions and fast-trading hedge funds.

"It's unassailable that the retail investor is leading the way this year," said Mr. Small. "If it continues at this pace, ETF growth will smash all previous records."

The surge of retail buying has confounded Wall Street pros, who for months have been predicting a pullback in the S&P 500 and other major indexes. The S&P 500 hasn't had a correction, reflecting a pullback from a recent peak of 10% or more, since February 2016 and has had only four such retreats since 2009. The index has climbed 11% since Election Day.

Such enthusiasm on the part of retail investors, after years of apathy, could be a reinforcing sign that the years long rally is getting tired. Wall Street lore has it that individual investors are often late to step in or out of the market.
Yes, "Wall Street lore" has it. In other words, that's probably as much urban legend as it is market reality.
Nevertheless, it makes some measure of intuitive sense. As I've said before, when you plaster "Dow 21,000" or "Wall Street hits historic milestone" all over every paper in America, you're going to attract mom and pop. Throw in Warren Buffett basically pulling a Jim Cramer ("buy, buy, buy!") on S&P ETFs and the stage is set for a retail bonanza.
Amusingly, this was supposed to be the year that active management makes a comeback. As I explained a few weeks ago, with stock and sector correlations plunging, it's just a matter of time before dispersion jumps (well, unless realized volatility stays glued to the flatline) and all else equal, that should be a stock picker's market.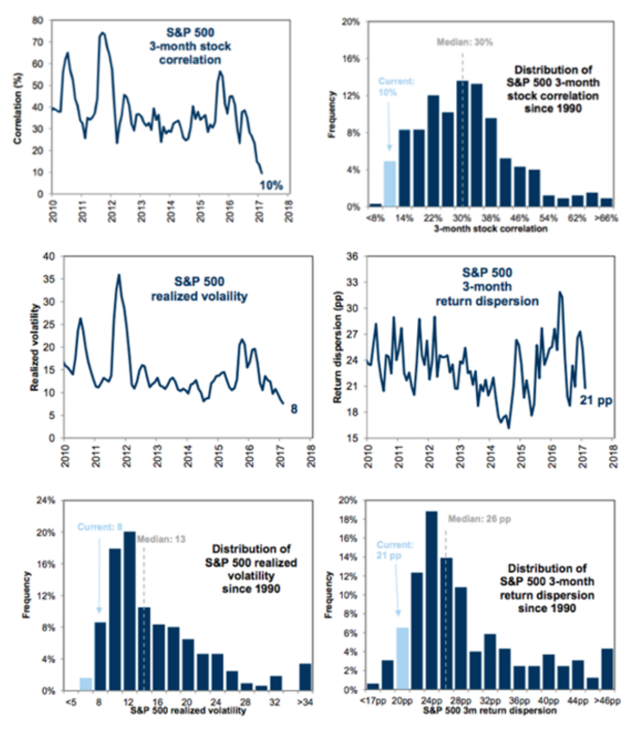 (Charts: Goldman)
But so far - no dice. Here's YTD returns for mutual funds versus their benchmarks: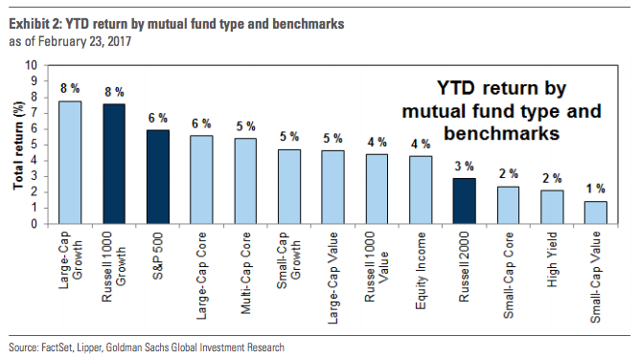 (Chart: Goldman)
As Goldman writes, "roughly 50% of large-cap mutual funds have outperformed their respective benchmarks YTD compared with only 19% during 2016." But that's still only half. And that was through Tuesday. As in: "before Wednesday."
Overall, the trend is clear. Here's pretty much all you need to know in terms of the longer-term bias:

(Charts: Goldman)
Yes, Warren Buffett is correct to say that it's difficult for the "pros" to beat benchmarks over the long run. But it's important that you realize the self-fulfilling nature of that. Putting aside the ubiquitous central bank put, when everyone is piling into the benchmark, that action in and of itself helps to perpetuate the benchmark's relative performance. Just another way "Sharon is a genius," I suppose.
But getting back specifically to recent flows, I got two e-mails this week regarding the suggestion that lately, it's been the "smart money" that's selling to the "dumb money."
Apparently, someone got a hold of a JPMorgan note and that's got some folks spooked. I tracked down the note (err... that sounds too dramatic.. "I clicked on the note and read it" is better) and sorry, but there's nothing particularly alarming in it.
Maybe I shouldn't apologize. That would likely be good news to the two people who e-mailed me. JPMorgan simply says that some of the "big boys" (so to speak) lowered their equity beta from December levels and some seem to have materially trimmed their exposure in February.
If that sounds like the exact same thing that the WSJ article cited above says, only looking at the situation from the other side (that is, looking at fund beta and drawing conclusions for retail money as opposed to looking at retail inflows to ETFs and drawing conclusions about institutional) that's because it is. It's just two sides of the same coin.
So while there's nothing surprising or alarming there, I guess what I would say is that that assessment depends on whether or not you think it's alarming that this move higher is being driven primarily by a whole bunch of Sharons chomping at the bit to get a piece of the action.
You'll have to make your own judgment on that.
Disclosure: I/we have no positions in any stocks mentioned, and no plans to initiate any positions within the next 72 hours.
I wrote this article myself, and it expresses my own opinions. I am not receiving compensation for it (other than from Seeking Alpha). I have no business relationship with any company whose stock is mentioned in this article.